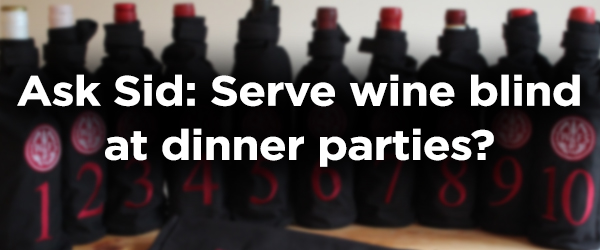 Question: What are your thoughts Sid on serving wines blind at dinner parties?
Answer: An interesting and controversial question! Depends a lot on the occasion including whether more formal with a printed menu or a casual informal gathering as well as who your guests are. With a printed more upscale menu of several courses guests often appreciate the anticipation of seeing which wines are going to be served with each food course ahead of time. Sometimes we first print the menu without the wines listed and after the actual wines are disclosed then give them the second menu with those wines noted before they leave or even later by email. Bagged bottles can be fun particularly at more informal educational events among knowledgeable wine friends. For many decades as host I always have served the wines blind at all our dinner parties. As I get older and am tasting wine blind so often every week I am tending less to make it a work study over a relaxed dinner setting. When I am a guest I am attending with a lot of wine baggage so I still like to get my first quick impression of the wine blind without knowing what it is. However I don't really like spending the whole evening analyzing and trying to identify each wine when that is detracting from my focus on the food, the matching and the group conversation. My wife always has had her wine served blind by me when we are at home dining alone and as a result has become a rather brilliant blind taster herself. You might be tricky today on Halloween or any day by serving the wine blind in an unexpected shape glass for that wine. For example a Bordeaux in a Burgundy glass or vice versa. Tricky indeed!
Enjoy dinner parties to the fullest by finding your own comfort level on the wine service you like.
---
You might also like:

Loading ...