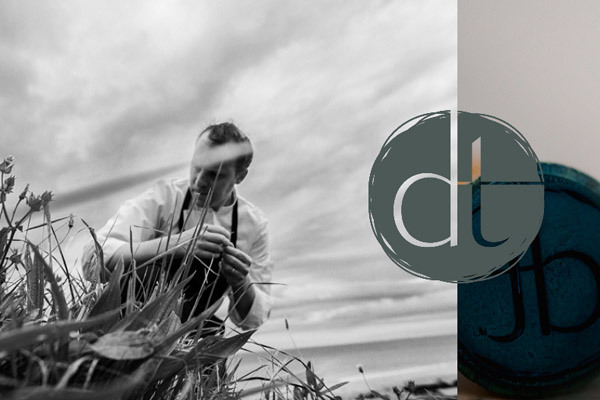 Photo credit: davidtoutain.com
Talented chef David Toutain opened his eponymous 35 seat restaurant without tablecloths at 29 rue Surcouf in the 7thA Paris less than 5 months ago but already it is a very hot ticket. Only in his early thirties he brings an impressive resume including "premieres experiences" at Loiseau, L'Arpege, L'Ambroisie, Retour a L'Arpege, Marc Veyrat, and Mugaritz. On June 28, 2011 he opened Agape Substance his first chef de cuisine posting showing off some unique impressive exciting cuisine until leaving in December 2012. Some memorable lunch and dinner prix fixe menus there based on Themes such as Tomate, Girolle, Pigeon, Cochon, Fromage, Carotte among many. Since then David and family have been on learning "Voyages" including Singapore, Japan, Copenhagen (Geranium), San Francisco, and New York.
Like his flagship statement that "Tous les gouts sont dans La Nature". For more background depth check out his brand new first book published March 2014 by Argol in French called La Cuisine De david toutain (with excellent photos by spouse thai toutain) third in a new Vivres serie Gestes following Pierre Gagnaire and Bertrand Grebaut of Septime.
The fixed price Printemps Menu Reine des Pres is 98 euros (or 158 with wine pairings well chosen by Alejandro) for around 10 exquisite courses (plus 3 amuse – one a sensational airy light as a feather layered sponge cake of fresh green peas and verbena). Many highlights too detailed to list here but marvelled at the well thought out progression of dishes: Oysters & kiwi cleverly matched; Potato soup & Fava Bean salad; BBQ green asparagus; Squid & White Garlic; Steamed Whiting on Pesto; Smoked Eel in Black Sesame with green apple bits; top quality remarkable whole Loin of Pork paraded raw through the full dinng room before perfectly cooked for everyone; Outstanding 48 month shaved Comte; Desserts including potato puree under fresh raspberry & pure essence of parsley sorbet. I also was impressed by the conscientious service and the decor with a feature wall of small pieces of wood intricately done – reminiscient of the walls in the new Trade & Convention Centre in Vancouver. Two small quibbles: The cringing sound similar to nails on a blackboard as I scrapped with my metal spoon for more of the yummy sauce on the sides of the distinct beautifully designed Belgian pottery used. Secondly I understand the menu will be a surprise but still most guests would appreciate reliving it with a printed take away information sheet of what they were served. I also mentioned this issue to David while he was at Agape Substance and they should follow up on this small omission to such a wonderful dinner experience.
Based on the creative dishes with delicious textured flavours I experienced in early May 2014 he is certainly well prepared for this new undertaking. This place already is better than most 1 star Michelin restaurants and in my opinion will soon be vying for Top 50 Best Restaurants in the World. Highly recommend you treat yourself on your next visit to Paris!

Loading ...