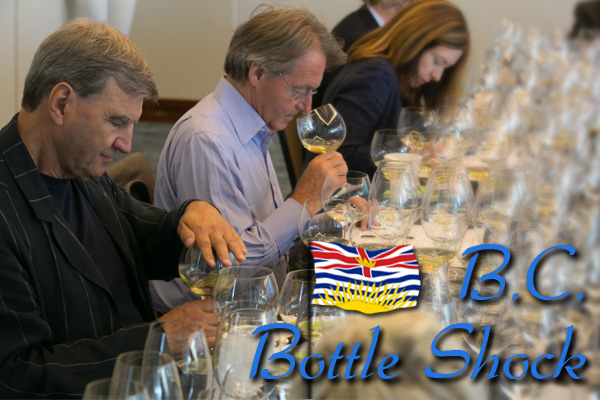 Photos Credit: Vision Events Photography
As regular readers of this Blog already know the British Columbia wines have improved by leaps and bounds in the last few years. Helped somewhat by global warming, winemaking experience and other vineyard factors there are current releases that are outstanding. The recognition of some unique key factors has contributed to this excellence and the distinct terroir that is evolving: good levels of natural acidity and tannins for the intense pure fruit flavours (including complex sage, tree fruits, herbs, earth) from long sunlight hours with dramatic swings between warm days and cool nights. Though far north at 49-50 degrees latitude many vineyards enjoy the benefits of this unusual hot dry desert short growing season which is so conducive to sustainable farming.
Therefore the timing was appropriate to test this theory on the visit this August for a week to the Okanagan Valley & Vancouver by world recognized wine expert Steven Spurrier consulting editor of Decanter and chair of their World Wine Awards with a "Judgment of BC" tasting. It also celebrated the 25th anniversary of BC VQA (Vintner's Quality Alliance) a guarantee that the wine is made from 100% BC grown grapes. They now are promoting this with "BC VQA. Or You Could Call it BC DNA". Back in 1976 Steven organized the historic "Judgment of Paris" comparing California wines against French. Seventeen acknowledged wine "pros" who know BC wines including your scribe accepted the invitation to rank blind 12 chardonnay and 12 syrah in separate flights each containing 6 from BC and 6 International benchmarks. Wine educator DJ Kearney (@djwines) the curator of this event together with Wines of British Columbia (www.winebc.com; @WineBCdotcom) did an outstanding orchestration of this tasting using the best wine glasses, serving at perfect wine temperatures, white table mats, natural light, adequate time to study the wine in the glass etc. Well done.
CHARDONNAY: A controversial choice because nearly every wine region is making international chardonnay but some regions are delivering a very special recognizable terroir. BC has some high quality examples but not enough distinct unique style to differentiate it from most other chardonnay around the world. Would prefer showing the success of Riesling (plantings from 1978), Chenin Blanc (plantings from 1968), Rhone blends (Viognier, Rousanne, Marsanne) or even the most planted variety Pinot Gris – which sometimes can be a little boring.  The results with no BC chardonnay in the top 5 was not a surprise to me.
SYRAH: A very good choice because certainly syrah is impressive from BC. Magically combines both characteristics of rich ripe intense fruit from warmer climate regions together with fresher, black pepper, gamey, floral, and the more balanced style of cooler regions. Not unexpected to me with the results ranking first, fourth & fifth and showing clearly that BC Syrah is world class among its peers. Cabernet Franc, Pinot Noir, Gamay Noir, or even the most planted variety Merlot would be good choices for hopefully the second edition of this event. Steven tried many pinot noir wines during his Okanagan Valley visit and was impressed with "the elegance and the true Burgundian style of this variety".  Yes Foxtrot Vineyards 2012 and others are really singing. He also noted " For me wine is the three "P's": the Place, the People, and the Product. British Columbia ticks all these boxes with exuberance, elegance and conviction". BC Bottle Shock? Perhaps. For some yes. For me no. The results of both blind tastings are as follows:
CHARDONNAY RANKINGS:
Soumah Single Vineyard 2013 Yarra Valley Victoria $27 – 12.7 degrees alcohol Bottled November 2013 Poured 4th
Kumeu River Hunting Hill 2012 Auckland New Zealand $35 – 13.5 Poured 12th
Hamilton Russell 2014 Hemel-en-Aarde South Africa $40 – 13. Poured 10th
Jean-Marc Brocard Chablis 1er Cru Montmains 2012 France $45 – 13. Poured 1st
Bouchard Pere Meursault 1er Cru Genevrieres 2011 France $86 – 13.5 Poured 5th
Blue Mountain Reserve 2012 Okanagan Valley BC $30 – 13.5 Poured 2nd
Tantalus 2012 $24 – 14. Poured 6th
Robert Mondavi Reserve 2012 Carneros California $44 – 13.5 Poured 8th
Mission Hill Perpetua 2012 Okanagan Valley BC $50 Poured 9th
(Tie for 9th) Quails' Gate Rosemary's Block 2013 Okanagan Valley BC $30 – 13. Poured 11th
Meyer Family Micro Cuvee 2012 Okanagan Valley BC $65 -13.5 Poured 3rd
Haywire Canyonview 2013 $25 – 14. Poured 7th
SYRAH RANKING:
CC Jentsch 2013 Okanagan Valley BC $30 – 13.8  Also just won Platinum at National Wine Awards 2015 Poured 5th
Langmeil Orphan Bank 2012 Barossa South Australia $68 – 14.5 Vines 70 years old Poured 4th
Domaine Vincent Paris Cornas Granit 60 2013 Rhone France $66 – 13. Poured 6th
Nichol Okanagan Valley BC $40 – 12.8 Poured 1st
Le Vieux Pin Cuvee Classique 2013 Okanagan Valley BC $50 14.1 Poured 11th
Ojai 2011 Santa Barbara California $30 Poured 3rd
Jackson-Triggs Sunrock 2010 Okanagan Valley BC $30 – 13.5 Poured 7th
Orofino Scout Vineyard 2012 Similkameen Valley BC $29 – 14.7 Poured 12th
JL Chave Crozes-Hermitage Silene 2012 Rhone France $40 – 13. Poured 2nd
Tyrrell Vat 9 2011 Hunter Valley New South Wales $49 – 12.9 Poured 10th
Laughing Stock 2013 Okanagan Valley BC $38 – 14.2 Poured 8th
K Vintners The Beautiful 2012 Walla Walla Washington $70 – 14.5 Poured 9th

(L-R) Sid Cross, Steven Spurrier, Barb Philip MW, David Scholefield.
---
You might also like:

Loading ...