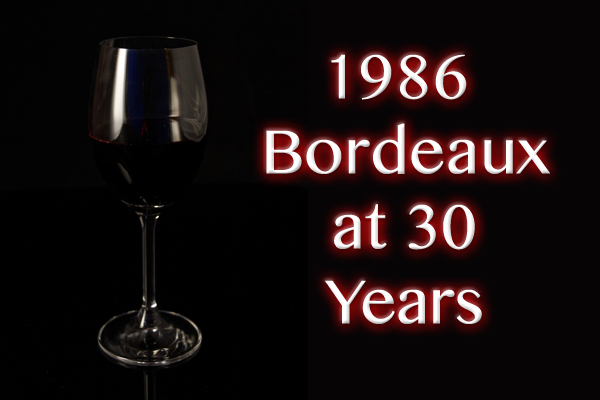 Vancouver's "Group of Eight" events are always well orchestrated by knowledgeable wine collector Ian Mottershead with our latest two being exciting dinner/tastings showing a total of 20 top wines from the controversial 1986 vintage now approaching 30 years of age. A big crop from hot dry drought summer conditions followed by rainy storms in September resulted in a grape harvest of inconsistent quality. Earlier picked merlot fared less well than later ripening in October cabernet sauvignon especially successful in the Left Bank appellations of St. Julien and Pauillac. The wines certainly were not charming or consumer friendly early on due to their harder tannins requiring patience. Which wines have matured best with good fruit still left?
Part I on April 5, 2016:
LA LAGUNE Ludon – Open with green herbs, expected more, simpler, drying out, drink up
TALBOT St. Julien – Palest rim of first 3, full impressive textbook AC fruit, lovely cedar-cigar-tobacco notes
VIEUX CHATEAU CERTAN Pomerol – Dark, quality young ripe plums, balanced, big rich & powerful
LYNCH BAGES Pauillac – Solid, rich, less hard tannins now, coming together, not the charm of 85
MONTROSE St. Estephe – Earthy, full, exciting with more charm than expected, textured mid-palate
DUCRU BEAUCAILLOU St. Julien – Stylish, lighter, breeding, acid balance, clean no brett, elegant
LEOVILLE POYFERRE  St. Julien – Very dark, excellent fruit but spoiled by TCA corky bottle
LEOVILLE BARTON St. Julien – Cab sauv statement with typical iodine note, powerful, still developing
LEOVILLE LAS CASES St. Julien – Classy pure complex bouquet, outstanding, integrated tannins, superb
RAYMOND-LAFON Sauternes – Excellent botrytis with ripe juicy pineapple, beautiful creamy honey
Good first evening with the Leoville Las Cases outclassing a stellar field. All 3 Leovilles are approaching a wonderful drinking plateau with impressive fruit to match those tannins but no rush. Second trio of reds also showed very well with more charm than the first trio. Montrose a surprise with wonderful texture.
Part II on May 17, 2016:
BRANAIRE DUCRU St. Julien – Aged rim, herbal mushrooms, mature, softer, forwardly, delicious taste
GRUAUD LAROSE St. Julien – Cloudy, cedar, harder fruit, more backward, still promising, no rush, age
COS D'ESTOURNEL St. Estephe – Red young look, good intense fruit, coarse tannins, lacks charm
RAUZAN SEGLA Margaux – Less power, elegant, very Margaux perfumes, structure, silky textures, ready
MARGAUX Margaux – Shows that classic cab sauv, stylish, big, atypical, still bit closed but what potential
HAUT BRION Pessac-Leognan – Exquisite, refined, perfect balance, elegant, stylish, charm, fruit purity
MOUTON BARONNE PHILIPPE Pauillac – Really a surprise with complex open stylish cedar bouquet
PICHON BARON Pauillac – Solid & drinking well, Lalande has denser 1986, smooth & supple drinking now
MOUTON ROTHSCHILD Pauillac – So concentrated, cedar, cigar, length, very special success, classic!
CLIMENS Barsac –  Bigger & sweeter than normal, marmalade, excellent botrytis of 86
Last red trio of Pauillacs showed the riper cab sauv contributing to overall quality. First Growths shone through this evening led by Mouton, Margaux & Haut Brion. Lafite can also be outstanding while not the best vintage for Latour. Sweet wines are top class in 1986.
Conclusion: Though some wines show that diluted merlot and others are too tannic nonetheless there are some really outstanding wines from Bordeaux made in 1986. Some are still improving and are true classics.
Have you tried a 1986 Bordeaux recently?
---
You might also like:

Loading ...