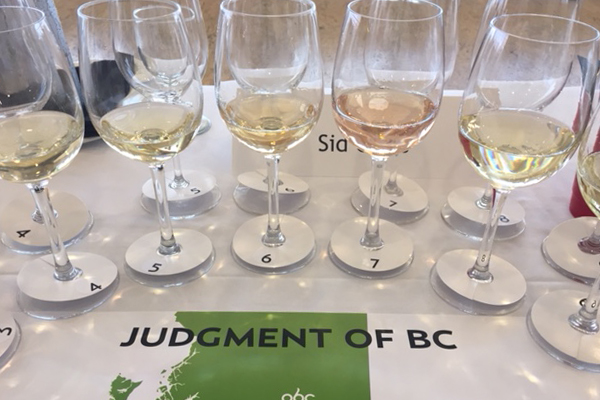 The WINES OF BRITISH COLUMBIA Stand up to the World at the Fourth Annual Judgment of BC
Below is the official release summary by the BC Wine Institute on the exciting 4th Judgment of BC Wines featuring Sparkling & Bordeaux Blends held on October 23, 2018. This follows their earlier first three held on August 25, 2015 (reported by your scribe on this blog August 31) with Chardonnay & the excellent showing BC Syrah, then June 21, 2016 (reported June 27) on Riesling & Pinot Noir, and on August 18, 2017 (reported August 28) with Pinot Gris & Merlot. Another good showing from the BC wines in tough company.
Sparkling decided the first 3 spots for Champagne house connections though gold was from dependable value Roederer Estate California that was served last (though the tasters tried all 12 in different sequences) and was clearly the sweetest one at 12 grams/litre of residual sugar and only 2+ years aging. Veuve Clicquot #2 is a solid big selling Champagne with lots of reserve wines (30-45%) added for rich approachability with 30 months lees and sweeter at 9-11 g/l plus #3 Pierre Paillard has less dosage (3.5RS) with 4 years on the lees. Would have enjoyed having one of the improving English Sparkling examples (like Nyetimber) in this line-up. Another fine showing in 7th was by Graham Beck from South Africa also in a drier style (2.3RS) but showing impressively most lees for complexity with 72 months en tirage. The fresh well balanced natural acidity style of BC wines took places 4, 5, and 6 with most worthy examples of quality bubbles. All twelve were blends except for Blue Mountain 100% Chardonnay & Tantalus 100% Pinot Noir. Well done indeed!
Bordeaux Blends was a much more difficult tasting test with a diverse mix of grape varieties but especially being from different micro-climates and showing such young vintages (six from 2015, 5 from 2014 & one 2013). They ranged all the way from a lighter easier drinking 90% Merlot blend from Fronsac in Bordeaux to full powerful expensive Napanook by Dominus (with 88% Cabernet Sauvignon, 9 Petit Verdot 3 Cabernet Franc)) & dense presently brutishly tannic Signature from Clos de Soleil in Similkameen Valley. Tough to compare the 12 wines. Unfortunately the Chateau d'Armailhac Pauillac 2015 which has shown before refined elegant and floral on this occasion was way too much wet earthy off bottles. Beware. Lovely delicious subtle charm from underrated Chateau Poujeaux. The Selection Committee did an outstanding job in picking 6 wines out of 99 potential candidates that expressed a more elegant balanced style to compete. The top two winners are both respected blends with distinct terroirs from the Okanagan with Legacy (44CS/27CF/13Malbec/13Merlot/3PV) of Poplar Grove & Portfolio (45Merlot/32CS/18CF/2PV) by Laughing Stock. They both are deserving of further recognition for sure. A super showing for the much improved Bordeaux blends from BC. Congrats.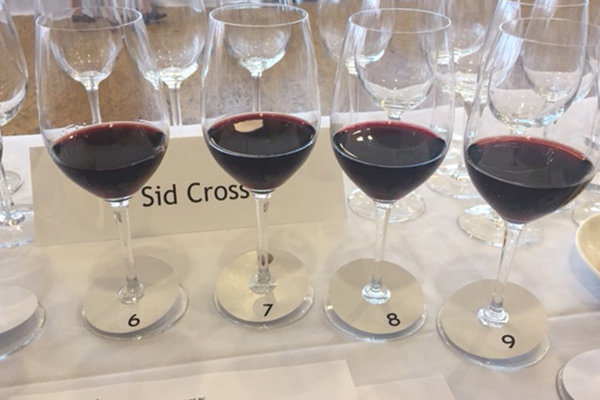 For immediate release:
October 26, 2018KELOWNA, BC – The Wines of British Columbia were put to the ultimate test at the fourth annual Judgment of BC on Wednesday, October 24, pitting 12 BC wines against 12 acknowledged global benchmarks. We are proud to announce BC's Poplar Grove Winery The Legacy 2014 BC VQA Okanagan Valley ranked first among the flight of Bordeaux-style red blends, with BC's Laughing Stock Vineyards Portfolio BC VQA Okanagan 2015 close behind in second place. Roederer Estate Brut NV from Anderson Valley, California came out on top for the flight of traditional method sparkling wines with BC placing fourth, fifth and sixth.Hosted by the BC Wine Institute, and curated by Vancouver based wine expert DJ Kearney, the Judgment of BC took place in Kelowna in the heart of wine country, during which 37 international and national wine judges blind tasted and ranked the 24 wines. 12 were traditional method sparkling wines and 12 were Bordeaux-style red blends, six of each were from BC and six were international benchmarks.The BC wines selected for the Judgment were hand chosen through a blind tasting by a Selection Committee of Barb Philip MW, Rhys Pender MW, Dr. Janet Dorozynski, Kurtis Kolt, Michaela Morris and Jason Yamasaki, led by DJ Kearney. Ninety-nine wines were tasted prior to selecting the final 12 BC representatives.

"The fact that two BC wines topped the red blends challenge was a true testament to our distinct terroir and climate, but most of all to skilled farming and winemaking." Says Kearney. Poplar Grove Winery, celebrating its twentieth vintage, first made The Legacy in 2004. Over the years have honed this style to a standard of high quality. Just as impressive, Laughing Stock's stylish Portfolio beat out benchmarks from Bordeaux and Napa Valley.

Twenty-six top wine professionals from around the world and across the country had just spent four days immersed in Wine BC BootCamp. Hosted by Master of Wine Rhys Pender and the British Columbia Wine Institute, the group delved deep into BC's wine culture learning, tasting and discussing everything BC wine during a series of Masterclasses, panel discussions and regional visits. A further 11 Canadian wine critics and sommeliers descended on the Okanagan Valley to join the group for the Judgment tasting.

"It has been the most fascinating tasting," says International judge Christine Austin, British wine writer for the Yorkshire Post. "BC Wine can stand up on the world stage with their own character, flavours, personality and hold their head up high against some of the best wines in the world."

Tasting both traditional method sparkling and red blends shows BC's diversity. "Many regions say they can produce a variety of styles. British Columbia is unique due to its climate and geology in actually being able to produce many grapes and styles at high quality," notes Master Sommelier James Tidwell. "I look forward to the day when these wines are more recognized in the international market."

"Our traditional method sparklers showed elegance, finesse and refinement." notes Kearney. Blue Mountain's Blanc de Blancs 2010 R.D. proved to be the top ranked BC wine, placing fourth place.

Vancouver based wine writer, educator and international judge Michaela Morris was impressed by how well the BC sparkling wines showed. "Most of my top ranked wines in the sparkling flight turned out to be from BC which I found very impressive."

"It was a fun, enlightening exercise that reinforced the point of the quality of wines coming out of British Columbia," says Katelyn Peil Wine Director for the Heavy Restaurant Group in Seattle, USA. "The wines are exciting and fresh with a purity of fruit that also offers a sense of place. It is amazing to see the caliber of wines coming from this region and the rest of the world should be paying attention."

"As an industry, we are so thrilled and humbled that there is such close attention from the world's top wine influencers on what is happening with BC wine," notes Laura Kittmer, Media Relations Manager of the BC Wine Institute. "We had top palates from the UK, USA, Asia and across Canada all of whom were enthusiastic about the quality of the wines."

"The annual Judgment of BC allows us to gain insights and knowledge into how we compare internationally. Introspection is a critical part of ensuring we continue to make high quality wines, and also allows us to collectively celebrate as an industry. We have so many reasons to be proud, and the future is very bright." says Kearney.

SPARKLING WINE RESULTS

1. Roederer Estate Anderson Valley Brut NV California | 12% | $46.99

2. Champagne Veuve Clicquot Brut NV France | 12% | $69.99

3. Champagne Pierre Paillard Les Parcelles Bouzy Grand Cru Extra Brut XIII France |12.5% | $67.99

4. Blue Mountain Vineyard & Cellars Blanc de Blancs R.D. 2010 Okanagan Valley, BC | 12.5% | $39.90

5. Noble Ridge Vineyard & Winery The One 2012 Okanagan Valley | 12.0% | $47.90

6. Sperling Vineyards Brut Reserve 2011 Okanagan Valley, BC | 11.5% | $50

7. Graham Beck Brut Zero 2011 South Africa | 12% | $29.99

8. Tantalus Vineyards Blanc de Noir 2015 Okanagan Valley, BC | 12.0% | $30

9. Segura Viudas Heredad Brut Reserva Spain | 12% | $33.99

10. The View Winery Pearls Traditional Brut 2016 Okanagan Valley, BC | 11.8% | $30

11. Fitzpatrick Family Vineyards Fitz Brut 2015 Okanagan Valley, BC | 11.6% | $32.99

12. Mumm Napa Brut Prestige NV California | 13% | $25.99

RED BLEND RESULTS

1. Poplar Grove Winery The Legacy 2014 Okanagan Valley, BC | 14.0% | $52

2. Laughing Stock Vineyards Portfolio 2015 Okanagan Valley, BC | 14.9% | $50

3. Blackbird Arise 2015 Napa Valley, California | 14.5% | $86

4. Dominus Estate Napanook Napa Valley Red 2014 California | 14.5% | $125.99

5. Intersection Estate Winery Axiom 2014 Okanagan Valley, BC | 13.9% | $39

6. Chateau Poujeaux 2015 Moulis-en-Médoc, France | 14% | $65

7. CedarCreek Estate Winery The Last Word 2014 Okanagan Valley, BC | 14.6% | $84.99

8. Osoyoos Larose Estate Winery Le Grand Vin 2015 Okanagan Valley, BC | 14.0% | $45

9. DeLille Cellars D2 2013 Columbia Valley, Washington State | 14.3% | $85

10. Clos du Soleil Winery Signature 2014 Similkameen Valley, BC | 14.8% | $45

11. Chateau de La Dauphine 2015 Fronsac, France | 14.5% | $50

12. Chateau d'Armailhac Grand Cru Classé 5th Growth Pauillac, France 2015 | 13.5% | $90

JUDGMENT OF BC JUDGES:

Christine Austin

Isa Bal, MS

Jennifer Book

Adriano Cartulaires

Sid Cross

Terry David Mulligan

Dr. Janet Dorozynski

Mark Filatow

Tom Firth

VJ Gandhi

Meg Houston Maker

David Irving

Kelcie Jones

Lindsay Kaisaris

Juwan Kim

Kurtis Kolt

Geoffrey Last

Laurie MacKay

Chase MacLeod

Bryant Mao

Sharon McLean

Michaela Morris

Tim Pawsey

Katelyn Peil

Rhys Pender, MW

Drea Philip

Dave Pieroway

Craig Pinhey

Jeremy Pott

John Schreiner

David Stansfield

Laura Starr

Terry Threlfall

James Tidwell, MS

Sebastian Tobler

Alistair Veen

Julie Young

– 30 –

Quick facts about the BC Wine Industry:
BC is home to 929 vineyards
There are more than 10,499 acres (4,249 hectares) of wine grapes planted in British Columbia
BC's grape wine industry has grown from just 17 grape wineries in 1990 to more than 275 today
BC's wine industry employs about 12,000 people and has an economic impact of $2.8 billion annually
Each year, BC's wineries welcome more than 1,000,000 visitors
Wines of British Columbia Trip Planner offers visitors an interactive touring app with personalized itineraries to explore the character of each wine region
About The British Columbia Wine Institute:
Since 1990, the BCWI has played a pivotal role in taking BC's wine industry from a vision to an internationally recognized niche region producing premium wines and providing exceptional wine tourism experiences. The BCWI markets the wine and regions of BC; delivers quality trade, media and consumer tastings; and acts as the voice of BC's wine industry by advocating to government on behalf of industry that contributes $2.8 billion in provincial economic growth annually.
The BCWI represents all wineries in British Columbia to grow the premium market share for the Wines of British Columbia, while driving awareness of our world-class wines and tourism product – currently drawing 1,000,000 visitors with $600 million in tourism and tourism employment related economic impact every year. For more information about BC Wine Institute's programs and services, please visit WineBC.com.
For details on the Wines of British Columbia, go to WineBC.com, like the Wines of British Columbia Facebook page and follow @WineBCdotcom on Twitter and Instagram.
---
You might also like: