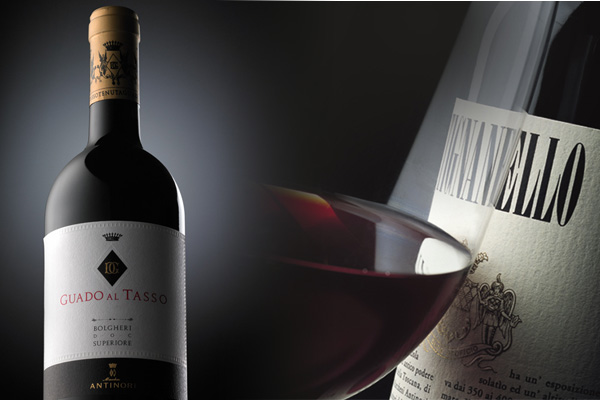 Photos courtesy: antinori.it
Just concluded a busy 8 days at Canada's Premier Wine Show the 38th Vancouver International Wine Festival (VanWineFest.ca & @VanWineFest #VIWF) showing 1450+ wines from 155 participating wineries representing 14 countries. The focus this year was 60 producers from 9 iconic regions of Italy. Wonderful culinary dinners and educational seminars were among the many highlights. Enjoyed Tuscan Trailblazers featuring the legendary Antinori family who have been making premium wines for over 6 centuries. A vertical tasting of 2 Super Tuscans Tignanello & Guado Al Tasso was led by Stefano Leone Export Director and World Ambassador for Marchesi Antinori participating in VanWineFest since 1987 & knowledgeable Anthony Gismondi wine columnist for The Vancouver Sun, Wine Align and gismondionwine.com. Some of my impressions:
TIGNANELLO: 6 vintages 2001, 2003, 2005, 2009, 2012, 2013 tasted. It is a special Estate on a steep slope at 350-400 metres facing SW with poor limestone rich soil full of rocks that is always under stress perfect for growing quality grapes. White stones reflect the light and help support the maturation of the fruit for a long ripening season. It was the first sangiovese to be blended with non-traditional grapes starting with 1975 (cabernet used and no white grapes added) and to be aged in small oak barrels (started out with coarser Limousin but now using their own coopered larger sized oaks including Hungarian).
In 2015 I opened my last bottle of 1971 the very first Tuscan red table wine which was still very alive and so drinkable with butternut squash ravioli. Note no Tignanello was produced in 1972, 1973, 1974, 1976, 1984, 1992, and 2002! Now usually an 80% sangiovese blend with about 15% cabernet sauvignon & 5% cabernet franc. 60% of their production is sold in restaurants. Production about 30,000 cases a year.
2001: Elegant. Leaner from cooler fruit. So savoury with lower alcohol. More rustic tannins. Perfect food wine.
2003: More difficult very hot year resulted in sugars but not a perfect phenolic ripeness in the thick skins. Blend of cooler upper part of the vineyard always so important for aromatics fared better than the hotter lower part. Rich forwardly drinking style now.
2005: Wet (opposite of 2006) with mold and selection issues. Shows good acidity with tannins there but some refinement and elegance.
2009: Showing surprisingly well now (in shadow of highly rated 2010). Pleasant and underrated vintage. Drink and enjoy this while waiting for your 2010 to develop further.
2012: Not lauded initially but turning out to be one of the best. Like the balance and energy with lovely red cherry fruit aromatics showing some spicy balsamic notes.
2013: World first showing of this vintage which is being released on April 1. Slightly lighter rim colour than the 2012 but very well done from a more regular vintage. Young days but impressive balance right out of the gate.
GUADO AL TASSO: 6 vintages 2003, 2004, 2005, 2006, 2012, 2013 tasted. Production about 13,000 cases a year. About 100 km SW of Florence is the coastal Bolgheri region that used to be a swamp but now is a successful wine region with some 40 producers. They have 300 hectares planted in the "Bolgheri amphitheatre" on a magnificent plain surrounded by gentle hills. It has been made since 1990 with roughly 50% cabernet sauvignon, 40% merlot and 10% syrah and aged about 14 months in new French oak barriques. Soil there generally is too rich and wet with a constant mild wind not the best conditions for successful growing of the sangiovese grape. Milder winters and cooler summers. Starting with 2007 decided to stop using syrah and substitute instead cabernet franc in the blend. Look out for their so impressive 100% cabernet franc bottling.
2003: Ready for drinking.
2004: More balance with that easy soft spice accent.
2005: Cooler and more humid year. Tignanello 2005 seems to be aging better than Guado. Stefano says "Tignanello can last 35 years while Guado can last 25 while both drinking well after 10-15 years".
2006: Media didn't acclaim it but has improved in bottle showing more character and elegant complexity than on release.
2012: Big bold concentrated. No syrah but impressive cab franc. More tannins than 2013.
2013: Another excellent blend here. Seems more balanced to me than 2012 but early days for both. Very promising. Much prefer the cab franc substitute for syrah. Better terroir definition of Bolgheri obtained with power depth and richness.
Two very different Super Tuscans!
More details available at antinori.it.
---
You might also like:

Loading ...