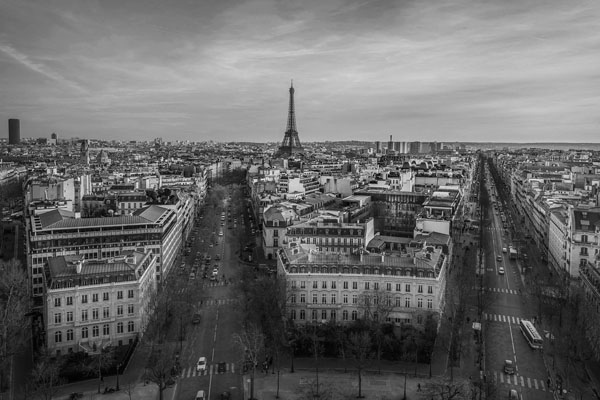 Fortunate this month to be checking out more top restaurants in Paris. Some cutting edge new spots with young enthusiastic chefs and some old favourites. Decades ago we used to enjoy trying the unique daily lunch menu de jour of the 3 star Michelin places for both their great value and innovative market fresh fare. That seems long gone now where often the daily menu can really lack inspiration. For sure that is certainly not the case at Pierre Gagnaire.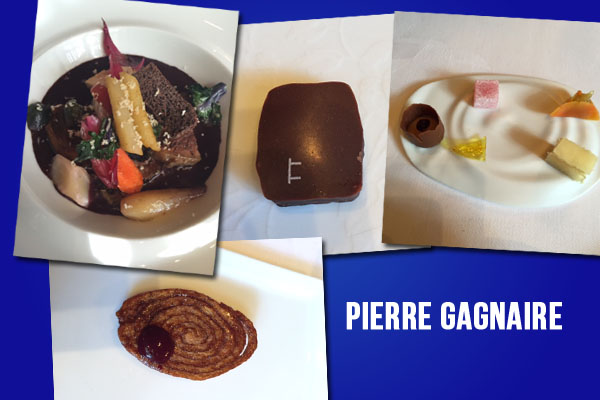 Lunch at Pierre Gagnaire: What a culinary treasure! Amazing decor as you enter with inviting round tables so perfectly placed for dining privacy and comfort. What an experience to go there for the lunch menu at a remarkable value of 90 euros for so many outstanding items presented. You get an amazing feel for this talented chef's style and creativity. The menu shown doesn't begin to show the wealth of amuses, multi appetizers and starters, three breads, and diverse desserts in addition to the main course that is served to you. On this occasion the main was pot-au-feu served with Puy lentils & sausage, sauerkraut flan and Dijon mustard flavoured with truffle. On other occasions it might be fish or chicken or whatever but always at very high Michelin 3 star quality. Outstanding dining!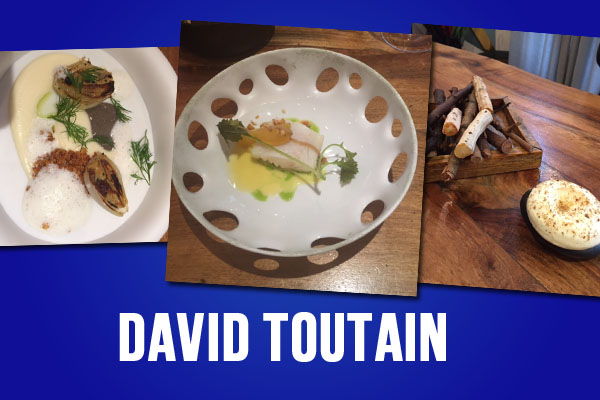 Another favourite your scribe has written up before is David Toutain. Surprise multi course lunch for 80 euros is always a treat. From warm plates to a la minute preparation of dishes everything arrives at your table with perfection. Every dish a culinary highlight this time especially sweet onions napped in a truffle sauce and table side service of foam. Pigeon cooked whole a point and carved exquisitely for you. Underrated rising star.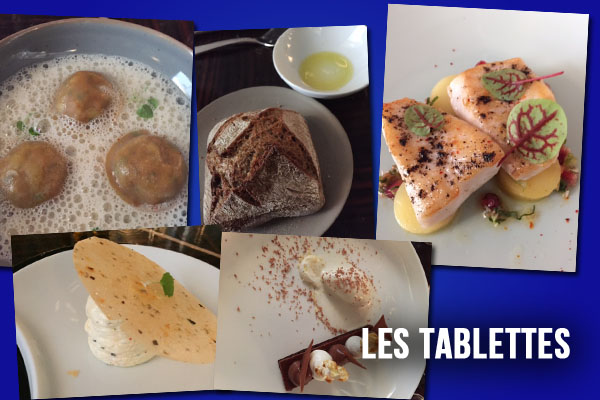 Perhaps IMHO the best lunch value presently for the quality delivered in Paris at 58 euros is Les Tablettes of Jean-Louis Nomicos. For that you get varying dishes that include amuse, starter (lobster ravioli in lemongrass foam), main course (poached John Dory), superb bread with butter and Italian EVOO, cheese course, and dessert choice plus 375 ml. wine (excellent minor chateau Bordeaux Blanc 2015). Over delivers and worth checking out.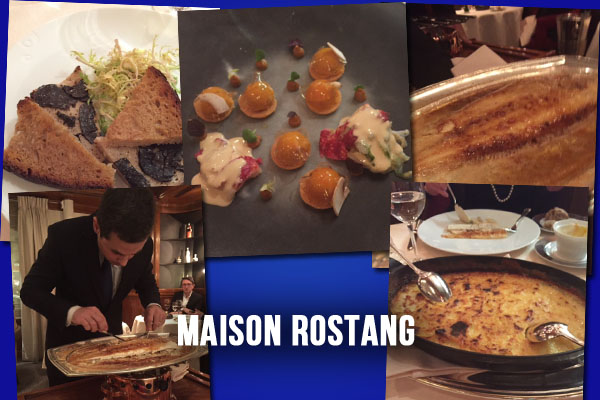 Dinner at old timer Relais & Chateau of Michel Rostang always is so nostalgic. Traditional favourites of Truffle Sandwich (refrigerated 48 hours and then grilled a golden brown – better than grilled cheese!) best eaten with your fingers before the finger bowl arrives. Lobster salad with coral prepared table side as is the amazing Grande Dover Sole. Alain Ronzatti celebrating 37 years as sommelier there liked my wine choice of delicious elegant 2010 Domaine Roulot Meursault Tessons to match these superb old style dishes. What an evening!
Pierre Gagnaire: 6, rue Balzac 75008 Paris +33 (01) 58 36 12 50 www.pierre-gagnaire.com   p.gagnaire@wanadoo.fr
David Toutain: 29, rue Surcouf 75007 Paris +33 (01) 45 50 11 10 www.davidtoutain.com  reservations@davidtoutain.com
Les Tablettes of Jean-Louis Nomicos 16. av Bugbaud 75016 Paris +33 (01) 56 28 16 16 www.lestablettesjeanlouisnomicos.com
Maison Michel Rostang 20 rue Rennequin 75017 Paris www.maisonrostang.com  reservations@maisonrostang.com
---
You might also like:

Loading ...