Red Burgundy from a large 1999 crop (now over 20 years of age) were highly rated initially (coming after the lesser 1998 & 1997) drinking so well early on but lauded even more presently as showing their true dense character with successful aging. Your scribe has enjoyed the underrated mostly consistent reds of Cote de Beaune (especially Volnay) in this vintage because of wonderful clean pure intense fruit from early picking before the September 24 rains which affected some later picked thick skinned Cote de Nuits. As a result there is some variability in 1999 Burgundy reds because some producers picked too early and some picked too late so harvest timing and grape selection became most important.

Our Group of Eight in Vancouver on February 21 at Blue Water Cafe enjoyed a horizontal tasting-dinner of nine selections from this formidable 1999 vintage. A treat to start with 1996 DOM PERIGNON P2 ROSE beautifully boxed with a lovely bright pink copper look in the glass. Bouquet of fine raspberries but all rather delicate soft rounded classy styling for current drinking enjoyment.
Some brief impressions of the 1999 reds:
DOMAINE MICHEL GAUNOUX, BEAUNE AC Aged paler red brown rim tastes lighter and is drying out. Picked early? Ready with excellent acidity to refresh a unique local fresh sturgeon dish on delicious "roesti" potatoes. This traditional producer owns vineyards in southern Beaune next to their home base of Pommard which they use in this blend. Also check out their Corton Renardes.

DOMAINE JACQUES PRIEUR CLOS DE LA FEGUINE, BEAUNE 1ER Much redder and darker – quite dense. An attractive open tertiary bouquet with lovely clean cherries and so balanced. Shows Côte de Beaune 1999 high quality potential. Perhaps a tad simple but on a perfect plateau.

DOMAINE SYLVIE ESMONIN CLOS SAINT-JACQUES, GEVREY-CHAMBERTIN 1er CRU Deeper red with minty earthy slightly musty notes. A bit dank but the nose cleared up somewhat yet still not perfectly clean on the palate. Bottle variation? Picked too late? Small producer Sylvie Esmonin is recommended by your scribe using 100% new oak on her powerful Clos Saint-Jacques (one of 5 owners) from 3 vineyard sections blended together for best results from top marly, middle rocky, and bottom clay.

DOMAINE HUMBERT FRERES ESTOURNELLES ST. JACQUES, GEVREY-CHAMBERTIN 1er CRU By far the darkest of this first flight. Deep reluctant aromas. Intense cherries. Lacks elegance. May develop further.

MAISON LOUIS JADOT BONNES MARES GRAND CRU First of the second flight, all Grand Cru. Lighter paler rim. Exquisite open bouquet by far the best complexity so far. Amazed at how solid it is yet so very charming & elegant. Delightful pairing the Chicken Supreme. Great juice! No rush.

MAISON BERTRAND AMBROISE LE ROGNET CORTON GRAND CRU So big ripe concentrated "porty" like Pinot Noir. Full rich and a touch alcoholic. Too big perhaps as it lacks desired elegance. Needs way more time to soften and develop more.

DOMAINE MEO-CAMUZET CLOS DE VOUGEOT GRAND CRU Opposite style of the Corton wine displays delicious beautiful drinking medium weight no stems most delicate so elegant admiration. Really like this producer and this wine!

DOMAINE RENE ENGEL CLOS-VOUGEOT GRAND CRU Your scribe received a pour from the bottom very cloudy and a disappointing early impression. Tried a neighbour's wine glass that was so completely different, clear and bright. Service on these older wines with sediment is crucial. Mixed feelings on this wine as a result of the look and grainy texture at first. Enjoyed more with the black winter truffles in the main chicken dish. Great historic producer now acquired and renamed Domaine Eugenie owned by Francois Pinault (Chateau Latour).

DOMAINE ARMAND ROUSSEAU CHAMBERTIN CLOS DE BEZE GRAND CRU This is young dark and intense. The two northern deep rich soil plots of 1 ha 42a results in an unbelievable wine here. So aromatic with just the starting of that sophisticated spice note of complexity. Layered with black ripe fruits & minerality with an amazing touch of silky elegant delicacy developing. Showing better every time your lucky scribe has tried it. Even more open less tannic more charming than the last experience a year ago at the Rousseau spotlight reported here on February 22, 2022. Need to put this wine on your Bucket List. Profound!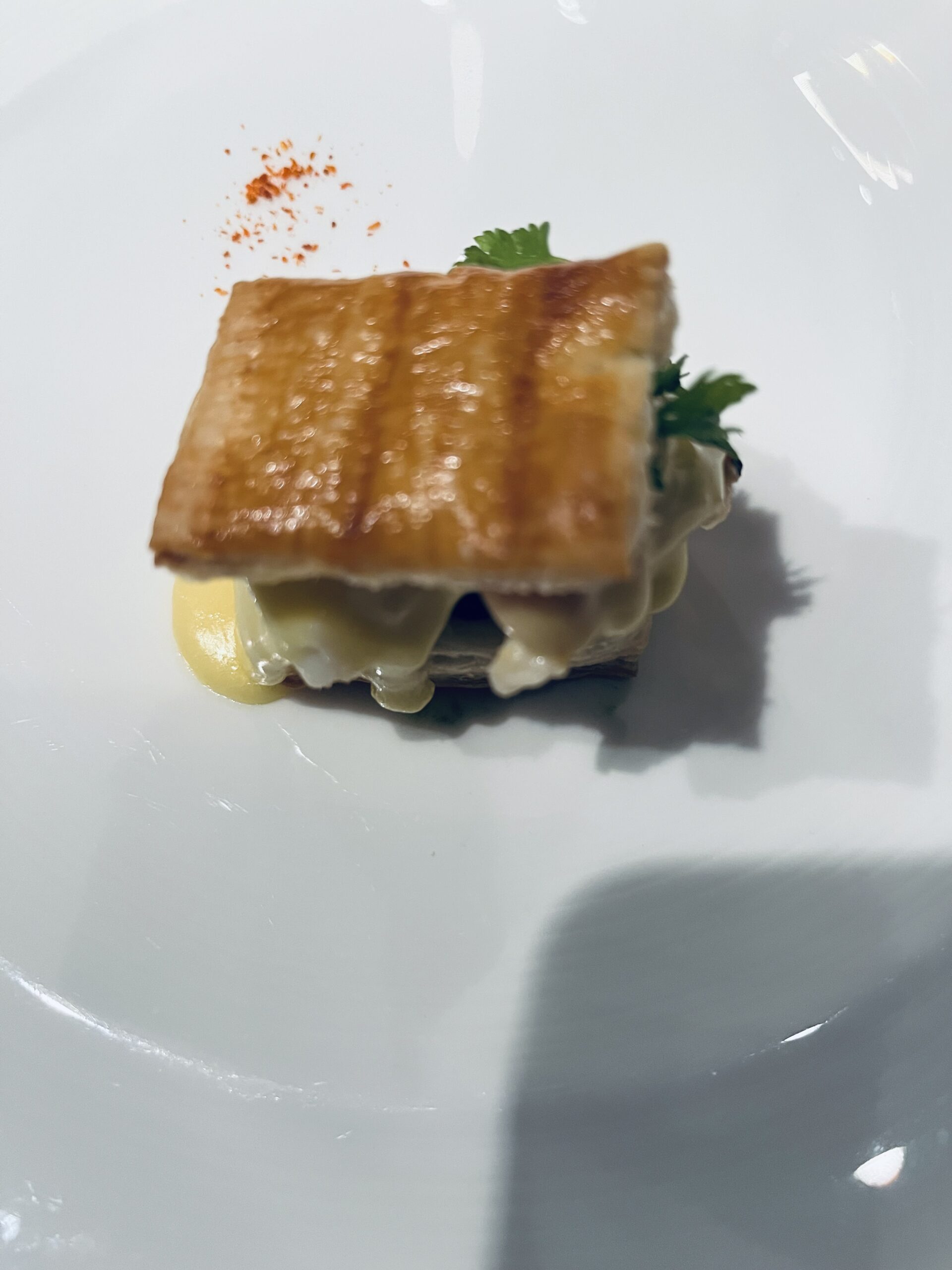 ---
You might also like: