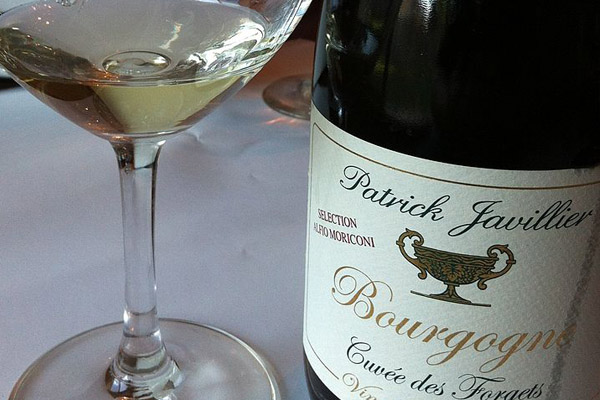 By Agne27 (Own work) [CC BY-SA 3.0], via Wikimedia Commons
I have been very fortunate this last week to try many white Burgundies. Something I truly enjoy doing as it is my all time top admired white wine category. With so many wine producing areas in the world you would have thought by now that some regional chardonnay would approach what can be such amazing balance and complexity. What about Hamilton Russell from that unique Hemel-en-Aarde Valley in South Africa, Penfold's Yattarna always using more Tasmanian fruit, or a small producer in the Russian River Valley in California?  Who do you think belongs in the ballpark with the best burg blanc?
In spite of premature oxidation issues the last while I am encouraged by a number of methods being utilized possibly to lessen this risk including the addition of more sulphur and the use of Diam P10 closures.  Time will tell.
Started the week with several Chablis. 2006 vintage seem more and more forwardly. I am drinking mine earlier than I expected. 2007 OK some with botrytis but somewhat similar to that open delicate lower sugar ripeness style of 2011. Contrast the weight of the big ripe rich fat softer forwardly 2009s. I remain a really big fan of those perfect 2008 & 2010 Chablis. 2008 Valmur William Fevre has wonderful acidity balance and upside potential to ultimately show true terroir at its best. Admire also the age ability potential of 2010 Les Clos Christian Moreau with that admirable subdued vibrant energy but with an underlying concentration from the smaller crop than normal.
Mid week tried blind two 1999 Ramonet Chassagne-Montrachet Boudriotte (fresh balanced higher acidity smoky) and Les Ruchottes (fuller richer sweeter more fat more forwardly) followed by two Remoissenet Corton-Charlemagne Diamond Jubilee of 1999 (ready full solid touch of caramel) and 1995 (fresh "cabbage" nose I often find with this producer classy more depth and length). No pre-mox.
Sunday a rare treat with our Vancouver Confrerie des Chevaliers du Tastevin holding their annual Paulee summer lunch with everyone required to bring a bottle of one of the 5 Grand Cru "Montrachet" vineyards (comprising Montrachet "M", Chevalier Montrachet "CM", Batard Montrachet "BM", Bienvenue Batard Montrachet "BBM", and Criots Batard Montrachet "CBM").  A nice varied selection of some 30+ wines to taste and study. Most were from the last decade except for a 99 Remoissenet BBM, a 85 Paul Pernot BM in mag and my 1957 Doudet-Naudin BM. Obtained directly from Yves Doudet in his cold cobwebby old cellars it showed the high acidity of 1957 but a wonderful old nutty aged character that opened better with some airing 56 years later. Surprisingly only 2 wines were showing slight TCA corkiness and only the 02 Girardin BBM showed some maderizing pre-mox though another bottle of the same wine from the same case was fresh light stony minerals. Bottle variation! On the other hand two bottles of 06 Girardin CM were consistently excellent showing elegance and depth of flavour. All the Bouchard Pere CM were outstanding though the 07 had that corkiness, 04 lighter but a beauty, 06 rich balanced and complex, 08 remarkable balanced structure but way too young. The 05 Jadot BM was rich almost California like in style as was the very full 04 Latour BBM. Several favs included 06 H. Boillot CBM tight vibrant and classy and the 04 Drouhin M – from the Marquis de Laguiche vineyards on the Puligny side of the AC rather than the often preferred Chassagne side – displaying great power, with acid balance and a potpourri of exotica. Impressed with all the 2006 bottles.
My short updated concise summary of recent white Burgundy vintages:
2013: Scary slow start with all the storms and flooding. Serious hail July 23 in Beaune & Pommard. Worrisome price pressures.
2012: Yields down as slow flowering reduced the crop and hail storms end of June in Meursault. Variable quality & prices going up already
2011: Hot June, cool July & early August, less hang time & less ripe with an early harvest starting late August, some easy charming whites
2010: Ripeness with balance, quality helped by a smaller crop level than normal. Some great wines.
2009: Hot weather less than ideal for whites but style is big rich softer opulent textures more forwardly. Some surprising gems like 2009 Meursault Perrieres Bouchard Pere.
2008: Lively balance of acidity impresses with that young fresh character. Underrated. Both Chablis and white Burgundy showing that superb vibrant structure.
2007: Variable because some less ripe but others crisp and lively with enough intensity of fruit to make some interesting bottles.
2006: Drinking fairly consistently and well now. Prefer this vintage for Burgundy whites over Chablis.
2005: Still impressive weight with sweet fruit. Prefer the reds which are truly a very outstanding memorable year but whites are fine too.
Do you like white Burgundy? What vintages? Where else are they making chardonnay at the very highest complex level of quality?