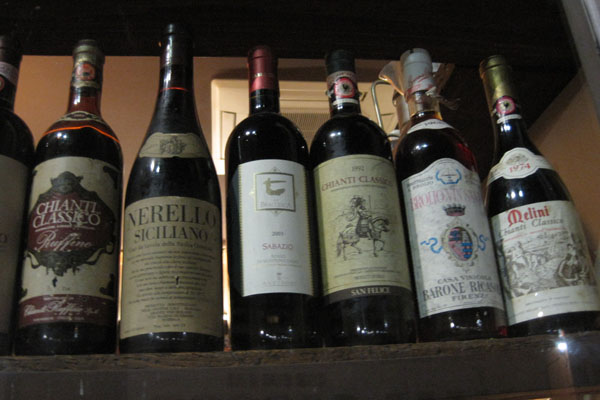 By Arnaud 25 (Own work) [CC BY-SA 3.0], via Wikimedia Commons
DOCG Chianti Classico (CC) includes Italian vineyards between Florence & Siena of Castellina, Gaiole, Greve, and Radda and parts of 5 other surrounding communities.  CC was exported in 2014 to more than 60 countries led  by USA 31%, Italy 18%, Germany 12% and Canada 10%. There is now a new classification for Chianti Classico above Riserva (CCR) called Gran Selezione (GS) which requires the use of only grapes harvested from a winery's own vineyards. The Consorzio led by Sergio Zingarelli of Rocca delle Macie have been on a North American tour explaining this new system and conducting formal tasting of the wines. More details on the classification with a useful chart can be found here. Interesting to note that the maximum yields for CC, CCR and GS are the same at 7.5 tons/hectare (or 3.35 T/acre) yet different minimum alcohol, maturation, and characteristics prevail:
CC:      Minimums: Alcohol 12  Maturation 12 Months "Young Full of fruit, Pleasant, Appealing and Very Drinkable"
CCR:   Minimums: Alcohol 12.5 Maturation 24 Months "Bigger Structure & Greater Aging Potential than the Year's Vintage CC"
GS:     Minimums: Alcohol 13 Maturation 30 Months (no stipulation on minimum barrel aging at all) "Perfect Balance between Elegance & Potency, Careful Grape Selection in Finest Years Ensures Great Structure & Equally Great Aging Potential"
The seminar dwelt on GS finesse, refinement and the sensorial characteristics of the Sangiovese Variety "Signature" showing great structure, balance and harmony, depth of flavour, aromatic spicy persistent complexity with the immediacy of the fruit on the palate and the nuances to age. Yet the wines varied widely in style from a very oaky Castello di Gabbiano to 20% merlot added in the Principe Corsini-Villa Le Corti. Still questions are raised about no production volume maximums where large landowners are blending big lots from various regions while smaller producers are only making 2400 bottles (200 cases) or less. GS doesn't help you understand the different vineyards and regions of CC but is more selection orientated rather than a terroir driven classification. Certification is obtained based on "chemical-physical tests conducted by authorized laboratories and approval of the wine's organoleptic characteristics by special tasting committees". Ripeness seems to be important factor as most GS wines were around 14.5 alcohol. Prices vary greatly too from around $35 (Bibbiano) to just under $200 (2010 Felsina Colonia). Nevertheless there are some excellent GS wines arriving in the marketplace that are worth exploring. Check them out.
---
You might also like:

Loading ...