On November 23 a quality dinner event for 12 wine collectors was BYOB Barolo held at Luca a top Italian restaurant in Vancouver. Lovely start with some cool bubbles of classy 2004 Montagne Verzenay Grand Cru Grande Terroirs de la Montagne de Reims from Raphael & Vincent Bereche and the always entrancing low dosage Jacques Selosse Initial disgorged June 2010 blending 3 consecutive Chardonnay vintages from 3 Grand Cru villages of Avize, Cramant & Oger. Further prepared our palates for the reds with 2 Italian whites matched well for a superb opening course of chilled octopus with special smoked EVOO & limoncello: 2013 Borgo Del Tiglio Friuli of Nicola Manferrari blended white & aged rich 2007 Masciarelli Marina Cvetic Trebbiano d'Abruzzo. The piece de resistance followed of 17 nebbiolo treasures in 4 flights all served blind:
1. BAROLO 1997 BUSSIA VIGNA ROCCHE ARMANDO PARUSSO
blank
2. BAROLO 1997 MARIONDINO ARMANDO PARUSSO
blank
3. BAROLO 1997 BRUNATE AZIENDA BRICCO ROCCHE
blank
4. BAROLO 1997 MARGHERIA RISERVA LUIGI PIRA  Interesting first flight all of which seemed younger than 20 years old even though from this warmer more approachable 1997 vintage. All showed 14.5 alcohol on the label but displayed cool fruit. Bussia in Monforte d'Alba has an open lovely complex bouquet with balanced structure compared with the Mariondino vineyard in Castiglione Falleto from the same producer Parusso which is lovely much softer easy style and more forwardly. The favourite was the Brunate in La Morra that was truly classic with surprising vibrancy for a 1997. No rush. Margheria was the fullest richest texture expecting it to be the oldest of the flight. An impressive first four all from 1997 enhanced by vitello tonnato & burrata sun dried tomato dish.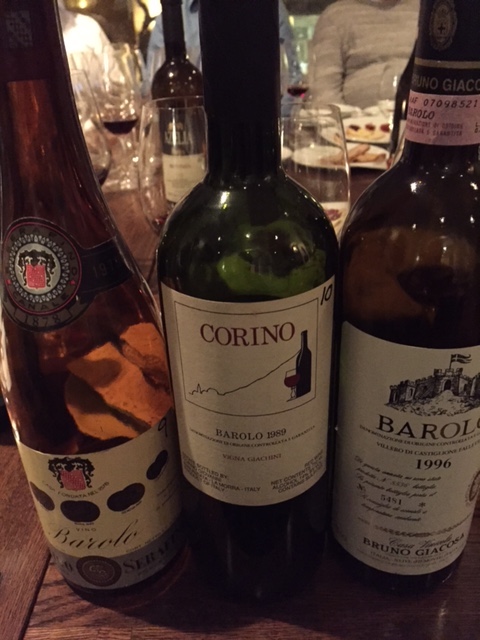 blank
5. BAROLO 1996 RISERVA (RED LABEL) FALLETTO BRUNO GIACOSA only 11667 bottles & 1500 magnums.
blank
6. BARBARESCO 1997 VIGNETO GALLINA LA SPINETTA
blank
7. BAROLO 1996 VIGNA CASA MATE ELIO GRASS
blank
8. BAROLO 1997 BRICCO FIASCO AZELIA
blank
9. BAROLO 1999 BRICCO FIASCO AZELIA  Disappointing start to this excellent flight with a corked bottle of what perhaps could have been the wine of the night Giacosa Falleto from that outstanding classic 1996 vintage. Barbaresco a ringer supposed to be lighter bodied region but label showed 14.5 while Casa Mate 13.5 & both Fiasco at 14. La Spinetta is a top producer and this is a lovely delicious example still with tannins from their unique Gallina. A couple more stellar 1997s in this flight both quite youthful again. Elio Grasso atypical for 1996 & Monforte d'Alba here as dry, tarry but musty so not the best clean bottle – prefer their promising exciting 2010! Both Azelia Fiasco steep vineyard in Castiglione Falleto shine but 1997 more baked while 1999 the best of this second flight with structure, texture harmony, and real depth of elegant ripe fruit that will continue to develop complexity.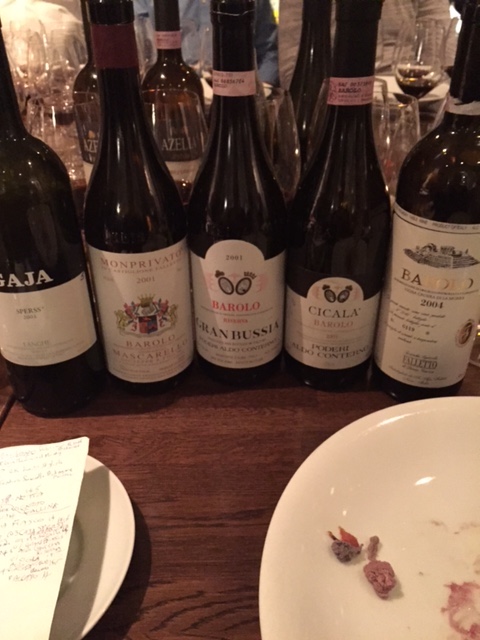 blank
10. BAROLO 2003 SPERSS ANGELO GAJA
blank
11. BAROLO 2001 MONPRIVATO GIUSEPPE MASCERELLO
blank
12. BAROLO 2001 GRAN BUSSIA RISERVA ALDO CONTERNO
blank
13. BAROLO 2001 CICALA ALDO CONTERNO
blank
14. BAROLO 2004 VIGNA CROERA DI LA MORRA BRUNO GIACOSA  Wonderful third flight of treasures. Unfortunately perhaps one of the best Monprivato was corked. Sperss forwardly drinking from 2003 but very distinct. Gran Bussia great plots show fresh big cherries fruit from the impressive 2001 year. Cicala also from Aldo Conterno in 2001 has superb tobacco and tar with minerals both setting a very high Barolo bar. 2004 are drinking better now but seem a step behind those structured 2001s but Giacosa always produces a bottle to be reckoned with for quality.
blank
15. BAROLO 1996 BRUNO GIACOSA
blank
16. BAROLO 1989 VIGNA GIACHINI  GIOVANNI CORINO
blank
17. BAROLO 1970 CANALE D'ALBA ENRICO SERAFINO The final oldest flight with the cheeses seemed almost an afterthought. Really admire 1996 but this one seems quite dry and still backward not singing tonight. The surprise was the refined outstanding 1989 vintage full of charm from Corino while historic 1970 was big but oxidizing probably not well stored. Also liked the 2001 Vin Santo Dei Chianti Classico from Isole e Olena with the cheese course.
A challenging and educational masterclass trying blind these 17 top Piedmont nebbiolo  wines. Impressive quality but they do benefit from time in the bottle – like 20 years of age. Don't really like those who simplify them as similar to pinot noir. Yes they are more like pinot than other wine grapes but that doesn't capture how truly unique and one of a kind they are. They both can have a lighter colour, complex aromas and bouquet, with prominent acid and tannin (Barolo has more of both) but a top red Burgundy & top Barolo really are quite different. Please take time to study them and appreciate their intriguing differences. Also have patience to see how they develop that hallmark "tar & roses" and other incredible complex factors on the nose and palate with cellaring. Have you tried an aged Barolo?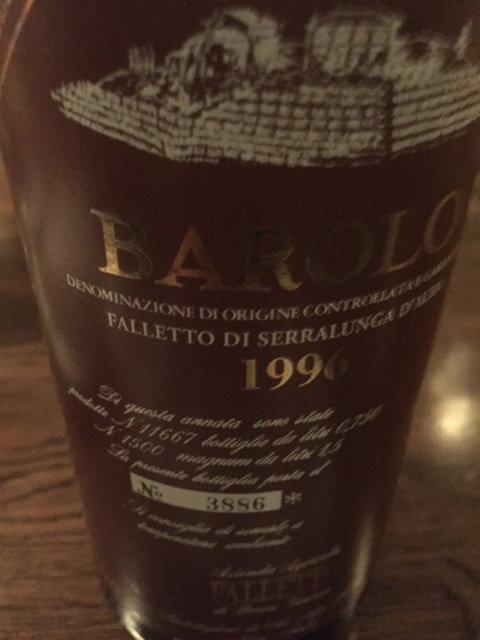 blank
---
You might also like:

Loading ...