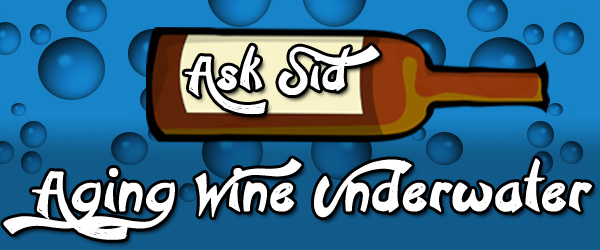 Question: I've been reading some stories recently about wineries that are experimenting with aging their wines underwater.  Do you think this method is feasible in the long term or is it just a marketing gimmick designed to generate some free publicity for the winery?
Answer: Topical question. Probably presently a bit of both. The amazingly high prices obtained for 150+ year old Champagnes recovered from shipwrecks is a very enticing marketing motive even using much shorter aging periods. Something different! Also there is is a lot of "free" real estate down there to use as feasible storage space in the future. You have to like the fairly consistent cool ocean temperatures to start with and the dark environment down under. Concerns about salty water requires tight bottle closures sealed with wax. However there seems to be other factors also at work in these experiments including the wave movement, currents, and the pressure differences. It is an interesting new development that bears monitoring and tasting these new wines with their distinct "Aquaoir" (a different type of "terroir") from Mira Winery in Napa and others to see differences both good and bad. Does it work better for sparkling bubbles than for still wines? Jury is still out.
---
You might also like:

Loading ...