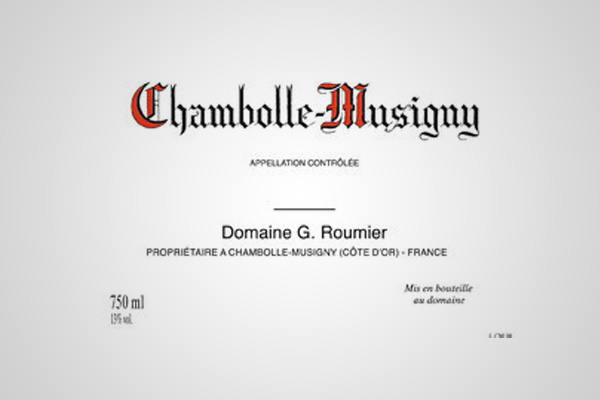 Photo credit: www.roumier.com
The Domaine of Georges Roumier in Chambolle-Musigny masterly run by Christophe Roumier is one of Burgundies true treasures. Their cherished parcels include structured magnificent consistent Bonnes-Mares, outstanding but more variable Musigny, fragrant complex Les Amoureuses, and unique Clos de la Bussiere (monopole) among others. The high price of these wines clearly indicate not only their amazing quality but the world demand for them. However if you drop down to the level of Chambolle-Musigny village AC there are still some wonderful values to be found from this top Domaine – particularly from the best years. This point was brought forcefully home to me again last week when I enjoyed 7 of them all showing their terroir and the vintage distinct differences. Some of my short observations:
2004 Chambolle-Musigny G. Roumier: Lean more difficult year shows with robust greener weedy earthy herbal notes in a simpler style.
2002 Chambolle-Musigny G. Roumier: Stylish, classy, vibrant, still hard though some elegance underneath, deep fruit is very promising but needs at least another 5 years to open up and sing.
2000 Chambolle-Musigny G.Roumier: Fantastic fragrant bouquet a beautiful surprise for current drinking even though lighter, forwardly and with less weight it shows well the delicacy of the commune.
1999 Chambolle-Musigny G. Roumier: Outstanding black fruits combining power with finesse but no rush as just reaching a plateau of long enjoyment. Structure & depth. The older vines with lower yields around 40hl/ha are usual for this AC wine and impress. Would think this is a premier cru Chambolle for sure!
1998 Chambolle-Musigny G.Roumier: Open & quite rich but a bit eccentric because of the vintage though drinking well now with some tannins left.
1997: Chambolle-Musigny G.Roumier: Though from a smaller crop it is simpler, herbal, and rustic similar to 2004 but with even less harmony & drier so needs drinking up presently.
1985 Chambolle-Musigny G. Roumier: Fortunate to have tried this wine frequently over the years and it never disappoints even now at 30 years old. The joy of maturity from ripe delicious charming balanced fruit is awesome. Shows the ethereal magic of the Chambolle fragrance and the elegant complexity of best Burgundy! Looking forward to the 2002 & 1999 with a few more years of bottle age. Who says you must buy 1er cru or Grand cru to have this earth moving experience?
Encourage you to look out for the tremendous value of G. Roumier Chambolle-Musigny AC & even their Bourgogne Rouge from top vintages like 2009 & 2010 or their more recent currently available releases. Enjoy.
---
You might also like:

Loading ...