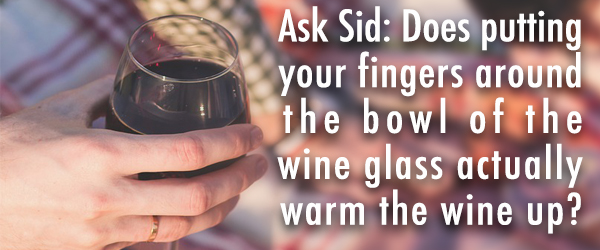 Question: Does putting your fingers around the bowl of a wine glass actually help warm the contents?
Answer: Long time Montreal IWFS member Ted Pearson raised this interesting question and experimented for an answer. He took two identical glasses and poured an identical amount of cold wine into each. The temperature in each glass on a food thermometer showed 46.9 F. Ted grasped one glass by the bowl that still had the thermometer in it with his thumb and the tips of three fingers and counted to 1 minute and 42 seconds. The temperature in that glass had gone up to 47.5 F and he immediately moved the thermometer to the other glass and the temperature was the same at 47.5 F. Ted did not expect that result and concludes that the wine in the glass was affected only by the ambient temperature and not by holding it with his fingers. He believes the thickness of the wine glass and the temperature of each person's fingers may have some impact on a different result but we know glass is a poor conductor of heat. Interesting result as I use this technique to warm the contents of my wine glass. Note the normal human body temperature is usually around an average of 98.6 F (or 37 C) but that is taken as an oral temperature through the mouth and not by the fingers which would be lower (though some people including myself have much warmer hands than others). The ambient room temperature could be an influence as well with a warmer room likely leading to this result in the short term while in a cooler room the cupped glass might result in a higher temperature. As well a longer test period may help raise the temperature of the held glass. What are your experiences?
---
You might also like:

Loading ...