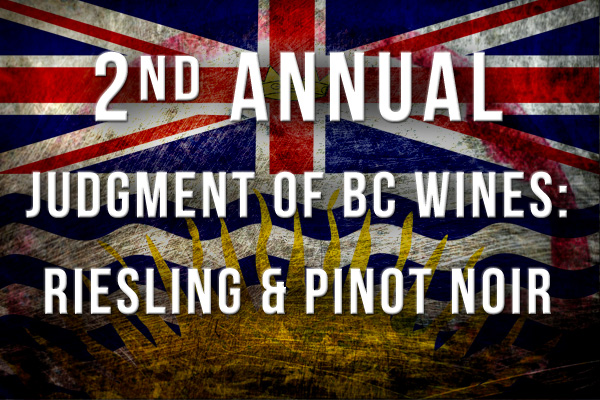 I enjoyed last week in Summerland participating with some 30 other "pros" in The Second Annual Judgment of BC Wine blind tasting to see how British Columbia wines are stacking up to comparable values around the World. British wine critic Dr. Jamie Goode, and American wine writer Elaine Chukan-Brown currently the American Specialist for JancisRobinson.com and a contributing writer for Wine & Spirits, scored the wines along with 29 expert Canadian wine judges You may recall the first one was written up August 31, 2015 on this Blog as BC Bottle Shock with Steven Spurrier where Chardonnay disappointed but Syrah triumphed with CC Jentsch 2013 ranked #1. This time the choices were Riesling and Pinot Noir again curated by wine educator DJ Kearney (@djwines) and Wines of British Columbia (@WineBCdotcom; www.winebc.com) pitting 6 BC wines against 6 acknowledged global benchmarks for both grape varieties. The goal of these tastings is to honestly assess the current state of grapegrowing and winemaking in BC in order to provide a clear perspective of the distinct characteristics of British Columbia wine in relation to global standards, and to achieve a focused vision for the continued evolution of the BC Wine Industry.
The Press Release issued on the event included these comments:
"I am so pleased with the results. This is not about win or lose, good or better. This is about putting BC Wines up against really stiff competition and what great results." noted DJ Kearney curator of the event. "The global wines were all chosen for a reason to challenge, to push, and to help us realize that we are in great company. This should be a tough competitive set, and it was. It had to be. And BC did well. What this shows is that we can hold our own among acknowledged classics."
"What was really interesting when I tasted through those 12 wines blind, I couldn't pick out the BC Wines which tells me they belong in their peer group which is a ringing endorsement for BC Wine that we're on the right track," noted Dr. Jamie Goode. "I think BC Riesling really put in a strong performance. The key aspect was the purity and beautifully integrated acidity in these wines. I thought it was a well chosen set of wines, if I saw the lineup before tasting, I wouldn't have expected to see the BC Wines do so well. I was pleasantly surprised with the results."
"I was pleased we were doing a tasting with Pinot Noir and Riesling, they are two varieties that BC is doing very well and they should be celebrated." said Sid Cross. "I thought the results were very pleasing to see BC Pinot Noir right in the midst of the pack. The top three Pinot Noirs are classic wines from the top recognized regions in the world for Pinot Noir, a Premium Cru from Burgundy, Oregon and Central Otago. To come in right behind those wines shows that BC is right there for Pinot Noir. Very impressive."
"BC showed very well. I was more interested in being able to identify BC characteristics within the wines. I was able to pick out five of the six Pinot Noirs and four of the six BC Rieslings. It had to do with the energy of the wines. The bright fruit energy presence. Not so much elegance, finesse and depth, more that upbeat intensity. And my first place Pinot Noir was a BC!" remarked David Lawrason."
RIESLING RESULTS RANKING ORDER:
1. Max Ferd. Richter Graacher Himmelreich Riesling Kabinett 2013 | Mosel Valley, Germany | 9% $42.99 2. CedarCreek Platinum Block 3 Riesling 2014 | Okanagan Valley, BC | 12.2% | $22.99
3. Wild Goose Stoney Slope Riesling 2013 | Okanagan Falls, BC | 13.3% | $20
4. Chateau Ste. Michelle & Dr. Loosen Eroica Riesling 2013 | Columbia Valley AVA, Washington State | 12% | $29.49
5. Leeuwin Art Series Riesling 2012 | Margaret River, Australia | 12% | $42.49
6. Synchromesh Storm Haven Vineyard Riesling 2015 | Okanagan Falls, BC | 8.9% | $35
7. Culmina Decora Riesling 2015 | Okanagan Valley, BC | 13.5% | $26.99
8. Pewsey Vale Eden Valley Riesling 2014 | South Australia | 12% | $19.99
9. Robert Weil Kiedricher Riesling Trocken 2012 | Rheingau, Germany | 11.5% | $47.99
10. Tantalus Old Vines Riesling 2013 | Okanagan Valley, BC | 13.1% | $30.35
11. Orofino Hendsbee Vineyard Riesling 2013 | Similkameen Valley, BC | 12% | $22
12. Trimbach Riesling 2012 | Alsace, France | 12.5% | $35.99
Riesling is the 4th white variety by acreage planted (some like Tantalus Old Vines date from 1978) behind Pinot Gris, Chardonnay, and Gewurztraminer. Drier more backward wines seemed to get less votes than sweeter ones with Tantalus having very high quality but presently austere with vibrant high acidity hiding the underlying intense fruit from older vines. Give it a couple more years to integrate and it will show very well indeed. The Top Two were truly outstanding wines and deserving of their top ranking. Impressive showing to have two BC wines in the top three.
PINOT NOIR RESULTS RANKING ORDER:
1. Bouchard Père Premier Cru Beaune Clos de la Mousse Monopole 2012 | Burgundy, France | 13% | $66.99
2. Bachelder Oregon Pinot Noir 2012 | Willamette Valley AVA Oregon, USA | 14% | $49.99
3. Felton Road Bannockburn Pinot Noir 2014 | Central Otago, New Zealand | 14% | $67.99
4. Haywire Canyonview Pinot Noir 2014 | Summerland, Okanagan Valley, BC | 13% | $39.90
5. Meyer Family Reimer Vineyard Pinot Noir 2012 | Okanagan Valley, BC | 13.5% | $40
6. Quails' Gate Richard's Block Pinot Noir 2013 | Okanagan Valley, BC | 14% | $55.17
7. Blue Mountain Vineyard Reserve Pinot Noir 2013 | Okanagan Falls, BC | 12.5% | $39.90
8. Thibault Liger-Belair Bourgogne Les Grands Chaillots 2012 | Burgundy, France | 13% | $65.99
9. JoieFarm Reserve En Famille Pinot Noir 2012 | Naramata, Okanagan Valley, BC | 13.6% | $29.90
10. BK Wines Skin n'Bones Pinot Noir 2013 | Lenswood, Adelaide Hills, South Australia | 12.5% | $39.99
11. Moraine Pinot Noir 2013 | Naramata, Okanagan Valley, BC | 13.1% | $28.90
12. Meomi Pinot Noir 2014 | California, USA | 13.7% | $25.99
Pinot Noir is 2nd behind Merlot among the red varieties by acreage planted in BC. The Top 3 were all very worthy from the proven regions for the grape of Burgundy, Oregon and Central Otago in New Zealand followed closely by the BC wines solidly in 4, 5, 6, 7, and 8th positions. A top BC contender could have been the outstanding Foxtrot Vineyards but it was not shown in this tasting. Interesting to note that the style of the top commercial selling "very sweet" Meomi was not supported by these judges. Excellent future for pinot noir in British Columbia and the best is yet to come!
---
You might also like:

Loading ...