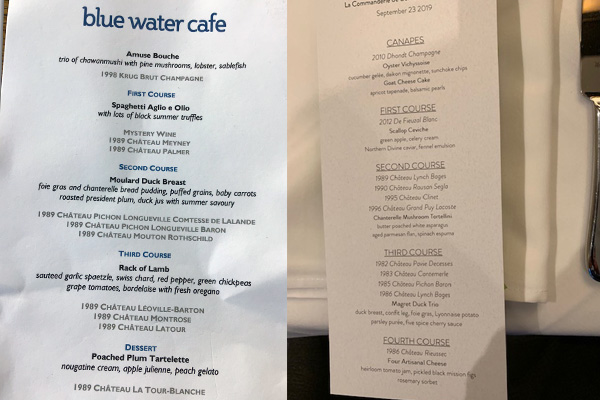 The classified growths from Bordeaux of the 2016 & 2015 vintages are in the marketplace showing impressive quality and cellar worthiness. Tempting to buy. However the prices still remain very high and most of these wines will develop further complexity with patience for more time in bottle. For current use it is prudent to consider buying proven mature vintages of properties that are drinking well presently and are more reasonably priced than their current releases. Though proper storage can be an issue with bottle variation there are good finds available from a variety of sources that ship world wide including Benchmark Wine Group in Napa, JJ Buckley, K&L, Envoyer Fine Wines, Vins Rare and many more. All of this was brought into acute focus after two recent dinners featuring older Bordeaux wines.
Firstly on September 17 a horizontal of the 1989 vintage at 30 years of age. Always brilliant to start with exciting Krug bubbles though 1998 somewhat atypical finesse year with highest chardonnay at 45% (balance of red grapes pinot noir 35 & meunier 20). First flight started with a mystery wine of Vieux Chateau Certan showing iron-paper notes of Pomerol so different Right Bank terroir character from all the Left Bank that followed. Surprise was the dark young impressive Meyney solid St Estephe value even if slightly rustic compared with concentrated big needing time Montrose. Palmer is a buy that challenges 1983 for complex quality and so elegantly styled flowery perfumes on both bouquet and palate. Second flight found Pichon Lalande dark colour well balanced a winner over browning Baron and stellar cedar Pauillac bouquet of often underrated Mouton. Both P-L & Mouton made much better wine in 1989 over their 1990. Buy 1989. Third flight featured classy big always expensive Latour but your scribe left wanting more ripe plums and not as delicious for now as Palmer & P-L.
Secondly on September 23 a cellar treasures selection of Bordeaux from the eighties and nineties. Unusual order as unanimous WOTN was served first of all with again reliable vintage 1989 for outstanding no rush Lynch-Bages (much preferred over tannic 1986). Not such a bad idea as it gave you a high standard reference initially to compare all wines that followed plus the privilege of going back to it. Next perhaps the best drinking one currently was the fragrant intense Rausan-Segla 1990. Others all enjoyable currently too with unctuous full Clinet 1995 Pomerol, and dark drier slumbering Grand Puy Lacoste 1996. Next flight less dramatic but delicious supple mature Cantemerle 1983 (better than their 1982), surprising lovely subtle Pavie-Decesse 1982 under former J-P Valette management chalky limestone soil higher up the hill than Pavie, and easy simpler softer one dimensional Pichon Baron 1985.
Mature Bordeaux is unique to itself and can be a real joy to experience – especially with food! Consider using some of your wine budget to buy older readier now bottles to enjoy currently.


center
---
You might also like: