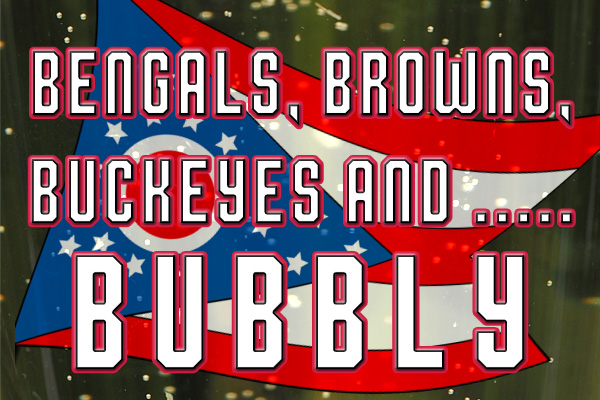 By Joseph Temple
Mention America's sparkling wine industry and many will inevitably point to the state of California.  According to a recent FoxNews.com article, eight of the ten best bottles of bubbly were produced in the Golden State from Mumm Napa to Schramsberg Vineyards.  So, it will probably come as a bit of a shock to some that the country's first successfully sold sparkling wine was produced in Ohio.
That's right!  
Ohio, a state often associated with tire factories, the Rock n' Roll Hall of Fame and passionate football fans was once the country's largest wine growing region.  Producing over 570,000 gallons per year by 1859—more than double that of California—the Buckeye State was responsible for over a third of the national total.  And it all got started in Cincinnati when sparkling wine was discovered by sheer accident.
The story began when Nicholas Longworth, a wealthy and eccentric businessman from New Jersey arrived on the northern banks of the Ohio River.  Hoping to be the first to successfully grow Vitis vinifera grapes in the New World, his efforts—just like those before him—ended in disappointment as European rootstocks failed to flourish in the United States during the 1800s.  However, one hybrid varietal that "Old Nick" seized upon was Catawba, a lilac colored grape high in acidity that generated musky flavors often associated with labrusca varieties.   According to historian Thomas Pinney, "In Longworth's hands, and for a time in the hands of others who tended the vineyards in and around Cincinnati, the Catawba seemed to fulfill at last the long-held hope that America might have a wine of its own."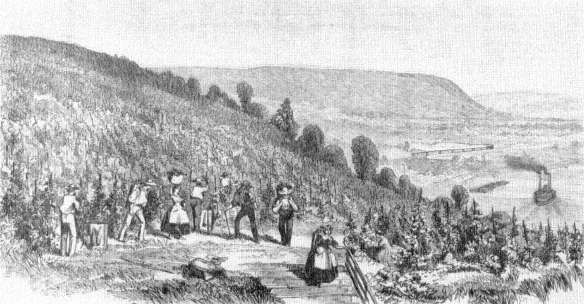 Drawing of Longworth's vineyard next to the Ohio River.
Beginning his first commercial vineyard in the early 1820s with a local German-American customer base, it took nearly twenty years before Longworth struck gold after accidentally fermenting some of his Catawba for a second time.  The result was a bubbly version that dwarfed his previous bottles in terms of quality. Thus, he decided to enlist the help of French Champagne makers to duplicate this accomplishment.  As Longworth explicitly told his assistants, he was never out to duplicate the sparkling wines of Europe, but instead, to create the "pure article, having the peculiar flavor of our native grape."  Although an astonishing eighty-four percent of all bottles burst in early production,  "Sparkling Catawba" became a huge hit, putting Ohio on the winemaking map.
"Far superior to any sparkling wine which Europe can boast, whether they came from the Rhine or Moselle, or from the champagne districts of France," wrote the Illustrated London News.  With this sparkling success being sold across the world, American poet Henry Wadsworth Longfellow memorialized both Cincinnati (nicknamed the "Queen City") and its grapes in his famous poem Catawba Wine:
While pure as a spring
Is the wine I sing,
And to praise it, one needs but name it;
For Catawba wine
Has need of no sign,
No tavern-bush to proclaim it.
And this Song of the Vine,
This greeting of mine,
The winds and the birds shall deliver
To the Queen of the West,
In her garlands dressed,
On the banks of the Beautiful River.
More than a century and a half later, while not the powerhouse it once was, Ohio still remains one of the country's top ten wine producing states with five designated American Viticultural Areas (AVAs).  So if you're looking to party like it's 1859, open up a bottle of Ohio sparkling Catawba and experience a true taste of American wine history!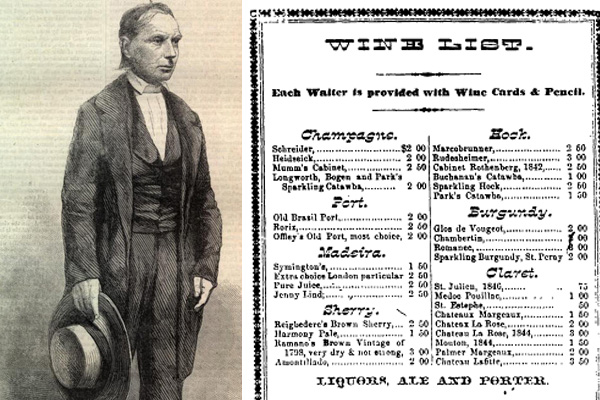 Left: Nicholas Longworth. Right: Menu showing Sparkling Catawba under Champagnes.
Sources:
Fauchald, Nick. (2004, June 28). The Father of American Sparkling Wine. Wine Spectator. Retrieved from http://www.winespectator.com
Pinney, Thomas. The Makers of American Wine: A Record of Two Hundred Years. Berkeley: University of California Press, 2012.
Taller, Claudia. Ohio's Lake Erie Wineries. Charleston: Arcadia Publishing, 2011.
---
You might also like:

Loading ...