Your scribe is a long time follower and admirer of the work of both Robert Mondavi and Baron Philippe De Rothschild. There were so many aficionados of their wines (Mondavi Reserve Cabernet Sauvignon & Chateau Mouton Rothschild) that the launch of their joint project of Opus One in Oakville California with the inaugural 1979 vintage was met with highly enthusiastic anticipation. In the early years the wine was produced at the Mondavi winery and was very California. Initially it was somewhat difficult to reach the unique perfect Opus One style with Bordeaux experts first Lucien Sionneau and in the late eighties Patrick Leon seeking more elegance & finesse while the Mondavi family (Robert, MIchael & Tim with Genevieve Janssens) focusing on the rich bold riper Napa fruit. From about 1986 on some Bordeaux vinification methods were being deployed and by the early nineties harmony developed between the Bordeaux & Napa contributions. 1990 was the last vintage made at the Mondavi facility and 1991 the first one in that spectacular new Opus One winery (plagued by water issues built over a geothermal spring with cost overruns). Another issue was the vines as Mondavi sold a key 35 acre Q block parcel of To-Kalon to the venture plus in 1983-84 they acquired two more vineyards across Highway 29 from Mondavi totalling 138 acres of which 108+ were planted. However in 1990 phylloxera was discovered in Q Block that resulted in a replanting on St. George rootstock (instead of AXR1). The positive result was that denser replanting was key going from rows 12 feet apart with vines every 8 feet to 4 by 4 closer together competing. This also helped vine management (looking for sunlight rather than heat to ripen the grapes), canopy, and pruning of the fruit with closer vines providing some shade themselves against the hot midday sun. The resulting wines have improved each decade after trying times early on and are looking at their 43rd vintage in 2022. Presently winemaker Michael Silacci picks early to maintain freshness maintaining vineyard wild yeasts, using 100% new French oak from 10 coopers aiming for accessibility of the wine on release though best drinking for him around 15 years of age but capable of going 40 years. We thought it would be fun and educational to look back at some of these earlier vintages so the Vancouver Group of 8 scheduled a dinner at Blue Water on May 24, 2022.

A few brief impressions: The bookends both were formidable from Dom Ruinart first 2004 Blanc de Blancs 100% Grand Crus low dosage delicately structured with creamy silky textures; finishing up with Dom Ruinart 2007 Rose using B/B with 18% added pinot noir from Ay. Wines were 8 vintages of Opus One ranging from 1982 to 2014 plus a ringer of 2012 Mondavi Reserve. Congrats go to Opus One for their impressive website with details on all the vintages listed there which is outstanding and most helpful for consumers. Highly recommend this procedure to all wineries around the world as providing a most valuable history story. Check it out.
1982 OPUS ONE: 82/16/2 Cabernet Sauvignon, Cabernet Franc, Merlot only 9 days skin contact & long 23 months in new French oak. 1979 was 2000 cases, 1980 4000, and 1980 & 1981 6000. Surprisingly good showing with easy elegant flavours though drying a bit on the finish.
1996 OPUS ONE: 86/8/3 + 3 Malbec with increased skin contact to 37 days and reduced time in new French oak to 19 months at 13.9 abv. More bright fruit with some softer middle seduction but rather lean dry ending.
1997 OPUS ONE: 82/8/5 + 4 Malbec & 1 Petit Verdot with 32 skin days and 18 months new French oak at 13.9. First vintage using 90% Estate fruit. Showing the best fruit so far with some depth and texture complexity. Rather good.
2005 OPUS ONE: 14 abv HIgher CS 88% with 5M, 3PV, 3CF, 1 Malbec after very wet May & prolonged harvest starting in September and finishing up in early November with very low yields using 29 days of skin contact and 18 months in oak. Darkest colour by far of the first 4 shown in the photo attached and is just a juicy "baby" compared to the first 3 older ones. Killer match with a superb rabbit ravioli dish!
2006 OPUS ONE: 14.4 abv Cooler year 77CS 12M 5CF 3PV & 3 Malbec with 26d skin & 17 months showed sweeter "caramel" notes and your scribe much preferred the 2005.
2007 OPUS ONE: 14.7 abv 79CS 8M 6CF 6PV 1 Malbec 20d 19m seems ripe and generous but rather flat needing more Bordeaux-styled lift.
2009 OPUS ONE: 14.5 81CS 9CF 6PV 3M & 1 Malbec 20d 17m another cooler year with a softer entry which accentuates the floral mineral elements of this property.
2012 MONDAVI RESERVE: 15 abv 90CS 7CF 3PV shows better structure, lift and balance compared to Opus One but not the classy depth of the memorable 1974.
2014 OPUS ONE: 14.5 80CS 7PV 6CF 5M 2 Malbec 20d & 18m from a higher yielding crop displays young most spicy fragrant aromas quite stylish with better structure and fine tannins for aging.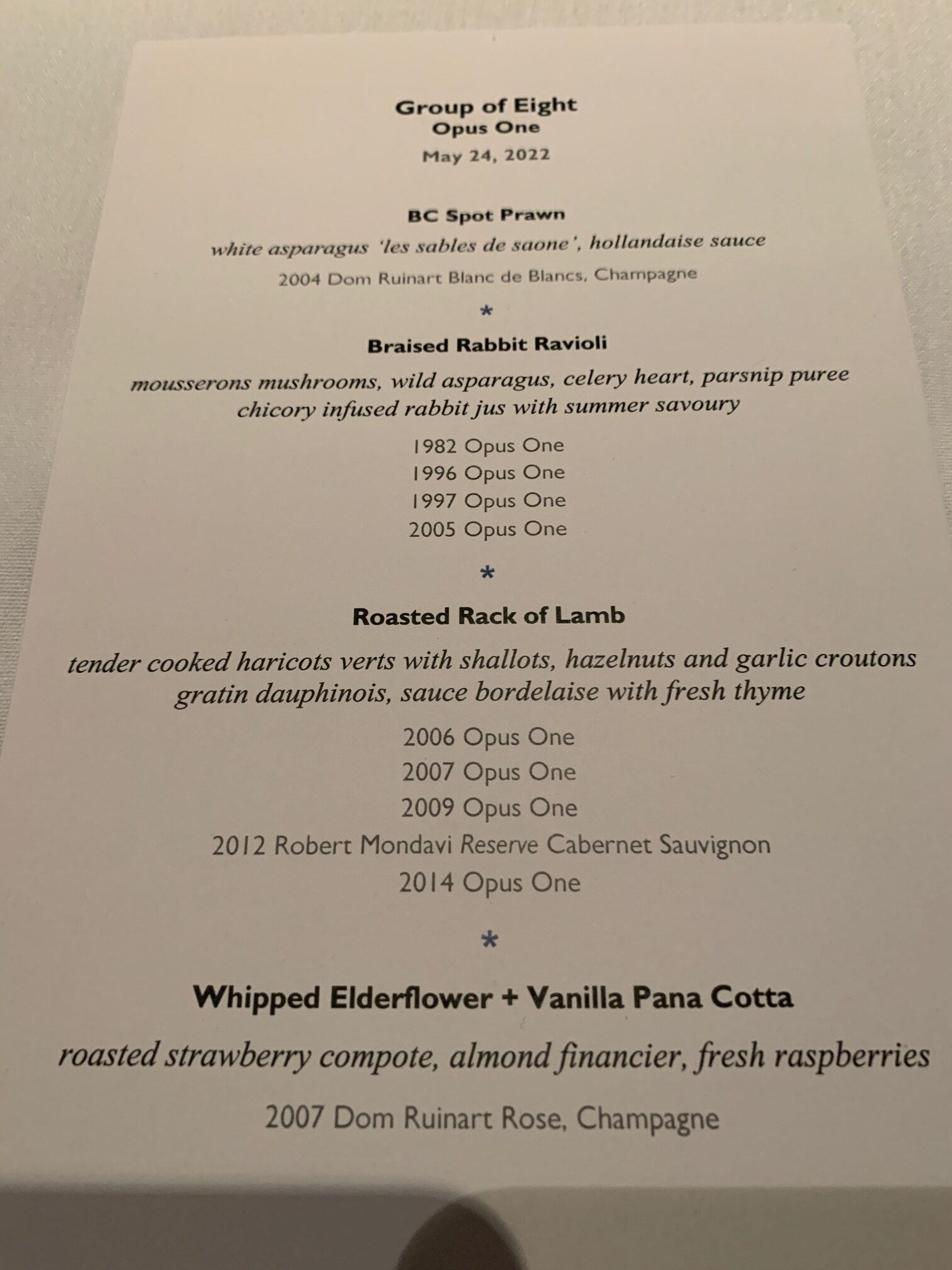 ---
You might also like: