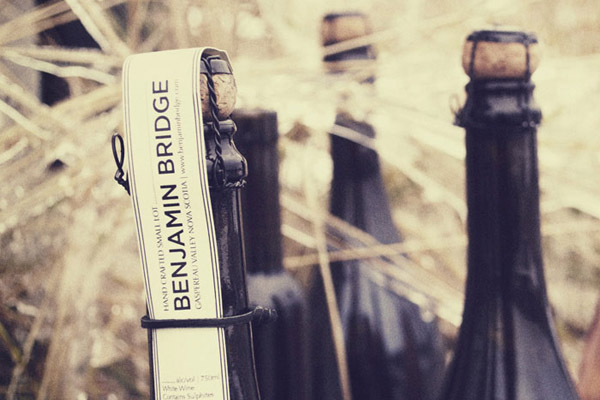 Impressed by the increasing quality of sparkling wines available from around the globe. Champagne still remains the benchmark but lots of delightful different styles out there to try. One region the Gaspereau Valley in Nova Scotia Canada and one producer Benjamin Bridge (www.benjaminbridge.com/sparklings) have made amazing strides in the last decade.  I have been an enthusiastic supporter of them since my visit there on August 22, 2011 when I was blown away with this project and thought I would now alert you. I appreciated the passion, optimism and individual attention to cuvees shown by Winemaker Jean-Benoit Deslauriers and his team on that occasion. Couldn't believe that such low Brix (18+), high acidity (14+), and low pH (around 3) aged some time on the lees would actually work so successfully. Tried the recently disgorged samples from the 2004 vintage which were eye openers. Blanc de Blancs 100% Chardonnay (only 200 bottles) with no malo & no dosage showed crisp citrusy verve and "lemon juice at the beginning but you have to wait for it" potential and now really coming into its own. 100% Blanc de Noirs with full malo was more open yeasty brioche from the lees and showing creamy softness warranting their optimism. Even a 2008 blend of 65 Chardonnay & 35 Pinot Noir showed the benefits of very late harvesting producing clean expanding mouth coating fruit.
Last week in Vancouver provided an update with the visiting Jean-Benoit showing his new releases including fun aromatic coastal Tidal Bay appellation 2014 whites and floral fresh big seller Nova 7 with the ever changing 11-12 grape varieties. The star among the current sparklers was his 2008 Brut Reserve (61% Chardonnay & 39% Pinot Noir disgorged June 2014) the favourite of now deceased (2013) oenologist consultant Raphael Brisbois (ex Piper-Heidsieck) showing incredible richness combined with freshness. There was structure, full volume and aromatic honey intensity from low yields & phenolic ripeness being the key. Already great but can age and still develop further nuances of complexity.  World class bubbles! Check it out.
---
You might also like:

Loading ...