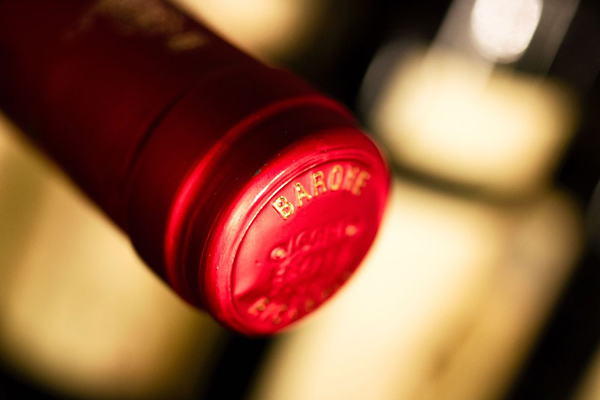 By Bep (Own work) [CC BY-SA 3.0], via Wikimedia Commons
The Ricasoli name dates back in wine to 1141 when they acquired the Brolio castle in Chianti. In 1993 the current owner Francesco Ricasoli the 32nd Baron of Brolio rescued this great Estate that is now the largest winery in the Chianti Classico area comprising 1200 hectares with 235 in vineyards and 26 in olive groves. More details at www.ricasoli.it. An educational seminar on February 25, 2016 @VanWineFest led by Barone Francesco Ricasoli spotlighted 9 of their wines worth exploring:
1. ALBIA Rose Toscana IGT 2014 – Separate the sangiovese  & merlot off the skins immediately and ferment separately resulting in a fresh fruity floral spices Rose with refreshing acidity under a screw cap closure. 2015 just bottled a month ago.
2. TORRICELLA Bianco Toscano IGT 2013 – Unusual blend of 80% chardonnay for structure & 20% sauvignon blanc for freshness works well using 2 vineyards one with sandstone and the other at lower altitude on alluvial soils.
3. BROLIO Chianti Classico DOCG 2013 – 80% sangiovese, 15% merlot & 5% cabernet sauvignon all in open vats using cooler maceration with even the first week important for colour extraction, structure and softer tannins resulting in good value savoury cherry notes. 2013 had a cooler Spring & hail for a shorter crop but weather at harvest good making a 5 star vintage for the sangiovese variety.
4. BROLIO RISERVA Chianti Classico DOCG Riserva 2012 – Same blend but better grape selection in the Riserva. They have mapped out 19 different soils at the Estate with 5 of them the more interesting ones at different altitudes (200-500 feet) using 100+ clones of sangiovese and 200 vinifications (to monitor style, quality and consistency) so lots of choices to make. 2012 a more rainy year resulting in less intensity but fresh acidity for earlier drinking. Ricasoli do a good job of delivering in the wine the style of the vintage conditions each year.
5. COLLEDILA Gran Selezione Chianti Classico DOCG 2010 – 100% Estate grapes required for Gran Selezione passed into law in 2014 and this is their first one (a bigger 2011 at 14.5 and not made in 2012). Yields low limited to 30hl/ha (or about 1.2 kg of grapes per vine) from plantings at 5500 vines/ha. A single vineyard of 7 ha on limestone soil this one is 100% sangiovese showing balance elegance finesse and compact tannins with length which will easily age 20 years. Excellent.
6. CASALFERRO Rosso Toscano IGT 2010 – Making this since 1993 initially with sangioves but a little merlot added for the first time in 1997. Learned through experience that the limestone calcareous soil of this vineyard parcel site was particularly suitable for that variety adding more of it to the sangiovese each year now resulting in a "Tuscanized" fresh 100% merlot. 2011 with a hot August/September worked well for merlot and Franceso prefers his Casalferro 2011 (which I tried and was impressed with also) over the 2010. Both distinctive.
7. CASALFERRO Rosso Toscano IGT 1997 – Almost all sangiovese with about 5-10% merlot added for the first time. The young vineyard has showed a Tuscan character all along with green & black pepper aromas. 100% merlot cru since 2007. This bottle of 1997 was showing quite a bit of maturity. I have had recently both the 1998 & their superb fresher 1999 ( a 3 glass Gambero Rosso selection as was 2003, 2005, and 2008).
8. CASTELLO DI BROLIO Gran Selezione Chianti Classico DOCG 2010 – Usual 80/15/5 blend. Best cuvees selected resulting in a spectacular bottle with nicely integrated wood and complex minerals. Trying to decide presently how much 2014 to produce because it is a more difficult vintage for sangiovese like the 2012. Some good 2014 will be produced but the great years are 2015 and 2013 as well as 2011 and 2010.
9. CASTELLO DI BROLIO Chianti Classico DOCG 1997 – 100% sangiovese showed bottle variation as expected. Mine lovely leather smoky aged bouquet complexity with more freshness than some bottles. More recent vintages will age even better.
Congrats to Barone Francesco for his dedication in experimenting with but maintaining classic top quality Tuscan wine. His style has evolved and improved into wines with more elegance, finesse, suppleness, and balance of integrated wood & softer tannins.
In my opinion sangiovese is still somewhat underrated because of its naturally vibrant savoury character that matches so well with food and like nebbiolo does so well in Piedmont finds the very best expression of the variety in Tuscany. Certainly the grape is not as well known as say cabernet or chardonnay nor has it adapted as well to the many wine regions around the world. Enjoy it from Tuscany!
---
You might also like:

Loading ...