Wine & cheese served together is not a novel concept. It seems like this matching idea has been around forever. Looking in the bible "The Complete Encyclopedia of French Cheese" by Pierre Androuet (English Translation 1973) eight styles of cheese are given classic wine combination recommendations as shown in the attached chart. Subsequently, lots of key specific pairings have been developed including Champagne or Sparkling with Brie, Chardonnay & Pinot Noir with Gruyere, Aged Port with Stilton, Moscato d'Asti with Gorgonzola, Sauternes or Sweet wines with Roquefort and other salty blues etc. So many different combinations are now possible that work really well. Experiment to find your own nirvana. Recently there has been more emphasis placed on looking for both flavour and textural similarities or contrasts between the cheese and the wine. Using both items from the same region has become very popular. Another current lively debate is whether white wines actually work better with cheese than the traditionally used red wines.

A wine and cheese "Extravaganza" was held in Vancouver on January 24th giving us the opportunity to test some of these ideas out. Allison Spurrell, Proprietor of the fantastic cheese shop "Les Amis du Fromage" served 4 flights of four cheeses each all in prime condition paired with 6 Premier Cru Burgundies – 3 white & 3 red. Interesting diversity of regions all over France were shown of 3 Loire, 3 Pyrenees, 2 Franche-Comte, 2 Rhone Alpes and 1 each from Alsace, Auvergne, Aveyron (south-west France), Bourgogne, Jurancon, and Nord. Also a wide variety of cheeses produced from 3 goat's milk (chevre), 3 sheep, and finishing up with 8 from cow's milk. Both Tome & Tomme Chevres had grey (cendree) ash and quite different Comte because the Elegance was young and fresh while the Cyclamen aged 30 months was more dense and richer. Some brief comments on the excellent wines:
Three whites were all CHASSAGNE-MONTRACHET 1ER CRU but from different producers in unique vintages making them more difficult to compare:
2006 GRANDES RUCHOTTES LUCIEN LE MOINE

1999 LES CHENEVOTTES MICHEL COLIN-DELEGER

2013 MORGEOT CLOS DE LA CHAPELLE DOMAINE DU DUC DE MAGENTA LOUIS JADOT

Mounir Saouma (studied at Montpellier) and Rotem Brakin (appropriately from a cheese family) started Lucien Le Moine in 1999 using purchased grapes with a unique style. No pumps, no racking off the lees, no fining, no filtering and very little sulphur used. They believe the natural CO2 protects the wines sufficiently but requires that all their wines be decanted to open up. Mounir: "I don't make white wine but only yellow that requires decanting and blowing into your glass to open up and become lighter in colour" Also uses Jupilles forest (NW Loire Valley) oak ordered late to suit the Cru and the vintage style giving a distinctive "floral" character to Chardonnay. Bottles variable here but showing rich forwardly with some floral notes in very much the 2006 vintage style rather than the upslope flowery racy terroir of this top vineyard. Quite good – brilliant with the Bourgogne Grande Creme cheese! Colin-Deleger is a key name producer but more northern vineyard lower down of Les Chenevottes from a warmer higher yield vintage of 1999 (better for reds) results in variable quite soft older style needs drinking.
Jadot a big producer with Clos here also lower down elevation but is the youngest vintage, freshest and helped by the cooler year (better for whites than reds) and most popular group fav tonight. Best wine with the 3 goat's cheeses.

Three reds were easier to compare because all were NUITS ST. GEORGES 1ER CRU but all from the same producer LUCIEN LE MOINE in the same VINTAGE 2006. No Grand Cru in Nuits St. Georges which tend to be less charming in style with more rustic gamey and mineral notes but we tasted arguably the 3 best 1er crus. 2006 has solid good pure fruit wines with less ripeness but is somewhat under-rated coming after those perfect 2005s.


2006 LES VAUCRAINS: Upslope 260-280 meters on ROCKY soil

2006 LES SAINT GEORGES: Gentle slope complex STONY clay mix

2006 LES CAILLES: Less stones MORE SAND

Your scribe's last visit at Lucien Le Moine in Beaune was October 4, 2018 tasting these from the 2016 vintage. Mounir bottles his wines by gravity after the full moon for favourable atmospheric pressure. He prefers white and red wine served at the same temperature but we had our whites a bit cooler. He likes the terroir of these 3 Nuits St. Georges vineyards. He prefers Les Vaucrains because it is "not as easy" and is "less popular" "always changing with complicated, purity, and good bitterness".

Mounir admires Les Cailles for the "salty grapes from limestone" which show so uniquely as " rocks and stones in your mouth". For 2006 here your scribe preferred the most complete balanced profound texture presentation of Les Saint Georges though the subtle seductive easier softer fruit of Les Cailles (with the salty touch) was very attractive indeed. The big richer sturdy full-bodied Les Vaucrains still could develop some more depth with finesse over time. My preferred cheese was the excellent aged Comte (or Gruyere de Comte) Cyclamen which paired so well with both the white and red Burgundies. Divided opinions of others on whether white or red wine was a preferred match depending on the cheese but goat and sheep cheeses definitely paired better with the white. A fun educational event! Suggest you organize a similar wine/cheese function and please let us know your conclusions.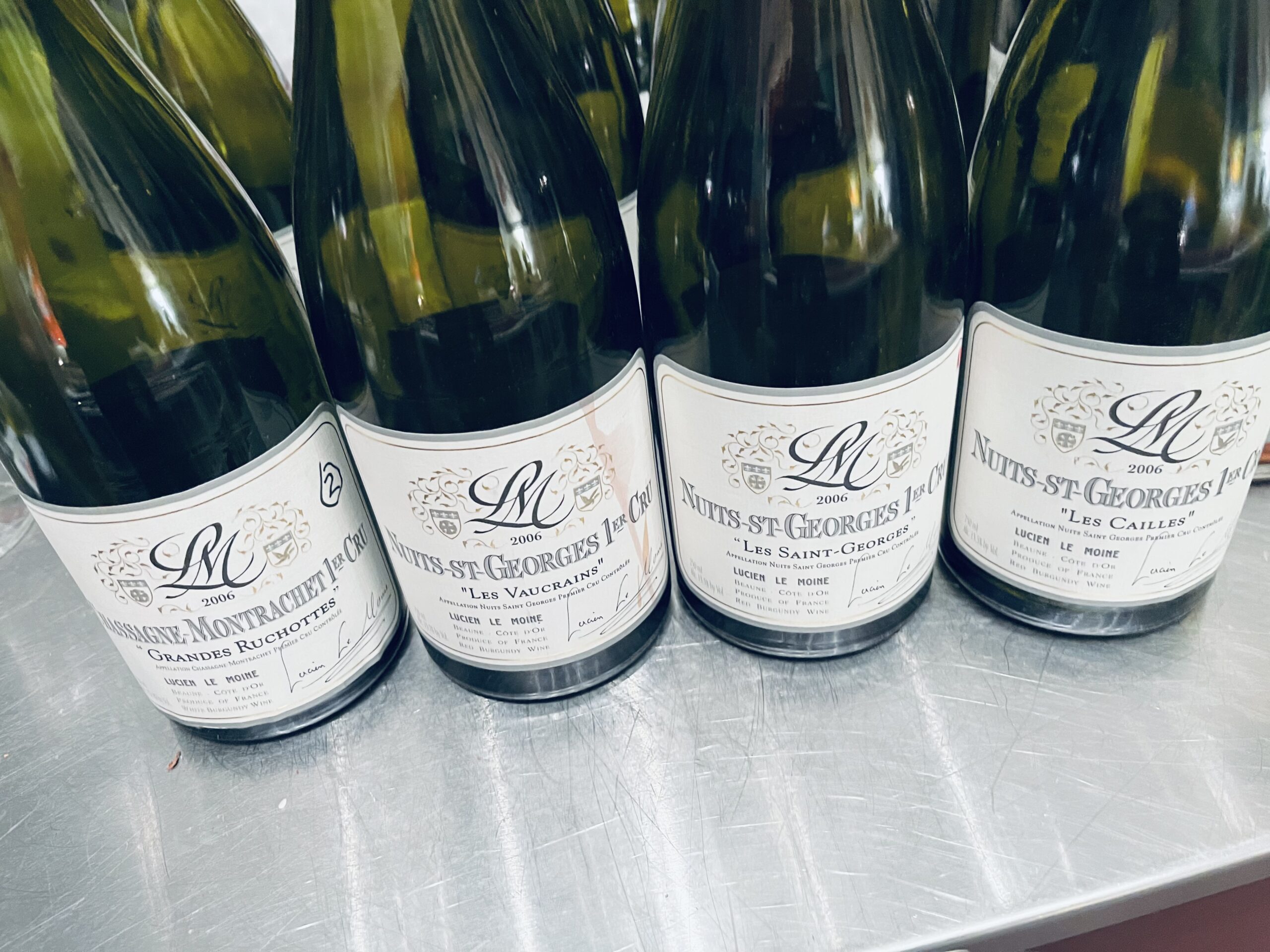 ---
You might also like: