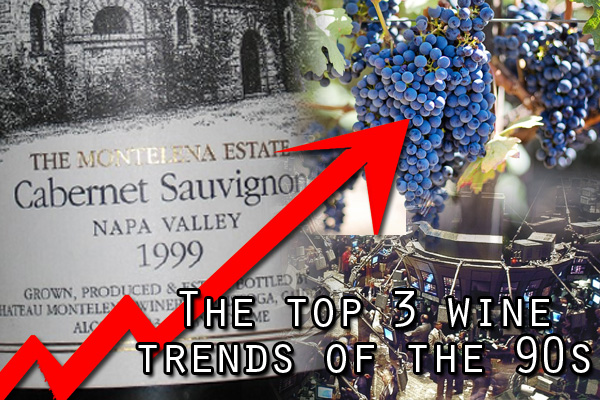 By Joseph Temple
There was such a great response for the blog entry titled Looking back at 5 wine trends from the 1980s posted earlier this month.  Thanks for all the positive feedback about this slice of 80s nostalgia!  So, let's fast forward into the next decade that gave us Monica Lewinsky, the O.J. Simpson trial and a tech boom that led to unprecedented economic prosperity.
According to Matt Kramer in his book Making Sense of Wine, "The 1990s were the most transforming ten-year span in the history of fine wine.  Everything essential to fine wine—wine grower ambition, a passionate and informed audience and abundant money—coalesced."  But how did this decade differ and evolve from the one before, which was all about Chardonnay, wine coolers and Beaujolais Nouveau?  Have a look below to see three ways the 90s changed our wine drinking habits.  Cheers.
---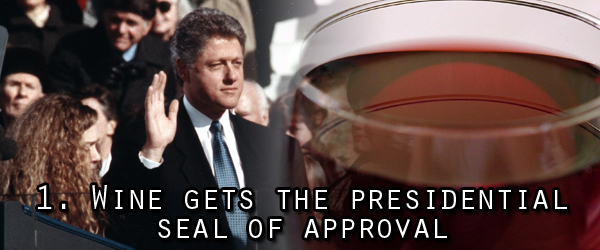 On November 17th, 1991, the television program 60 Minutes aired a segment about something called the 'French Paradox.'  Despite Americans exercising more regularly and eating fewer fatty foods than their counterparts in France, the latter reported far less cases of heart disease.  The only answer to this paradox was red wine, which if consumed in moderation could actually be healthy for you.  It was a clear break from the 1980s where some individuals had lumped wine in with marijuana as a potential "gateway drug."
Providing an assist to the 60 Minutes piece was an endorsement from the highest office in the land.  Appearing on MTV in 1993, newly elected President Bill Clinton told the interviewer: "if you use it in moderation, there's no evidence that it causes harm.  And there's some evidence that wine, for example, is good for your heart if you use it in moderation."  The idea that a daily glass was good for your health had clearly entered the mainstream as sales of red wine grew by more than 125 percent from 1991 to 2005.
blank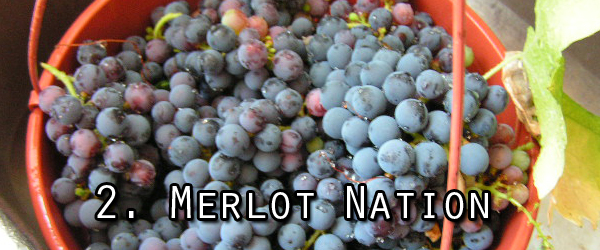 By Dianne Patrizzi [CC BY 2.0], via Wikimedia Commons
As more and more Americans switched over to red wines during the 1990s, Merlot emerged as the grape of choice for many oenophiles.  Analyzing its popularity, one sommelier writes, "First, it's easy to pronounce—and, laugh as you may, that's a big deal.  Second, Merlot is often rounder, plumier, more fruit-forward, and plusher in tannins that many of its counterparts, so it makes for easier and, for many wine drinkers, more pleasant drinking."  By the mid-1990s, the wine had reached its zenith in terms of popularity as Robert Mondavi and others frantically bought surplus bulk Merlot from France to satisfy American demand.
Benefiting the most from this boom was Washington State.  In a book by Paul Gregutt, he recalls, "By the mid-1990s it seemed that Washington merlot was everywhere … Merlot was both trendy and spendy.  National publications that had scorned Washington as the land of cheap riesling were falling all over themselves to honor the state's reds, especially its merlots, as the most Bordeaux-like in the land."  Unfortunately for Merlot lovers, the 90s gold rush resulted in a focus on quantity more than quality, cheapening it in the eyes of many.  More devastating however was a certain award-winning motion picture released in 2004 that made the grape lose its cool factor almost overnight.  In fact, to this day, wine geeks are still debating the impact that Sideways had on Merlot and its drop in sales.
blank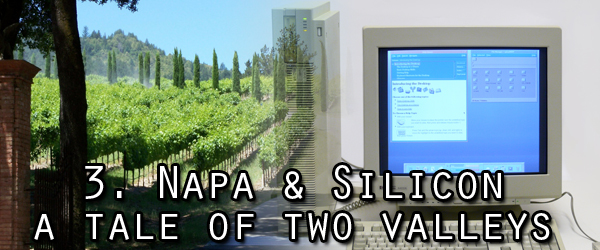 By Thomas Schanz (Own work) [CC BY-SA 3.0], via Wikimedia Commons
During the dot-com bubble of the 90s, it seemed that a new millionaire was being minted every day as tech stocks skyrocketed to new heights on Wall Street.  And with most of this innovation occurring in California, it wasn't surprising that the thunderous tide of Silicon Valley lifted a lot of boats throughout the Golden State.  The number of wineries had more than doubled from 807 in 1990 to 1,950 by the end of the decade according to George Taber.  Of course, the rise of the Internet and the phenomenal growth in California vineyards were not mutually exclusive either.  Taber writes, "Some executives were making fortunes at start-up companies in Silicon Valley, not far from Napa Valley.  Those people admired the sophistication that wine represented … Rich people wanted to buy into that by owning a winery."  Writer James Conway concurred, stating that "a personal wine label for the status conscious had become the twenty-first century equivalent of a coat of arms."
Sources:
Goldstein, Evan and Esersky, Joyce. Perfect Pairings: A Master Sommelier's Practical Advice for Partnering Wine with Food. Berkeley: University of California Press, 2006.
Gregutt, Paul. Washington Wines and Wineries: The Essential Guide. Berkeley: University of California Press, 2010.
Page, Karen and Dornenburg, Andrew. The Food Lover's Guide to Wine. New York: Little, Brown and Company, 2011.
Slinker, Stacy. Idiot's Guides: Wine. New York: Penguin Group, 2013.
Taber, George. A Toast to Bargain Wines: How Innovators, Iconoclasts, and Winemaking Revolutionaries Are Changing the Way the World Drinks. New York: Simon & Schuster, 2011.
blank
---
You might also like:

Loading ...