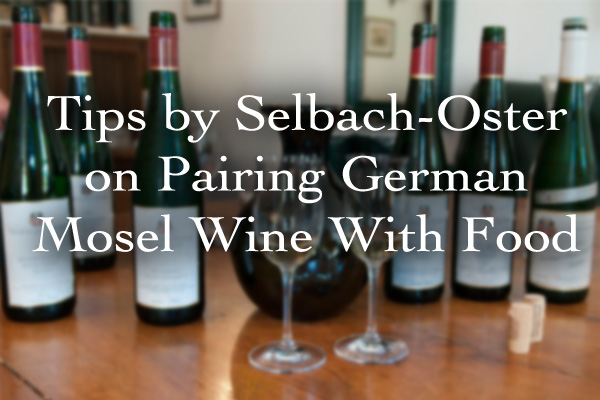 By Michal Osmenda from Brussels, Belgium (Wine tasting at Selbach-Oster, Mosel)
[CC BY-SA 2.0], via Wikimedia Commons
Johannes Selbach of Weingut Selbach-Oster (www.selbach-oster.de) was in Vancouver last month showing some of his wines from the cooler 2013 vintage. Also their best selling good value J & H Selbach "Fish Label" Riesling from 2014 (more difficult year because of continuous rain drizzle October 7-31 and fruit flies). They have planted some gewürztraminer and expect their first dry one to be from 2017. Johannes is bullish on the fantastic 2012 Mosel vintage and similarly 2015 when all went so well at harvest. The sweeter wines like Auslese are trending back to less sweetness and to be easier drinking (80 grams residual sugar rather than 200). Also tried 3 vintages in a row to make icewine but with no freezing conditions taking place they now have decided to give it up on that product in the future.
Selbach-Oster have some good tips on helping you match delicious lower alcohol Mosel wines with food:
1. Riesling Trocken (Dry. Maximum 9 grams of Residual Sugar): "Excellent with shellfish, seafood and other fish. Try with raw oysters, clams, and smoked meats or foods calling for a dry unoaked wine"
2. Riesling Halbtrocken (Medium-Dry. Maximum 18 grams): "Favourite with delicate fish (poached, broiled or grilled), not too spicy poultry, veal, pork, smoked meats, sausages, hams and the like. "
3. Riesling Kabinett: "Cream based sauces, spicy very hot dishes, salmon (smoked or cured), fresh water fish like trout, shrimp, chicken, summer greens and vegetables."
4. Riesling Spatlese: "Crab, lobster, scallops, sweetbreads all of which have an inherent sweetness. Also fusion, veal, pork, chicken where there is cream, reduced butter, fruit (apples, cranberries, peaches, raisins) in the sauce and spicy but not too hot Asian dishes."
5. Riesling Auslese: "Sauces with a touch of sweetness that use Madeira, Oloroso Sherry, Port or the like, rich pates including foie gras, blue-veined cheeses (Stilton, Roquefort, Gorgonzola, Fourme d'Ambert) or soft rind smelly cheeses like Munster or sharp Cheddar. Hot and spicy foods. Savoury roasts or stews. Over 15 years of age excellent with roast of venison. Young with not too sweet desserts that are fruit based like an apple tart or fresh fruit."
6. Eiswein, Beerenauslese, Trockenbeerenauslese: "These are desserts by themselves but go with all non chocolate desserts as well. Outstanding with very rich pates especially foie gras and very ripe blue-veined cheeses."
Riesling is very versatile with food. Always seems to be a better match than you would expect. Selbach-Oster teamed up successfully with restaurant Memphis Blues in showing that Riesling is a magical pairing with barbecued pork. Give it a try.
---
You might also like:

Loading ...