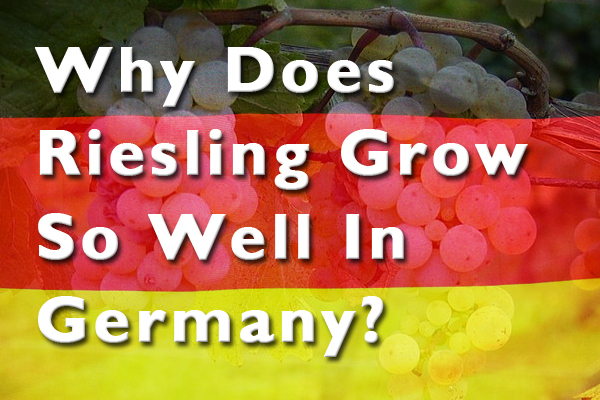 By The original uploader was Simon-sake at Dutch Wikipedia (Transferred from nl.wikipedia to Commons.) [GFDL or CC-BY-SA-3.0], via Wikimedia Commons
Question: Why Does Riesling Grow So Well In Germany?
Answer: This week's posting on the topic "Riesling: Dry or Sweet?" generated some discussion including this question.  Tough to put your finger exactly on one specific answer. However several important factors come into play that make riesling so successful there.
First is the unique microclimate. Thirteen different wine growing regions so far north around the 50th parallel latitude is crucial. However global warming is having some influence on the weather there. Seems you no longer can be absolutely guaranteed that riesling grown in the Saar will be quite acidic.
But it is not all about only climate but a unique terroir including appropriate soils for such a suitable grape variety like riesling! The regions benefit from the nearby rivers and their distinct soils to absorb heat during the day and retain it during the night. A variety of soils from quartz, sandy loam, clay, silt, graphite, volcanic and limestone contribute different styles. A really big reason for the world-wide admiration of  German riesling is the special Devonian blue gray slate found especially in the Mosel, Saar & Ruwer contributing to their wonderful fruit acidity as well as the structured wines from Rheingau especially around Assmannshausen, Lorch & Rudesheim. There are amazing slopes going straight up from the river bends but also terraces, and rolling hills as well. Quite diverse to say the least!


Loading ...