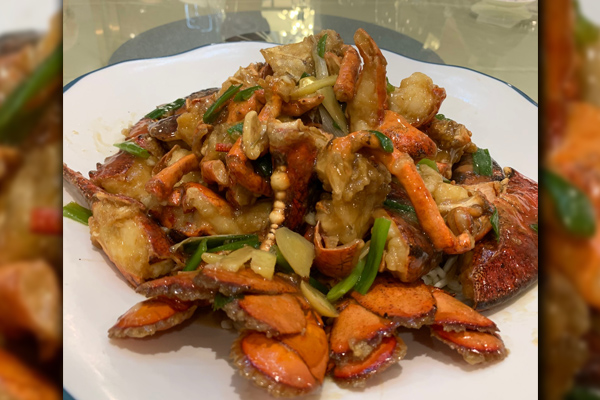 We all know the difficult problems existing restaurants are having during this extended Covid pandemic just trying to survive. Hospitality closures, restrictions on hours and seating, ever increasing short supply of staff, and less dine-in patrons are all contributing factors. Many are pivoting with more outdoor patios, expanded pick-up and delivery services, grocery store type models, and other good innovative ways to maintain at least some business. Not easy. So to see a restaurant accept these present challenges with an unknown future but launch a new place is most brave and optimistic indeed. Yet that is what the amazing Chef's Choice Chinese Restaurant in Vancouver chose to do earlier this year. They are already a popular hit and busy producing classic dishes from Hong Kong (and Guangdong). Chinese Restaurant Awards has chosen them as one of four "Game Changers" who have shown "courage in the face of adversity". Well done.
On August 14, 2021 we were invited to join a group of ten at a round table in a private room for what turned out to be an exquisite dinner. Many courses were served freshly made well organized one at a time progressively with perfect service. Your scribe questioned why this particular order with the explanation given being mainly traditional
plus important contrasts needed from dish to dish. Certainly not for wine pairing ease as the beef came way before the cod. Liked how the green tea was perfectly brewed then decanted into clear containers kept hot on burners on the table. Classy touch.
So many superb highlights as shown on the menu and in the photos. One of my favourites was the outstanding Sticky Fried Rice with Chicken course uniquely done with layers of crispy skin, thinly sliced breast of chicken underneath, and wonderful sticky fried rice bottom. Four wines family style that matched the courses to best advantage:

–Piper Heidsieck Champagne NV Magnum – lively refreshing aperitif

–Checkmate Little Pawn Chardonnay 2017 Magnum – vanilla oak integrated with classy pure fruit in an elegant way with balanced vibrancy finishing lift. One of Okanagan's best.
–Chablis 1er Cru Montmains 2018 Jean-Marc Brocard – Softer year but only stainless use accentuates the citrus refreshing earthy nature of this vineyard.

–Shea Wine Cellars Estate Pinot Noir 2016 Shea Vineyard – Blend from 200 acre site expresses spiced raspberries & cherries drinking smoothly showing wonderful Willamette Valley top vineyard fruit. Please tell us about any outstanding restaurant that has newly opened in your home town.
---
You might also like: