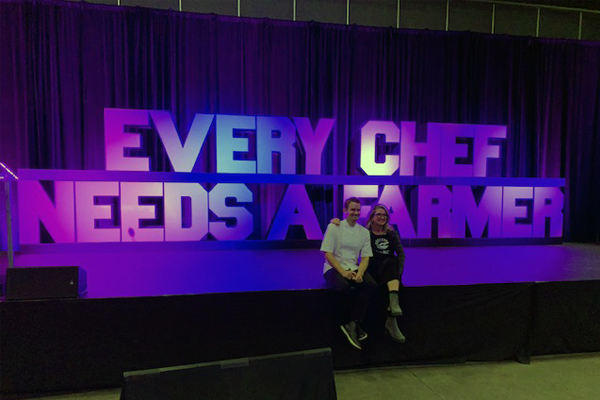 An important initiative by the British Columbia Government through the Minister of Agriculture (Lana Popham) is a program aptly called "Every Chef Needs A Farmer & Every Farmer Needs A Chef". It delivers an important timely food message and is something that should be looked at closely by other regions around the world. It provides a wonderful opportunity for chefs, food service professionals, and consumers to connect directly with the farmers, seafood providers, and other local food producers. An extension of your weekly local Farmer's Market. The Second Annual one was held in Vancouver on November 12, 2019 with interesting exhibitors and panel discussions. The later included:
(a) Success Stories: Hand harvested wild edible seaweeds by Dakini Tidal Wilds; Finest At Sea; B.C. Garlic Growers; Fraser Valley Hazelnuts; Aurora View Farms; The Acorn + The Arbor; Gaia Kitchen; and others.
(b) Opportunities for more BC Foods: Emphasis was on getting more chefs out visiting the farms. Some ideas presented included the use of more berries like huckleberries, haskap (first fruit of the season), aronia (chokeberries), freeze-dried blueberries, peppers, squashes, stinging nettles (as a substitute for spinach), game birds, fresh water fish, bison & buffalo, diverse vegetables grown, olive farms,…
(c) Opportunites for Storage & Distribution of Local Food: Berrymobile Fruit Distribution; Coastline Markets accessing seafood directly and "skip the middleman", Long Table Grocery, B.C. Co-op. etc.
(d) Videos "Inspired by Farmers" – example Chef Rob Belcham with BC Dairy Association.
(e) "Building a Local Brand for BC Beef" by Kevin Boon of BC Cattlemen's Association.
(f) Keynote Speaker Executive Chef Ned Bell of Ocean Wise on "The Future of Food in BC": "Food connects every human" but like "an octopus with many arms needs to all work together" for the produce from our land & oceans. "5 million people with 20,000 farms & 10,000 edible plants in our oceans". Ned inspired everyone to become more of "a conscious consumer!".
Your scribe particularly enjoyed connecting with many producers & assisting in their distribution channels through The Chefs' Table Society of BC (@ChefsTableBC) including these 7:
1. VancouverRadicchio.ca @VanRadFest with farms growing a diverse range of radicchio varieties for salad selections.
2. NaturalGiftSeafoods.com for Wild North Pacific Seafood Products (including Albacore Tuna & Ling Cod) "From Our Boat to Your Table". – Ian Bryce
3. Vancouver Island Sea Salt @vanislesalt hand-harvested & all natural.
4. BC Fruit Growers' Association (bcfga.com) establised in 1889 "Changing Times Unchanging Values"
5. Fraser Valley Specialty Poultry (fvsp.ca) "Our Family Loves To Farm and Produce Good Food" – Duck & Goose Farm.
6. West Coast Wild Scallops (wildscallop.org) in Courtenay on Vancouver Island – Joel & Melissa Collier.
7. OrganicOcean.com "Naturally harvested Seafood supplied to people who care by people who care" – Carlos Perez.
Spread the word!

Center
---
You might also like: