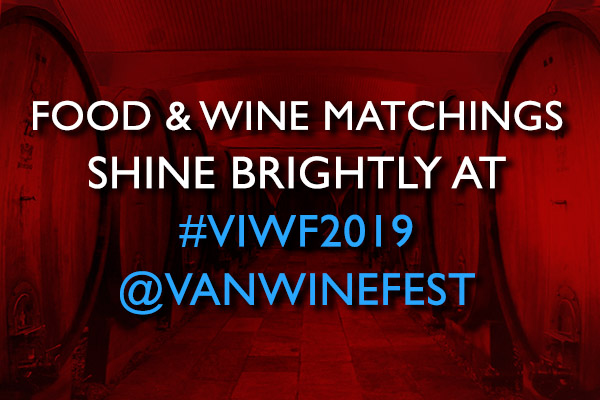 A highlight yet again this year at the 41st Vancouver International Wine Festival is the support of the restaurants that results in outstanding lunch, brunch, and dinner events. Here is a brief spotlight on only four of them that your scribe attended:
1. "Beauty and the Beest" Dinner at Wildebeest Restaurant on February 25, 2019 featured the Triggs family of Don, Elaine & Sarah all informatively speaking on their wines of Culmina Family Estate Winery showed to advantage matched with appropriate food. Challenging menu prepared by Executive Chef Ian McHale and his brigade with brilliant service of the wines by Wine Director Christina Hartigan. Started comparing their two 2017 Rose of R & D & Saignee with impressive smelt and avocado puree. Really learned great insights into the direction of their chardonnay with earlier picked (Sept. 7) forwardly rich complex 2016 Stan's Bench using only 60% used French oak & 40% Stainless but using all natural yeasts vs. more oaky Dilemma much later picked at same 23.5 Brix but higher elevation Margaret's Bench providing structure and more vibrant acidity using 35% new French oak & 35% one year, and 30% Stainless. Both superb but believe 2017 Dilemna will be their best yet by tweaking it with that wild yeast technique used on Stan's plus using less new oak. Both are dry with 35% malo and cleverly matched with fresh Mutsu apple & celeriac in the course. More interesting matches with rich Merlot with smoked goose plus blackberries preserve, elderberry jus with bison main and two Hypothesis Bordeaux blends, finishing with opulent Riesling capturing the apricot dessert. Well done!


center
2. Chambar Lunch on February 26 featuring Jon Bonne brought out some of the best of BC wines as shown on the special list assembled for sampling so deftly handled by Sommelier Kelcie Jones and her friendly team. Liked the food choices given for guests. Really enjoyed trying the beetroot starter followed by a ratataouille of succulent vegetables as both dishes paired well with the varied wine selections.


center
3. Sordo's Centenary of Barolo Dinner at Boulevard on February 27 was a tour de force indeed. Their whole talented culinary team with Roger Ma cooking and top flight service orchestrated by JP Potters is always so dependable. Charming Elisa Rabino the Sordo Winery Hospitality Director advised that they are the only winery which can boast of 8 different crus of Barolo to show off the distinct terroirs using the same vinification all in big Slavonian casks. Educational to compare with dry aged duck both young 2012s of elegant Ravera from Novello & Perno vineyard showing bigger more backward Monforte d'Alba styling. Real treat to have that more mature outstanding 2004 Gabutti Riserva from Serralunga d'Alba shining brightly with the beef protein course. What a forum to learn more about those complex Piedmont vineyards.


center
4. Dine Italia Lunch on March 2 at La Terrazza is a Festival institution always of the highest quality by the dynamic "Three Musketeers" of Chef Gennaro Iorio, Manager Iqbal Grewal, and incomparable MC Sommelier Giulio Miceli (ably assisted by Carmen D'Onofrio managing partner of Stile Wines). Another success with 12 top Italian wines over 6 courses. Culinary heaven. One of the many bright stars of the lunch (and the whole Festival) was family member Valentina Abbona Export Manager of Marchesi Di Barolo showing the coveted Cannubi vineyard from young 2014 vintage with lamb rack – especially that 25 year balsamic reduction sauce. Cannubi is special place with a gradual long slope protected by higher hills from storms and strong winds for a unique microclimate. The La Terrazza pasta dish is always a popular feature with their special Ravioli served this year so wine friendly.


center
Book some restaurants for #VIWF2020 the week of February 24 to 29, 2020 on first opening for ticket sales where diverse French wines will of course be matched to some exciting food courses. Worth checking out!
---
You might also like: