On a rainy Sunday May 15, 2022 from 11 am to 3 pm The Chefs' Table Society of BC (CTS) & Pacific Prawn Fishermen's Association (PPFA) launched the exciting 2022 Spot Prawn Festival in-person at False Creek Fishermen's Wharf in Vancouver. The weather didn't dampen the enthusiasm of everyone involved from organizers, chefs, sponsors, and keen participants from having a wonderful family outing at this popular event first started in 2006. It celebrates the start of Spot Prawn season (which opened on May 5) a prized catch in British Columbia's coastal waters. Sustainably controlled short season with sport fishers limited to a catch of 125 prawns per day. Lots to take in at the Festival from the excellent insightful food demos, music, beverages, New England style chowder 10 oz. bowl for $10, and a grazing style Spot Prawn Brunch for $65 featuring 6 delicious diverse dishes from these outstanding chefs:
CHEF STEVE KUAN: TORAFUKU – Spot Prawn Taco, Papaya Salad, Togarashi Mayo

CHEF FELIX ZHOU: BREAD x BUTTER CAFE – Torch Spot Prawn, Apple Jalapeno Puree, Pickled Cucumber, Puffed Wild Rice, Spot Prawn Head Oil

CHEF TOMMY SHORTHOUSE: FANNY BAY OYSTERS BAR & SHELLFISH MARKET – Poached Spot Prawn, Herb Potato Roesti, Romesco Sauce, Herb Salad

CHEF KUNAL DIGHE: JW MARRIOTT PARQ – West Coast Spot Prawn Risotto

CHEF MATEUS VELOSO VIANA: POPINA CANTEEN – Spot Prawn Roll

CHEF JUSTIN CHEUNG: POTLUCK HAWKER EATERY – Spot Prawn Arroz Caldo, Rice Porridge, Chili Crunch, Calamansi, Quail Egg
In addition there was top local wines and beer from O'Rourke's Peak Cellars (Pinot Gris), Lock and Worth Winery (Semillon & Merlot), and R & B Brewing (25th Anniversary since 1997). Also Umbria Coffee Roasters plus yummy Passione Gelato three flavours of Cherry, Hazelnut, & Pistachios (Vegan).
Some thoughtful ways of preparing these special spot prawns were featured again this year. Always remember that they must be cooked (but not overcooked) when alive or twist off the heads to prevent an enzyme release. Save the heads for cooking a bisque or stock and store the fresh tails on ice till ready to cook them or freeze them which maintains a good quality product. Thanks to everyone for another successful #SpotPrawnFestival. Try some soon.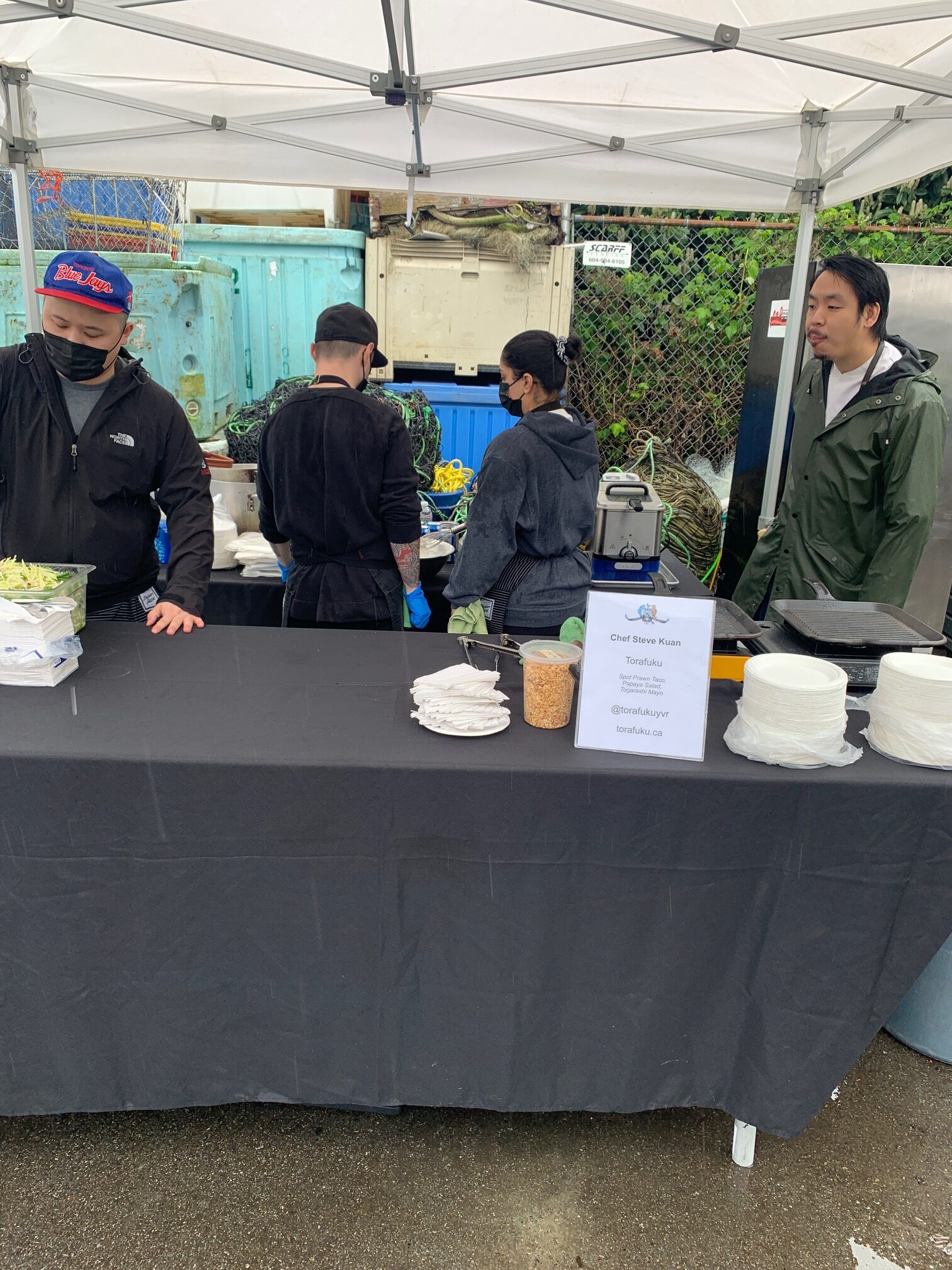 ---
You might also like: