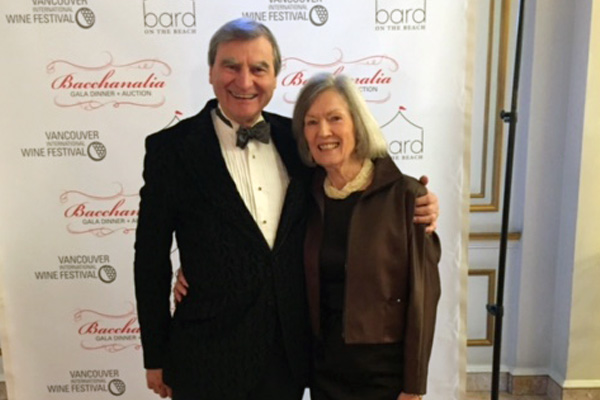 Canada's premier wine show The Vancouver International Wine Festival celebrating 40 years has just successfully launched. This year for 8 days 173 wineries from 16 countries spotlight wine & food over more than 50 events. The feature this year is on Spain & Portugal with 58 Iberian Peninsula wineries participating. The opening event 2018 Bacchanalia Gala Dinner + Auction on Saturday February 24 was the 30th and funds raised (this year $225,000) now benefit Bard on the Beach Shakespeare Festival (previously Vancouver Playhouse Theatre). An amazing growth pattern for this excellent Wine Festival with so much credit over the years going to so many enthusiastic supportive "wine lover" volunteers, the distinguished patronage of Consulate Generals from various wine countries, and our helpful sponsors.
This Gala event has a long history of remarkable cuisine at Fairmont Hotel Vancouver pioneered by Executive Chef Robert LeCrom (assisted by Alan Ferris Director of Catering & Special Events) and now is in the capable hands of Executive Chef Cameron Ballendine and his talented brigade. The Menu had again this year innovative dishes highlighted by a colourful Harvest of the Fisherman and The Hunt in the Air delicious roasted partridge. Diverse matching of quality wines from 10 different regions emphasized the VanWineFest.ca international emphasis. My favourite among several treats was the outstanding 2013 Malbec of Catena Zapata from Adrianna Vineyard Fortuna Terrae ("luck of the land") at almost 5000 feet elevation in Mendoza Argentina. What a combination of freshness with ripe fruit balanced by acidity yet delicate and complex. Well done! The Auction had many treasures change hands including these: 1990 Chateau Latour magnum $6500, 1964 Musigny Comte de Vogue $4500, 1983 La Tache DRC $5500, Vertical of Chateau Gruaud Larose (75, 78, 82, 83, 85, and 95) & Osoyoos Larose (2001-2005) for $4500, and Vertical of Harlan Estate (1996-2000) for $8500. Superb opening !
Will be reporting more on some of the interesting educational wine seminars and dinners to be held all this week in future posts on this Blog.
Your scribe fortunately has attended each and every one of these 40 Vancouver Wine Festivals. Have you attended one? Encourage you to plan a trip to Vancouver in the future to enjoy these always exciting festivities full of worthy events always held at the end of February each year.
---
You might also like:

Loading ...