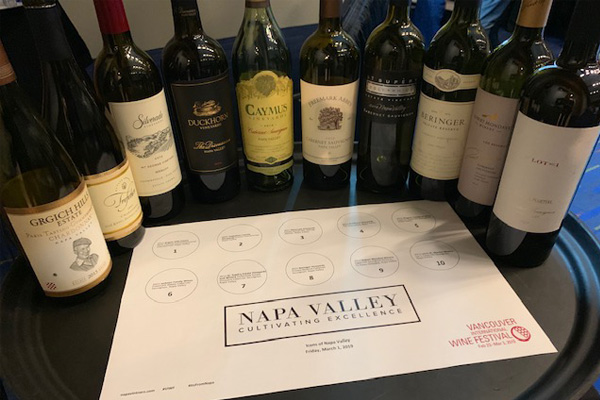 The 41st Vancouver International Wine Festival #VIWF @VanWineFest shone the focus on 53 participating California wineries including many insightful seminars. Some of the highlights were a 10 consecutive vintages vertical but from different producers of Napa Valley Cabernet Sauvignon from 2005-2014 moderated by knowledgeable Anthony Gismondi. Some top wines presented such as forwardly delicious 2006 Louis M. Martini Lot 1, classy classic 2007 Beringer Vineyards Reserve, and always dependable intense Padrone from 2009 of Signorello. DJ Kearney wine dynamo and well deserved winner of the 2019 Spirited Industry Professional Award was in fine form moderating 3 seminars: Unexpected California (included Chenin Blanc, Albarino, & Grand Durif), Next Gen California (Pinot Noir, Syrah, & Petite Sirah) and Icons of Napa Valley. Let's take a closer look at this last one. DJ stated Napa Valley has 56000 acres of grape vines with 20000 of them high reputation Cabernet Sauvignon. Ten Napa Valley wines were presented with insider knowledge supplied by a principal from each winery:
1. 2015 GRGICH HILLS ESTATE Paris Tasting Commemorative Chardonnay by Maryanne Wedner Director of Export. With her 37 years experience Maryann related stories of Mike Grgich starting back in Croatia stomping grapes and trying half water and wine as an "active child". Later a Zagreb oenology professor told him California was "Paradise" so he embarked via Germany & Canada (including Catholic Boys School in Vancouver) before getting his Visa to USA and a long wine career in California. 40th anniversary of 1973 Ch. Montelena chard winning Paris 1976 tasting in 2016 so used this 2015 vintage first released in Japan using Wente clone mostly planted in 1989 from a small part of their cooler marine influenced Carneros Estate with no malo and no air but battonage by spinning the special barrels every Friday afternoon. Textbook fine example.
2. 2005 TREFETHEN FAMILYVINEYARDS Estate Chardonnay by Jon Ruel CEO. Oak Knoll fruit off their Estate with 9 months in French oak (30% new) plus 30% malo at 13.8. Try in the vineyard to slow down the ripening process to preserve acidity. Mature "evolution on the nose of nutty, hazelnut, marzipan, hay but still dancing with natural acidity in 2005 and sort of fun rich flavours".
3. 2015 SILVERADO VINEYARDS Estate Grown Mt. George Merlot by Russ Weis President. Cooler Coomsbsville AVA gravelly loam east of Carneros with 16 months in 43% new oak of 78 French & 22 Hungarian results in a big earthy successful 100% Merlot.
4. 2015 DUCKHORN VINEYARDS The Discussion by Brian Bostwick Director of Export. Started in 1978 with 800 cases of cab sauv & famous Three Palms Merlot. Have purchased 300 acres over 30 years. This started in 2006 choosing top fruit from 6 or 7 vineyards in different AVAs for balanced Bordeaux blend (57CS/37M/5CF/1PV) with 18 months in French oak.
5. 2016 WAGNER FAMILY OF WINE CAYMUS Cabernet Sauvignon by Harvest Duhig Winemaker. Perfectly named Harvest uses her valuable experience in the 8 AVA vineyard sites to produce big dense full ripeness wines. Still enjoying some of their Special Selection vintages.
6. 2015 JACKSON FAMILY WINES FREEMARK ABBEY Cabernet Sauvignon by Thomas Price Master Sommelier National Wine Educator. Founded in 1886 by Josephine Tychson first woman to build and operate a winery in California. In 1996 became part of the Jackson Family. Ted Edwards winemaker here since 1985 with 33 years experience. Try for "expression of upfront tannins that will integrate silky & opulent providing pleasure in the textures but will always age". Here 75.1CS/9.9M/7.3PV/6.1CF/1.6Malbec from 11 sites with 88% French (33.4 new) & 12% American (1% new).
7. 2014 ST. SUPERY ESTATE VINEYARDS & WINERY Dollarhide Estate Vineyard Cabernet Sauvignon by Brooke Shenk Winemaker since 1986. Pope Valley in northern Napa east of Calistoga. 30 year vines certified Napa Green in 2008. Big powerful very robust style.
8. 2014 BERINGER VINEYARDS Private Reserve Cabernet Sauvignon by Gillian Balance Master Sommelier Treasury Wine Estates Portfolio Ambassador. Lots of history over 140+ years with winemakers of Ed Sbragia. Laurie Hook and now Mark Beringer. Original land purchase for $14500 amazing. Use 62% Howell Mountain fruit on volcanic soils above the fog from Bancroft Ranch & Steinhauer plus St. Helena, Chabot, and Mt. Veeder. Here 97% CS plus 2PV & 1 Malbec with 20 months in French oak (82% new Nevers). Impressive.
9. 2014 ROBERT MONDAVI WINERY Cabernet Sauvignon Reserve To Kolon Vineyard by Mark de Vere MW. Triple selected fruit cold soaked fermentation and extended maceration in French oak of 93%CS/6CF/1PV. Mark gave a lot of credit to Robert who knew the region from moving there in 1937 and founding his winery in 1966. Robert's insight was key that To Kolon (Greek "the beautiful") vineyard was "the sweet spot for Napa cab because ripe but still bright fresh fruit too with evening winds and soils that drain well." Still drinking their memorable complex 1974 & 1991 killer vintages and here is another winner. Mark says this is "powerful & gentle that you can drink now but will age well too. Flows across the palate and fills the mid-palate with that special Mondavi 6% cab franc." Recommend you cellar some.
10 2012 LOUIS M. MARTINI WINERY Lot 1 Cabernet Sauvignon by Scott Kozel VP of Premium Winemaking. Best fruit chosen for this 100% cab sauv is expensive with 2014 Lot 1 selling presently at Ontario LCBO for $234.35 per bottle and the 2015 released at the Winery for $175 US. Classy vineyards used for this from 45% iconic Stagecoach "carved out of the rocks where there is lots of wildlife but no flowers" in Atlas Peak plus 21% Stag's Leap and balance Spring Mountain & Silverado Bench with 21 months in 90+% French oak. Scott says they look for "density plush fruit style wine that you can approach early but will age well". Cult wine!
Congrats to the whole team at @VanWineFest and especially all the volunteers for another outstanding Wine Festival. Look forward to France spotlight in 2020 February 22 to March 1.
---
You might also like: