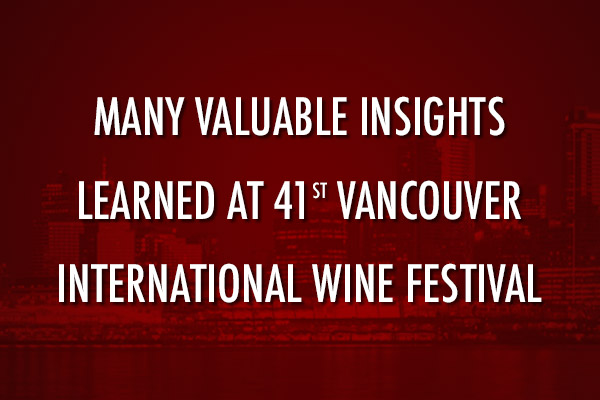 Another success for Canada's premier wine show at the 41st Vancouver International Wine Festival (@VanWineFest & #VIWF) February 23 to March 3, 2019 featuring 160 wineries from 16 countries each with a representative winery principal in attendance. Many tasting events, seminars, trade day conferences, lunches, dinners, and fund raising Bacchanalia Dinner + Auction. Almost 1500 wines to try and taste with the theme region this year being 53 California wineries. Your scribe has an endurance record of actively participating in all 41 of these Festivals. Great memories. Remember well that first one back in February 1979 featuring only the Robert Mondavi winery with Michael Mondavi leading a component solutions tasting of acids, tannins, and other important elements followed by barrel samples of the 1978 vintage matched with their 1977 Fume Blanc, 1976 Pinot Noir, and 1975 Cabernet Sauvignon. Fun to reminisce about those while tasting the same varieties but from 2017 Fume Blanc and 2015 Cabernet Sauvignon 40 years later with winemaker Genevieve Janssens & Mark de Vere MW. Even better wines now!
So many wine (and food) educational opportunities to be explored every year. Kept busy trying to fit in seminars featuring insightful comments from winery principals on panels so ably moderated by local wine experts including always outstanding presenter Anthony Gismondi, James Nevison, Mark Shipway, and dynamo DJ Kearney so well deserving of the 2019 Spirited Industry Professional Award. Out-of-town stars bring a different perspective and two of the best this year were wine writers Paul Wagner & Jon Bonne. A brief summary of some of their words of wisdom:
Paul Wagner moderated an intriguing "Pinot's Siren Call of Seduction" of 9 different pinot noirs. He opened his delightful seminar presenting The Adolescent Bacchus painting of over 500 years old from the Italian Caravaggio holding a large wine glass appropriate for this variety as his inspiration. He cleverly challenged each of the winery principals for their own individual creative influence for making top quality pinot noir. Here is a brief summary but you had to be there to experience it all:
1. Matt Dumayne winemaker Free Form from Okanagan Crush Pad: Respect for the land especially that big Rock on the property there.
2. Darryl Brooker president Mission Hill Family Estate: Greyhound Races always chasing the rabbit but the key challenge of never quite catching it.
3. Ross Baker winemaker Quails' Gate Winery: Passion!
4. Jean-Charles Boisset Proprietor Boisset Collection: a unique complex Birth of Venus painting of Venus de Milo he drew and someone else painted based on his wife Gina Gallo – a real toast to femininity!
5. Shirley Brooks VP Sales & Marketing Elk Cove Vineyards Oregon: Love of underwater diving with an internal journey hearing myself breathing but sharing the fascinating experience with other divers.
6. Thomas Price MS National Wine Educator Jackson Family of Wines: All about Layers using a Prince song "Forever in My Life" video to demo.
7. Randy Fabian Sales Manager Americas Yealands Family Wines: Ocean & cold winds of New Zealand vineyard in the middle of nowhere for something different.
8. Justin Seidenfeld Director of Winemaking Rodney Strong Vineyards: Collector of old unique watches of 1300 components requiring precise hand work and lens like quality pinot noir.
9. Scott Kozel VP Premium Winemaking Gallo Signature Series: Lilith 1994 sculpture by Kiki Smith provides comfort but discomfort up close with imperfections like uncomfortable moments of pinot noir.
Keynote Speaker Jon Bonne played an important role including an interesting Wine Industry Symposium on Canada's Place in Key Wine Markets plus other events. Yet another insightful delivery was his "Lessons From California" most helpful for other wine regions seeking to grow – including of course British Columbia now at just about 11000 acres with 370 wineries of which 280 are grape using. Jon suggested it is now a glorious time perhaps the best ever for California wines and he wouldn't have said so 10 years ago as he found the wines then with big flavours but high alcohol not suiting his European palate. He believes the new young winemakers emerging don't like that style either with more change coming. 4 important lessons:
A. With the generational shift coming there is a shared set of values that needs to show a sense of place in their wines and not just high scores. California grew and will continue to grow by small producers taking a risk.
B. Consumers embrace quickly what is new and cool with social media such as Instagram showing a rapid rate of change in the global wine market of what people are actually drinking.
C. Never place all your bets on the obvious. BC doesn't want or need 280 BC wineries all making Chardonnay. Go for the 7% solution of new varieties like Gruner Veltliner in Santa Barbara County or Albarino, Verdelho, or Dolcetto. Take risks for something unique. Don't want 600 Washington State Syrahs using the same winemaking techniques.
D. Innovation takes time searching for answers that don't come quickly. Pointed out the long term path of success by Ridge & Calera who persevered. Never let anyone tell you your wine has to be a certain way as there is always room to experiment.
Highly recommend you plan to attend @VanWineFest #VIWF2020 for the 42nd edition running from Saturday February 22 to Sunday March 1, 2020 in Vancouver. Put it in your diaries now. Plan to travel to BC for your vacation at that time. What an opportunity to try some amazing wines from Alsace, Beaujolais, Bordeaux, Burgundy, Champagne, Jura, Languedoc-Roussillon, Loire, Provence, Rhone, South-West France, and many more. Also a most interesting way to learn some more valuable insights into the fascinating world of wine and food. Enjoy.


center
---
You might also like: