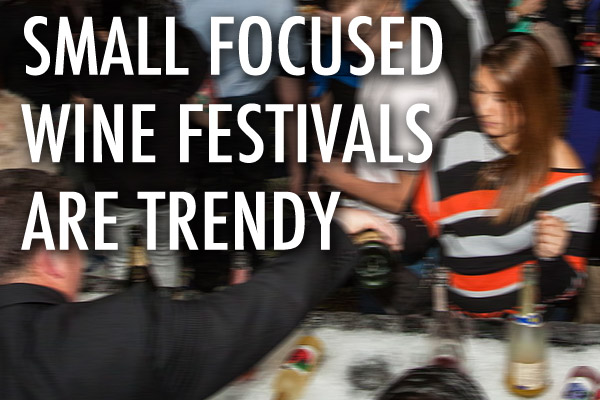 Big wine festivals are still educational and plentiful. I have visited so many of them including Vinexpo in Bordeaux, Prowein in Dusseldorf, London Wine Fair, and even the opportunity to taste the world's most expensive wines at the Wine Spectator's New York Wine Experience. It can be frustrating to try and visit everyone at these large wine fairs with so many exhibitors and so little time. This is so even at the annual Vancouver International Wine Festival with Canada the focus for their 39th edition from February 11-19, 2017 which is limited to under 200 wineries.
However the wine explosion around the world has left many smaller wineries without a venue to show their emerging wines to interested consumers. To meet this demand there are more small focused wine festivals to check out. Two in British Columbia this month both in their 3rd year are good examples of this trend:
1. Garagiste North (www.garagistenorth.com) – Model for this is the Bordeaux small lot winemakers making garage wine under the "gar-ay-jeest" name. This one is marketed as "The Small Guys Wine Festival" because it only shows wines produced from 100% Canadian grapes from wineries with an annual total production under 2000 cases. First held in 2014 the 3rd one will be held in Penticton on Sunday September 18. In the Financial Times London on August 21, 2015 they featured Garagiste North as one of the five best wine festivals in the world. Well done!
2. Top Drop Vancouver (www.TopDropVancouver.com) – This festival was just held on September 7 & 8 limited again to only around 40 International, Terroir-Focused Wineries, Craft Breweries, Cideries, and Food Purveyors. Event proceeds go to BC Hospitality Foundation for a good cause – supporting individuals within the hospitality community coping with a financial crisis arising from a medical condition or injury. All visiting winery principals are so passionate and their wines are excellent yet diverse from La Spinetta & Borgogno both from Piedmont, the M. Chapoutier Domaine Tournon project in Australia & those TintoNegro soil unique Malbecs from Argentina and the special white wines of Terravista Vineyards on the Naramata Bench in the Okanagan. The important theme emphasis must be Terroir + Craft. Some thought provoking informal seminars too showing the difference in style of Syrah produced from 4 "boutique" producers from BC, Chile, Australia, and France. Top Drop is so popular that there is now pressure on the organizers to increase the size. The problems of success!
What small wine festivals are already successful or are emerging now in your region?
---
You might also like:

Loading ...