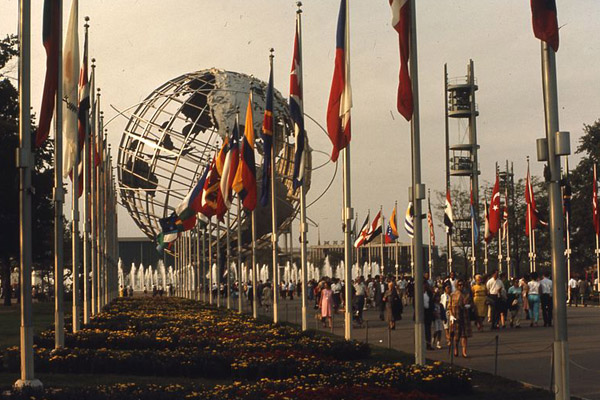 By Joseph Temple
Fifty years ago this April, millions of people came from across the globe to Flushing Meadows Park in Queens, NY for the experience of a lifetime.  Surrounded by Space-age domed theaters, roaring fountains and multi-colored cubed lighting, the 1964/65 World's Fair came to symbolize both the optimism and innocence of a pre-Vietnam, pre-Watergate America where anything seemed possible.
And of course, who can forget the food!  Undoubtedly, the sweet aroma of the now famous Bel-Gem (later Belgian) waffles drew millions to the concessions. That's because for just ninety-nine cents you could devour a thick and delicious waffle topped with juicy strawberries and billowy whipped cream.   Five decades later, this dessert alongside the 900,000-pound steel centerpiece known as the Unisphere are perhaps the fair's two most recognizable legacies still with us to this day.
But what about all the other dishes served over this two-year period?  What impact did this expo have on the food and drink we serve in 2014?  The answer is quite a bit, but surprisingly, it was mostly by accident.
While most historians view the 1964/65 World's Fair as a culturally significant event, it is also seen a monumental economic disaster.  With rules clearly stating that a country could host only one exposition in a ten-year period (Seattle hosted the 1962 World's Fair), New York City planners went ahead without approval from the Bureau of International Expositions (BIE) – the governing body that sanctioned all world's fairs.  Adding fuel to the fire, a slight by Robert Moses, one of the expo's key architects against the BIE resulted in them asking all member-nations not to share in the festivities.
The resulting boycott by Canada, Australia, the Soviet Union and most of Europe sent organizers scrambling to find replacement attractions.  Additional problems of cost over-runs and financial mismanagement plagued organizers throughout the fair's run, including the cancellation of an 86,000 square foot World of Food Pavilion only one month before the fair's start.
Without this central location to purchase food and losing the participation from most major countries, smaller and more exotic nations that would have been overshadowed by France, Germany and Italy took center-stage.  And with the nearby restaurants fleecing tourists with over-priced meals, the resulting backlash led many fair goers to seek out cheaper – and as a result, more international alternatives offered by these exotic pavilions.
The final product turned out to be a far more diverse expo than anyone could have probably envisioned.  In his book The End of Innocence: The 1964/1965 New York World's Fair Lawrence Samuel writes, "Of the 110 or so eating places at the Fair on opening day, 61 were in the International Area, creating an astounding multicultural buffet for the more adventurous fairgoer."
For starters, the Spanish Pavilion offered its guests a drink that most Americans had never seen before: Sangria.  With its dark red color and refreshing taste, this fruity wine drink has now become a staple for backyard barbecues and summer parties across the United States.
Traveling from the rocks of Gibraltar to the Far East, Asian food also went mainstream after Middle America fell in love with it at the fair.  Most memorably, at the Chun King Inn, diners enjoyed an entire Chinese buffet, which included a beverage of their choice for just ninety-nine cents.  And if you wanted to cross over the Sea of Japan, beautiful kimono-clad waitresses were there to serve up the exotic dish known as sushi at the Japanese Pavilion.
Of course, for the meat and potatoes crowd afraid to fully bridge the cultural divide, a series of faux-ethnic foods were also made available.  The most popular of these dishes was a sort-of Asian Big Mac, consisting of a double-decker hamburger, cheese, lettuce, bean sprouts and a special sauce, known as the "Hong Kong Burger."
And so the fair's culinary legacy became a mix between the familiar and the unfamiliar.  For every hamburger sold at the Brass Rail, you could also try some authentic smoked reindeer from Sweden.  The person eating French fries could be seen next to someone trying Indian tandoori or a Lebanese falafel.  Like the fair's popular "It's a Small World" ride, many experienced a small taste of different cultures for the first time at an expo whose motto was "Peace through Understanding."  Of course, with this new understanding came a plethora of new foods, many of which are now embedded in the palates of millions of Americans.
Were you or anybody you know at the World's Fair during those two years?  Then tell us about your experiences by posting a comment below!

Loading ...