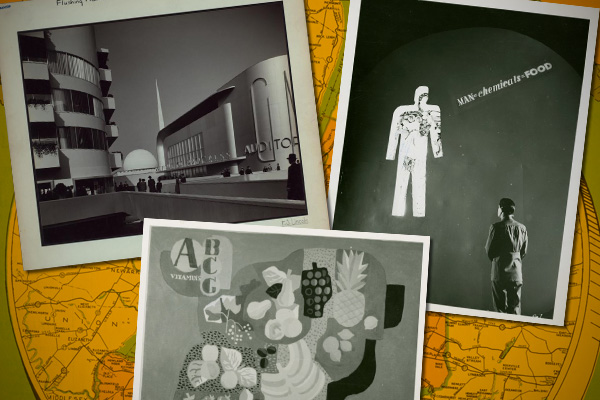 By Joseph Temple
On April 30, 1939, with two oceans separating this utopia from a brutal and bloody war that was just on the horizon, Queens, New York played host to the 1939/40 World's Fair – one of the most memorable fairs of the twentieth century! Located at Flushing Meadows Park, an estimated 45 million visitors experienced "building the world of tomorrow" by witnessing a plethora of technological advancements that promised to greatly improve their lives.  With America still struggling through the Great Depression and about to enter the Second World War, the idea of time traveling to a prosperous 'World of Tomorrow' had enormous appeal to every man, woman and child who left New York with a button declaring: "I have seen the future."
Symbolized by two iconic structures, the Trylon and Perisphere, some of the gadgets and conveniences fair goers saw for the first time included an electric calculator, air conditioning, and a strange new medium known as television. Predicting that automation would soon replace manual labor and that a streamlined and technologically dependent future would lead to an explosion in leisure time, one historian writes, "In a country that was just then beginning to emerge from nearly a decade of want … the vision of a world of plenty, aided by science, industry, and international understanding, was deeply compelling."
Of course, nowhere was this more evident than when it came to food, which had always played a central role in previous World's Fairs. For example, at the 1893 World's Columbian Exposition in Chicago, Americans were introduced to everything from chili to Shredded Wheat while the St. Louis World's Fair in 1904 became known for popularizing iced tea and giving us the ice cream cone. And with over 200 snack bars and concession stands spread throughout the thousand-acre venue, this fair proved to be no exception.
Epitomising the overall theme of mechanization, attendees marvelled at a Coca Cola bottling plant that was able to turn out an astonishing 140 bottles per minute, followed by Swift and Company showing them the steps to turn raw meat into hot dogs. Next, the process of converting flour into loaves of bread was put on full display at the Wonder Bakery while at the same time Heinz laid out the blueprint for creating baby food.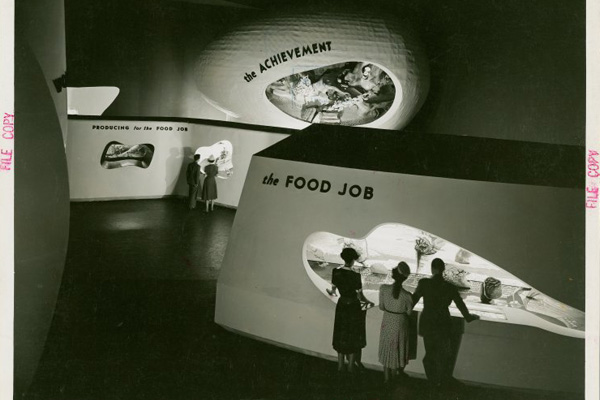 Food Exhibit. Photo Courtesy: New York Public Library.
Building on this educational theme, concepts that many had never heard before such as having a balanced diet, watching one's calorie intake, and the importance of taking vitamins were explored at the fair. Also, through mechanization, refrigerated trucks and trains promised consumers a wider variety of fruits and vegetables year-round. No longer would you have to wait for something to be in season!
In addition to domestic cuisine (millions living outside of New England would experience the fried clam for the first time), food from 58 countries participating in the fair were also available. At the Italian pavilion, Barbera and Barolo were paired with dishes such as saltimbocca and agnolotti – dishes that were rarely seen even at Italian-American restaurants. More impressive was something called a Smörgåsbord that stole the show at the Swedish run Three Crowns restaurant.
But without question, the greatest impact on American cuisine came from France's Le Pavilion, an iconic New York restaurant that started in 1939 as part of the World's Fair. Known as Le Restaurant du Pavilion de France, an army of waiters, wine stewards and cooks (including an eighteen-year-old Pierre Franey) arrived on the French liner Normandie in 1939 with the goal of blowing away their competition. Author Paul Freedman in his book Ten Restaurants That Changed America writes, "The popularity of the restaurant was based on its food, but diners were also dazzled by the tableside service that included complicated but seemingly effortless fish-boning operations, elaborate meat carving and flambéed desserts. Although crêpes suzette, the most famous flamed dessert weren't actually invented here, the restaurant did much to popularize them."  Building on the success at the fair, many of the staff stayed in America to watch it blossom into one of New York's most famous restaurants.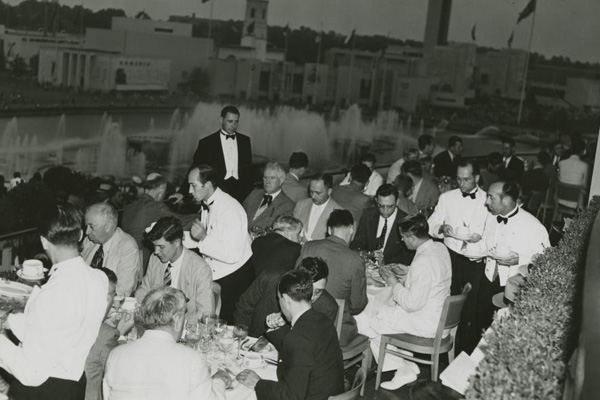 Diners at the French Pavilion. Photo Courtesy: New York Public Library.
With a bright future fueled by technology and fostered by international co-operation, the potential of the 1939/40 World's Fair offered a welcomed distraction to Americans facing economic hardship and an inevitable war in both Europe and the Pacific. And part of this promise came through food, which would be looked at in a completely different way once the hostilities ended and a return to normalcy took place. Whether it was haute cuisine and fine dining or sitting down at the dinner table with your family, the fair marked a turning point in how a prosperous super power would eat in a post-war world.
Sources:
Cotter, Bill. The 1939-40 New York World's Fair. Mount Pleasant: Arcadia Publishing, 2009.
Freedman, Paul. Ten Restaurants The Changed America. New York: Liveright Publishing, 2016.
Grimes, William. Appetite City: A Culinary History of New York. New York: Farrar, Straus and Giroux, 2009.
Machlin, Sherri. American Food by the Decades. Santa Barbara: ABC-CLIO, 2011.
Mariana, John F. How Italian Food Conquered America. New York: St. Martin's Press, 2011.
Smith, Andrew F. Savoring Gotham: A Food Lover's Companion to New York City. Oxford: Oxford University Press, 2015.
Wood, Andrew F. New York's 1939-1940 World's Fair. Mount Pleasant: Arcadia Publishing, 2004.
---
You might also like: