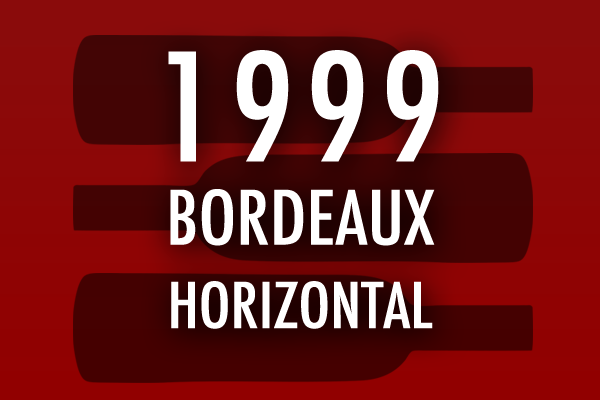 The 1999 vintage is already approaching 20 years old and yet most Bordeaux of that year has been largely forgotten by collectors. It was a very hot Summer and rainy September with hail in St. Emilion early on that month. Certainly didn't help 1999 to be a big crop sandwiched between the very successful Right Bank wines of 1998 and the magical triple zero of millennium quality vintage 2000! However the release prices were fair value and I bought a few including the presently lovely drinking Pauillacs – especially the delicious Chateau d'Armailhac and more structured Chateau Pontet-Canet. This month I enjoyed an outstanding dinner experience of top Chinese food prepared at the new Mott 32 Restaurant (originated 1891) in Vancouver paired with 11 of the very best wines of 1999:
Roederer Cristal: Lovely iconic bubbles to start off with from a more generous elegant drinking vintage!
Tertre Roteboeuf: Dark deep enticing ripe Merlot blend very soft textured being almost 2003-like.
Pavie Macquin: Similar smooth St. Emilion styling with more intensity of mellow herbal notes.
Petrus: Higher class level of structured density with complex iron notes in harmonious concentrated fruit.
Domaine de Chevalier: Big surprise with open more balanced drier fruit but elegant delicious drinking.
Haut Brion: Easy winner of 2nd flight with mineral loaded graphite so stylish terroir singing brilliantly.
Palmer: Full easy forwardly sweet blend with impressive textures but less flowers than anticipated.
Lafite: Best bouquet of pure ethereal cedar with power + elegance from strict selection for Grand Vin definitely impresses and is arguably wine of the night!
Margaux: Very dark look more floral than expected with slightly dank cellar notes making it less pure for me as not the best example of a highly rated wine but has very solid richness nonetheless.
Latour: Also very deep but more closed in nose with concentrated full plums on entry with tannins so this should develop further and age well.
d'Yquem: Rich concentrated more accessible fruit here developing some complexity of apricot-orange, ginger and chocolate.
In summary these 11 wines from 1999 were all of much higher quality than expected from this under-rated vintage. Recommend them.
Check out the menu shown below for the different food matches they suggested go with top Bordeaux. Some less assertive flavoured protein dishes worked better than others showing spices and chili peppers but all proved interesting. Some excellent freshly chopped last minute made dim sum dumplings and siu mai paired perfectly with top Bordeaux.
Have you found any special Chinese dish that you prefer with aged red Bordeaux?
---
You might also like:

Loading ...