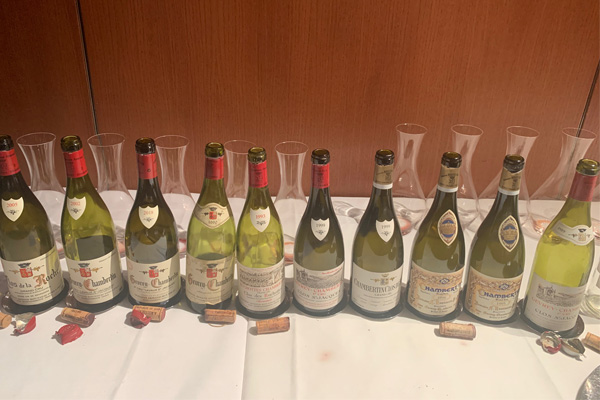 All Classified Burgundy has seen steadily rising prices starting off this third millennium. The top properties from the top producers have become really out of sight pricewise. The consumer now is looking at newer spots for better affordable values from the three villages in Maranges or even further south into Cote Chalonnaise and Maconnais.
Nevertheless the Auction market for Grand Cru (and even choice Premier Cru) remains bullish for those in that stratosphere led by DRC, Leroy, and the like. However, the strongest demand may well be family Domaine Rousseau that always seems to sell way above those ever increasing catalogue estimated high bids. Any Rousseau bottle is certainly a current "hot" popular auction item!
Your scribe has been a long time aficionado including a buyer of Rousseau up to and including the 2002 vintage. Since then the demand is so great that bottles are almost impossible to find locally and if so at very high prices indeed. Fortunate over the decades to have tasted many sensational bottles produced by Rousseau. Several postings made on this Blog including their Gevrey-Chambertin profile here on June 22, 2015 and more recently a spotlight on their prized Clos St Jacques holdings (vintages 2002, 1999, 1995, 1991, and 1989) here on October
19, 2020. Still there are a few old time collectors like generous Ian Mottershead who have some of these Rousseau treasures left and rather than sell them at auction are sharing them among friends. Lucky us! This all leads into an amazing wine dinner held for our Group of Eight at Blue Water Cafe in Vancouver on February 15, 2022 featuring 10
Rousseau beauties in two flights. Overall the wines were delightful as expected combining that sublime combo of enough power with perfect balance plus stunning elegance and complexity. Maybe high prices are warranted for those that can afford to cherish such amazing unique "works of art". Some brief impressions as follows:
2005 CLOS DE LA ROCHE GRAND CRU: Only plot in Morey-St. Denis on calcareous soil with big stones but this one from the great 2005 vintage so typical power but impenetrable as still rather closed in. Needs more time to develop a better more open refined character.
2002 LAVAUX ST. JACQUES 1ER CRU: SE exposure of young vines just replanted 1992 in well drained soils cooler windy climate is paler forwardly softer lovely drinking right now.
2018 LAVAUX ST. JACQUES 1ER CRU: Same wine but 26 year old vines instead of 10 from improved terroir by climate change in warmer vintage all helps. Young dark concentrated big intense fruit already enjoyable but no rush.
1990 GEVREY-CHAMBERTIN AC: Blind: Very light aged rim open fragrant higher acidity of guess 1988? bit lean and simpler but better with the pork dish. Surprised it was 1990 but in tough company here.
1993 RUCHOTTES-CHAMBERTIN CLOS DES RUCHOTTES GRAND CRU: Underrated Monopole on compact rocks in cooler windy plot. Wonderful aromatic elegance with tertiary complexity from aging in bottle. Smooth texture
with finesse and surprise of the night!
1999 GEVREY-CHAMBERTIN CLOS ST JACQUES 1er CRU: More clay at the bottom and white marl at the top. Star of our previous CSJ in 2020 tasting. Again shows impressively with integrated tannins drinking beautifully on a wonderful plateau presently. Admire the power with such delicacy! Wow.

1999 CHAMBERTIN CLOS DE BEZE GRAND CRU: Two northern plots here in deep rich soils is less charming than the same vintage of CSJ. Depth with a touch of classy aromatic Oriental spices but needs way more time to develop fully. Classic sensational treasure from an outstanding vintage.

1996 CHAMBERTIN GRAND CRU: Four parcels with east exposure. Fresh full and well structured. Variable vintage of harder wines from not the ripest year but good grape selection. Quite dense texture and tannins are still firm on the long finish with a touch of spicy licorice. Hope the fruit holds against that abundant acidity and tannins. Hopeful potential here but not as classy as 99 vintage.

1995 CHAMBERTIN GRAND CRU: Same vineyard a year older but a lot paler edge. Dropping some colour and is a lighter more forwardly vintage than 1996. Coming around for enjoyment now but no rush as still can take time in top storage. Don't underestimate the improved potential and staying power of both Clos de Beze & Chambertin. Property themselves suggest 20-35 years minimum for those two.

1989 GEVREY-CHAMBERTIN CLOS ST JACQUES: Oldest one served from your scribe's cellar is stylish and now ready. Beautiful bouquet capturing the harmonious delicacy of this site. Doesn't have the power weight & intensity of that superb 1999 that is 10 years younger with a brilliant future even in 2032. Clive Coates rated this 19/20 in 1993 stating: "Very elegant. Fullish, beautifully balanced. Very ripe indeed, essence of fruit. Subtle. Long. Lovely." Nonetheless even now 1989 sure shows the quality of this esteemed Domaine probably deserving of those elevated prices. Steal to buy at BCLDB outlet in May 1994 on sale reduced in price from $83.35 to $59.20. As Bob Dylan would say "For the times they are a-changin'. What a special treat to try 10 of their spectacular wines in one evening. Bliss.
---
You might also like: