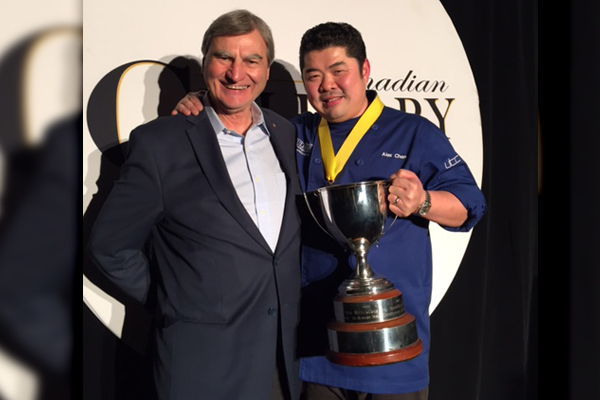 Eleven top chefs in Canada having won during 2017 their Gold Medal Plates regional city cook-offs came together last week in Kelowna for The Canadian Culinary Championships. A very skilled line-up but after three extremely demanding tests the judges (your scribe is one of them) decided the Olympic gold should go to Vancouver Chef Alex Chen of Boulevard, silver to Montreal's Eric Gonzalez from L'Atelier de Joel Robuchon and bronze to Barry Mooney from Gio in Halifax.
The difficult first leg called for matching a Mystery Wine (turned out to be 2016 Fort Berens Pinot Gris from Lillooet BC) with a dish for 400 guests using a maximum $500 plus a lot of skill and resourcefulness. Chef Chen showed well early with an exquisite terrine composed of a trio of Albacore tuna, Side Stripe Shrimp & Scallop in a dashi sunchoke broth. However his preparation was not without incident as an assigned apprentice dropped a finished tray of 24 just before service calling for some last minute scurrying. Unflappable Alex Chen rose to the occasion without panic showing wonderful leadership for his amazing team that included talented Chef Roger Ma Chef de Cuisine of Boulevard.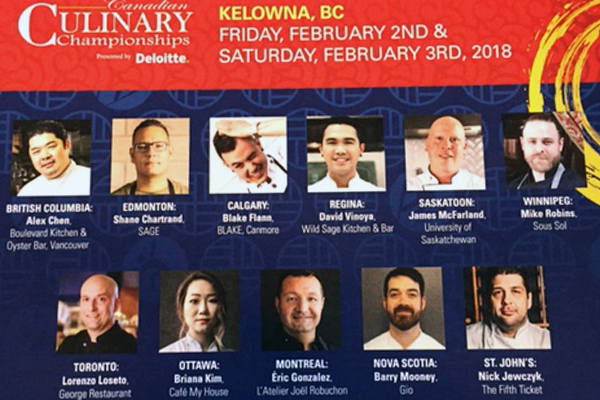 The Black Box second leg calls for great creativity in preparing one dish for the judges in one hour using all 7 ingredients: Fresh BC Rabbit (from Fraser Valley Rabbitry sourced by Two Rivers Specialty Meats), Beausoleil Oysters from New Brunswick, BC Kohlrabi, Saskatchewan Feta Cheese, BC Pink Apples, Summerhill Zweigelt Icewine Grapes, and Manitoba Milled Flaxseed. The chefs struggled with the best cooking method to use for the rabbit in such a short time period. Serving small cut pieces tended to be dry and overcooked. Only Chef Chen risked successfully doing a slow roast of the whole loin in a potato crust with a vibrant grape gastrique, the breaded oyster plus a wonderful refreshing crisp thinly julienned slaw (by hot newcomer Hawksworth Scholarship Young Apprentice 2017 winner Connor Sperling) of apple, feta, and kohlrabi. Another brilliant move.
The Grand Finale brought forth a cornucopia of diverse culinary delights each a star in its own right paired with a chosen wine, beer, or sake. Shining brightly was Alex Chen's Wild BC Shellfish Parfait with Northern Divine Caviar plus Bull Kelp "Brioche". Three star Michelin quality with such attention to detail. Delicious! As an avid supporter of the Oceanwise sustainable seafood program you have to be delighted to see not only a listing of the 5 species used in this outstanding memorable dish (Dungeness Crab, Horse Clam, Organic ocean Side Stripe Shrimp, Geoduck Clam, and Sea Urchin) but also the area of catch and even the named source of the boat and captain. So well done!  What a dish.
Congrats to all 11 chefs and their brigades for participating in this excellent competition showing their hard work and admirable culinary skills. Appreciated.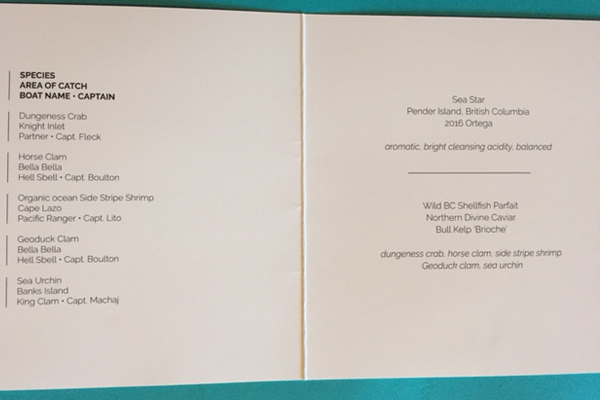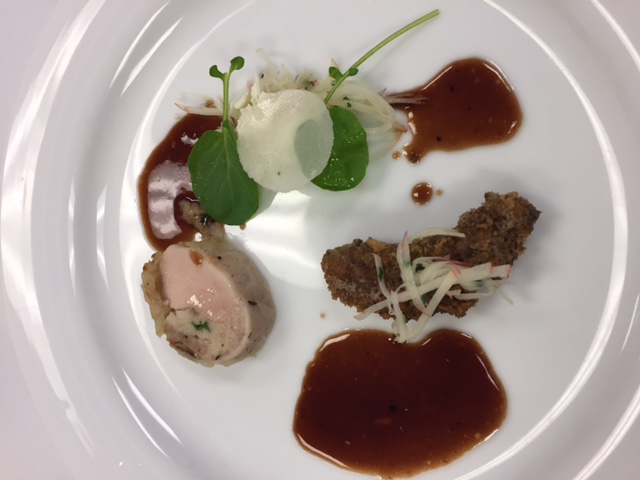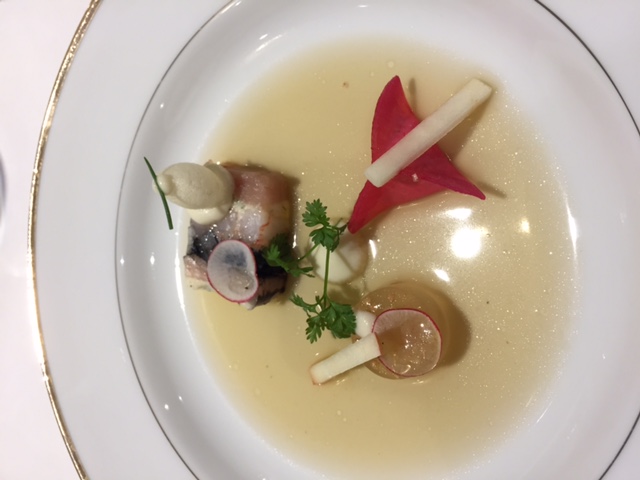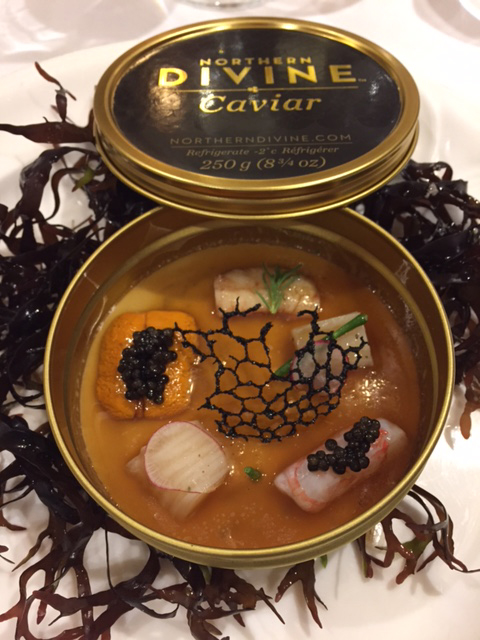 ---
You might also like: