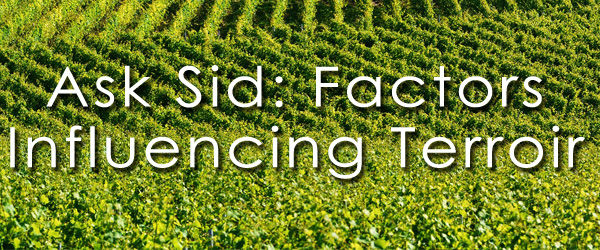 Question: Liked your blog this week Sid pointing out how the growing interest in terroir is stimulating more vineyard mapping. You noted 3 important factors "of soil types, of exposures, and of altitudes" and I wondered which one of those you consider to be the most important.
Answer: Thanks for your kind words. The distinct terroir of any vineyard is difficult to define because it is an amalgam of many complex contributing elements. The 3 you point out are all important but I vote for soil first among those. Look at the influence of Kimmeridgean soil in Chablis for Chardonnay, sandy soil in Barolo Cannubi for Nebbiolo, deep clay in Pomerol for Merlot, gravel in Pauillac for Cabernet Sauvignon, granite in Beaujolais for Gamay, slate in the Mosel for Riesling among so many others. I believe climate or really microclimate is probably the most important factor of all. Climate influences the grape in so many ways including sun, temperature highs, lows and ranges, wind, rain, hail, frost, hours of daylight etc. Everyone is now watching carefully how our changing world climate is affecting the established terroir of all vineyards.
---
You might also like:

Loading ...