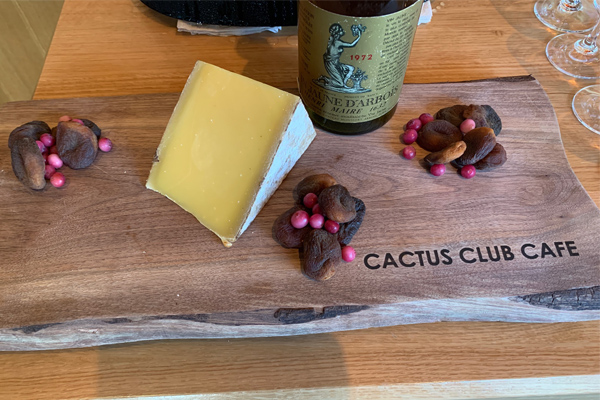 There are lots of classic matchings of wine and cheese. Your top 5 might include some of mine:
Sauternes with Roquefort
Port with Stilton
Chianti Classico with Pecorino Toscano
Gewurztraminer (off-dry) with Munster
Almost any wine with my fav Parmigiano-Reggiano but prefer Champagne, Pinot Grigio, or a richer white Rhone blend.
Often in the old days the cheese course was served at the end of the meal paired with the oldest red wines. Not ideal. Influenced May de Lencquesaing ex-Pichon Lalande to serve her youngest Pauillac with the cheeses. However, usually white white works better with cheese than red. The acidity and sometimes sweetness of white seems preferable with many cheeses over the drier tannins of red wine.

Last week at Cactus Club Cafe Coal Harbour in Vancouver your scribe orchestrated (for only the 3rd time) the most magical wine and cheese pairing he has ever experienced. Both items are the finest made from the Jura. The cheese was Comte de Montagne Fromageries Vagne, Jura, 24 months affinage. The wine was 1972 Vin Jaune ("yellow wine") D'Arbois from Henri Maire La Plus Grande Reserve Mondiale from the Chateau Montfort caves Arbois, Jura, France. It was 12.4 abv in the traditional 62 cl bottle (called a Clavelin) having thrown at nearly 50 years a lot of sediment. Opened ahead, decanted, mineral water washed and returned to the bottle by talented respected sommelier Sebastien Le Goff it showed to perfection. Made from 100% Savagnin grapes in barrels not topped up for 6 years allowing a yeast layer to form called "le voile" (the veil) like the flor of Sherry. Colour was
not brown but clear and not too oxidized (with no maderization) but a perfectly aged remarkable bottle indeed. My friend Wink Lorch in her masterclass book Jura Wine accurately captured the highlights of our bottle: "From Arbois especially, the wines will be nutty – walnuts in particular, sometimes fresh walnuts (also known as green or wet walnuts), even hazelnuts. Also a French (rather than Indian) curry powder mix of turmeric, coriander, cumin, and cardamom, sometimes with ginger and fenugreek." This Vin Jaune (also would match well with buttery escargots) was very dry (all grape sugar had fermented out) with some candied lemon notes plus all that high acidity. Yet was so complex and really singing brilliantly with an astounding roundness of texture when tasted together with the neighbouring aged nutty Comte. Combined for a rich palate but almost an ethereal sensation too. Much better enjoyed together than by themselves. Hard to explain in words but believe me this is a truly outstanding wine & cheese matching! Try it.
---
You might also like: