Often dinner events are limited to serving wines just from a specific wine region or one individual winery. This is especially so for most wine clubs formed as their raison d'etre to focus more intensely only on their main wine theme. The International Wine & Food Society by their nature has been an exception to this general rule being a leader in matching wines from around the world with food courses at dinner events. It has worked out well. However, putting together passionate members of two different wine connoisseur groups like La Commanderie de Bordeaux and Confrerie des Chevaliers du Tastevin was another challenge indeed. Fifty guests (25 from each organization) attended such a joint dinner on April 19, 2022 in Vancouver at the innovative New Fishport Seafood Bistro. The Culinary Director Sam Leung and his brigade did a marvelous job putting together a most interesting Menu to pair with some outstanding wines. Many thanks to the whole culinary team and the compatible organizers from both wine groups who did a great job – especially Kitty Lam.
DRAPPIER NV CARTE D'OR BRUT: 200+ year old Champagne House in Cotes des Bar using 80% pinot noir first press with 40% Reserve wines & only 6+ dosage shows softer easy drinking riper spiced peaches. "Y" D'YQUEM 2015: Shows the improved quality of these dry Sauternes. Here the 75% Sauvignon Blanc picked early (August 25-27) & 25% Semillon (September 3-4) with low 3.2 pH and only has 6 grams/litre residual sugar (similar to the Champagne) is lovely. Exciting geoduck clam starter that was fine with the unique ginger waxy lemony lemongrass wine but difficult pairing with a tad too much pungent wasabi in the special sauce. Recommend buying the 2016 Y one of the all-time best ever made!
SMITH HAUT LAFITTE BLANC 2015 PESSAC-LEOGNAN: Great label celebrating the Cathiards 25th anniversary using 90% SB plus 5 Sauvignon Gris (24 years old) & 5 Semillon showing freshness plus rich intense classy integrated new oak. Matched delightfully with a toned-down yet hot & tangy Portuguese-style blue crab served inside the shell.
CHASSAGNE-MONTRACHET 2010 PIERRE-YVES COLIN-MOREY (Power couple of eldest son of Marc Colin & wife Caroline daughter of Jean-Marc Morey) two 1er Crus with two excellent snow crab courses.
VIDE BOURSE: North of N6 on downslope from Batard usually rather 4-square but though reductive here shows an interesting character because of the superb 2010 vintage of restricted yields singing with the fresh snow crab claw & caviar.
LES BAUDINES: Superior site at South end above the road adjoining Santenay on the Coteaux (elevation mostly over 300 metres with good drainage) where most of the higher rated Chassagnes exist. Prefer this more elegant complex mineral classy terroir with brighter balanced acidity. Excellent match with the dish especially the cool gelee with lemon & pomelo. A matching hit!

CLOS DE VOUGEOT 2006 – BOTH ALAIN HUDELOT-NOELLAT & MUSIGNI (EN MAGNUM) BY GROS FRERE & SOEUR: You often see duck and/or mushrooms with red Burgundy – or game-birds. Less so with pork and especially Pescatarian options of sea bass and crepe of sole. Provoked some discussions. Before Charles H-N arrived in 2008 from vines planted on .69 ha in 1950 with two choice plots near the Vougeot chateau (sold third plot near RN74 earlier on) using 20% stems & 50% new Allier oak barrels. High quality indeed with deep dense young colour opening fine fragrant classy young fruit bouquet but no rush to open. Impressive. Magnum from Gros has a special site "Musigni" above the chateau below Musigny. Great format but lighter greener herbs & red spicy sappy fruits in a more accessible elegant style with some austerity.

PICHON-LONGUEVILLE BARON 2003 & 1989 PAUILLAC: Often see lamb served with red Bordeaux but interesting change here for "hotpot" using quick stir fry rib or mussels followed by Abalone but cleverly fused with ideal porcini. Worked. Concentrated successful hot vintage 2003 has real solid dark ripe sweet tobacco fruit with some vibrant energy despite lower acidity that brings some enjoyment already but needs time to reach a higher level. Tried the two nights previously the 2003 d'Armailhac Pauillac drinking lighter and beautifully already and 2003 Duhart-Milon very underrated classy Pauillac starting on a long fantastic plateau of brilliance. 1989 PLB is a favourite of this scribe and is Wine Spectator Wine of the Year. However bottles here coming from different sources and ours were quite musty and not showing well. Can be an outstanding wine.

CLIMENS 2009 BARSAC: This property run by Berenice Lurton presently is making outstanding Sauternes. 2009 is in that pure rich but rounder style from a hotter year resulting in only 2 picks (tries) with the first one providing 90%. There is botrytis and Barsac always seems to have that needed underlying balanced acidity. Glorious now with the ginger & rose petals of the dessert but will blossom even better from a few more years in the bottle. Big success with somewhat biased discussions depending on which Group you are a member of – either Bordeaux or Burgundy. Luckily your scribe is a member of both so remained neutral but was highly enthusiastic about the top wines from both regions! Wonderful idea for a stimulating event!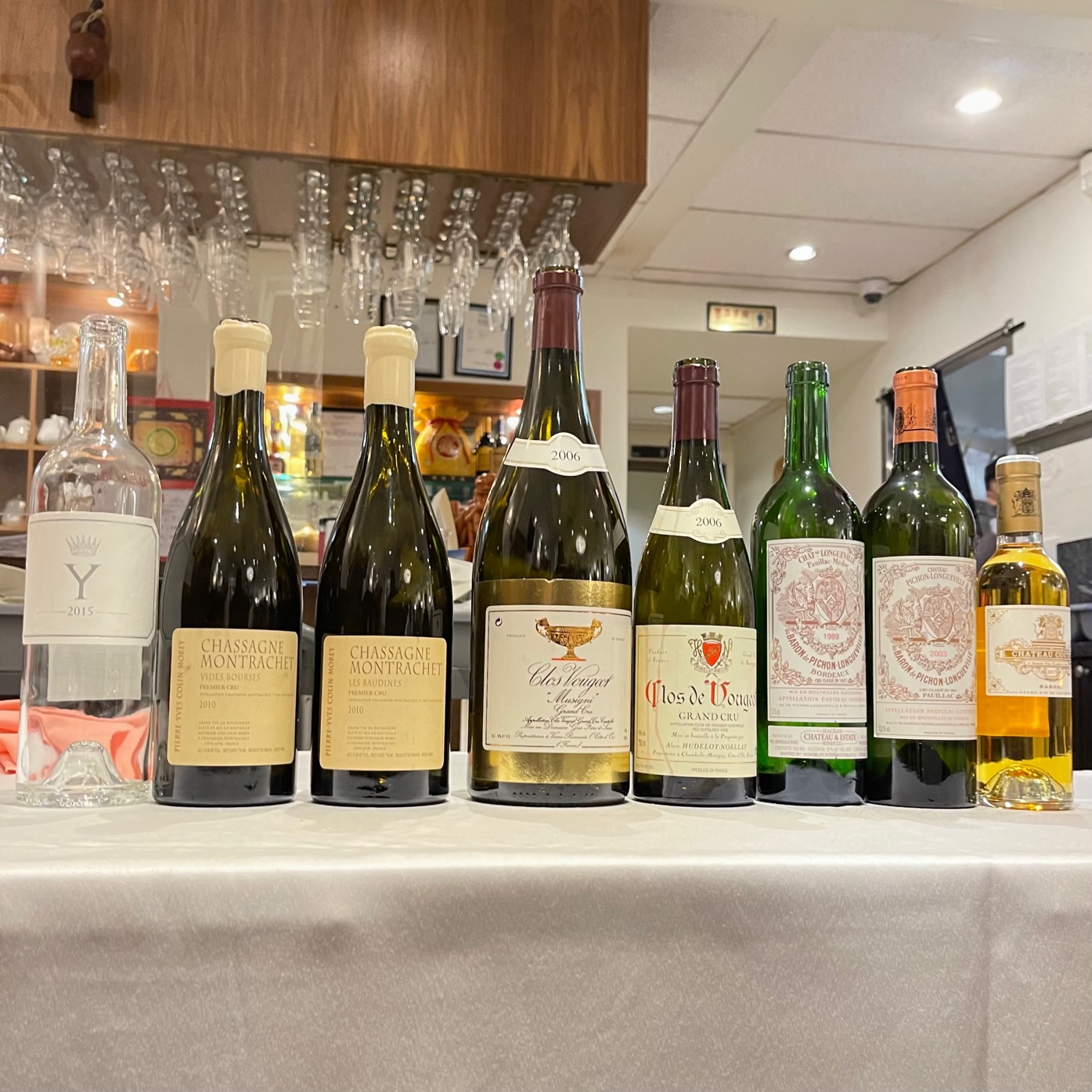 ---
You might also like: