Your scribe admits to a long time respect for the venerable Burgundy firm of Faiveley established in 1825. In my IWFS Monograph "An Appreciation Of The Age Of Wine" (published 2012) there is a reference made during the 1980s of "Tasting 1929 Latricieres-Chambertin with the astute Francois Faiveley in his office after hours. He has such a finely-tuned nose that he could detect the smell of the floor cleaners working way down the hall from behind closed office door saying that it interfered with the still young (even though 50+ years old) exotic perfumes of marvellous truffles, forest floor and tobacco of this beauty." Also several previous references in this Blog to Faiveley including January 3, 2018 here on my Ask Sid Wednesday feature about fermentation temperatures and on May 27, 2014 here "on three plots of Chambertin Clos de Beze kept separately before blending" and other wine details.
Erwan Faiveley (now 7th generation) experienced the harvest in 2004 then became in 2005 GM/Chair from his father Francois at the early age of 25 (the same age that Francois joined his dad Guy in the firm back in 1976). Erwan's sister Eve joined in 2014. Reputation for Domaine Faiveley has continued to be very high but style change has been noted from the bigger acidic, more tannic, long aging older one to a lighter, accessible, finesse, silky, and subtleness of a new modern one.

Our Group of Eight in Vancouver started 2023 off right with a smashing culinary event at Blue Water Cafe on January 10 with all wines generously donated by top fine wine collector member Ian Mottershead. What a rare special treat indeed! The aperitif of classy tight 2008 Krug Vintage Champagne brought forth lots of discussion about this "classic beauty" with higher Meunier at 25% providing citric tension to the structured 53% Pinot Noir & classy fruit aromatics of 22% Chardonnay. Opened up so nicely when matched to an exquisite nouvelle Lobster "Thermidor" starter with Spaetzle & Dijon mustard Mornay. We thought Krug 2008 perfectly previewed the elegant theme of the 8 red Burgundies that followed. Chambertin Clos de Beze is 15.4 hectares (about 38 acres) with Faiveley the 4th largest holdings at 1.29 ha/3.2 acres (behind Damoy, Rousseau, and Drouhin-Laroze) usually is more delicate & open aromatics when young than sturdy Chambertin to the south but both develop so well with lots of time in the cellar. Here are the 8 Clos de Beze tasted in this vertical with some brilliant current insights on the vintages provided to me by Erwan Faiveley (EF) plus a few brief impressions by your scribe (SC):
2019 CHAMBERTIN CLOS DE BEZE FAIVELEY:

EF: "Maybe the greatest vintage of the 2010s at Domaine Faiveley with everything I love about Burgundy – big, fruity, delicate, long, sappy, very terroir specific".

SC: Bright red + explosive aromas followed by a wonderful palate full of clean perfect approachable fruit. Alluring delicacy already with a touch of Oriental spice. Even this lover of older wines is blown away with the complex lovely delivery of this youth. Delightful elegant surprise of the night. Congrats!
2006 CHAMBERTIN CLOS DE BEZE FAIVELEY:

EF: "Sad it was after 2005. Great vintage getting tertiary. Unfortunately some touch of earthy geosmin character on some terroir specific – especially in Cotes de Beaune – though don't recall taint in Beze so should be awesome."

SC: Lighter browner rim. Nose developed with some interesting tertiary tar notes. Open forwardly, stylish, rather delicate but drier fruit and competing in tough company.
2005 CHAMBERTIN CLOS DE BEZE FAIVELEY:

EF: "Had this vintage 2 months ago showing stellar with so many years in front of her, Greatest vintage of the 2000s in my opinion."

SC: Very dark – what depth of colour. More reluctant deep nose than the first two wines. Admire the classy balanced fruit classic statement. Still requires patience for the tannins and to develop all that fantastic potential. Ultimately it will be the best one in this vertical.
2003 CHAMBERTIN CLOS DE BEZE FAIVELEY:

EF: "Would love to hear your thoughts as I still wonder whether it's a great vintage or not. I would say yes?"

SC: Darkest of first flight that carries on right to the edge. Deep ripe intense hot year is slightly stewed but smooth softer full powerful richer delicious style with a touch of chocolate notes. Controversial year but likeable here. An atypical vintage perhaps not great like the 2005 but really easy to enjoy now – especially with superbly prepared "ris de veau" rich sweetbreads.
2002 CHAMBERTIN CLOS DE BEZE FAIVELEY:

EF: "Great vintage that we missed. I don't believe we made wines up to the level of that vintage unfortunately."

SC: Deep with a paling edge. Some of that lovely 2002 finesse comes through but does have less understated subdued fruit with a fair amount of acidity. Picked too early? EF is very frank & hard on his
Domaine wines this year but he is pretty much on the spot correct here. However, it showed better refreshment with an outstanding fresh Quebec boneless quail dish stuffed with chicken and foie gras.
1996 CHAMBERTIN CLOS DE BEZE FAIVELEY:

EF: "Strange Faiveley vintage – a little dry and rather tannic. I am not a big fan of 1996 vintage though when I last tasted this Beze in 2013 my note reads: Really nice colour, fresh & vibrant nose, mocha, and cranberries. Really good 16/20"

SC: Deep maturing rim. Sweet entry initially but dries out in mid-palate with more tannins than fruit on the leaner finish. A bit too austere. OK.
1993 CHAMBERTIN CLOS DE BEZE FAIVELEY:

EF: "OMG – my favourite vintage of the 1990s. Exceptional in Gevrey-Chambertin. I am sure this will be WOTN – Lucky you! 1993 Latricieres was the wine that convinced me to take over my father Francois one day. I had it first time in July 1997 and that wine has been my favourite ever since – so great!"

SC: Deeper look than 2002 & 1996. Stylish somewhat reluctant bouquet at first but opened up to be the best nose of the second flight. Admire the fruit, acid and tannins all in integrated balance here resulting in amazing delicacy and elegance. Beautiful bottle. Great but less depth here than in 2005.
1990 CHAMBERTIN CLOS DE BEZE FAIVELEY:

EF: "Question Mark? Is it that great of a vintage? Will it be ready one day? Won't it dry out before being ready?"

SC: Insightful questions raised by EF. SC generally continues to enjoy the charm of the underrated 1989 vintage against the bold slow developing tannic 1990s. Here Beze looks dark, deep, and youthful. Presents itself as a stern hard pupil with way more structure & tannins showing than the subdued fruit when served from a well preserved cellar. EF hit the nail squarely on the head with his issue raised! Seems big and full of potential but development continues to need careful monitoring. Jury is out.
Based on that spectacular 2019 showing your scribe is looking forward to trying more of the recent vintages from the many appellations that EF and his team are producing. Boy are they ever on the right high quality wine track! Well done. Recommend you try some.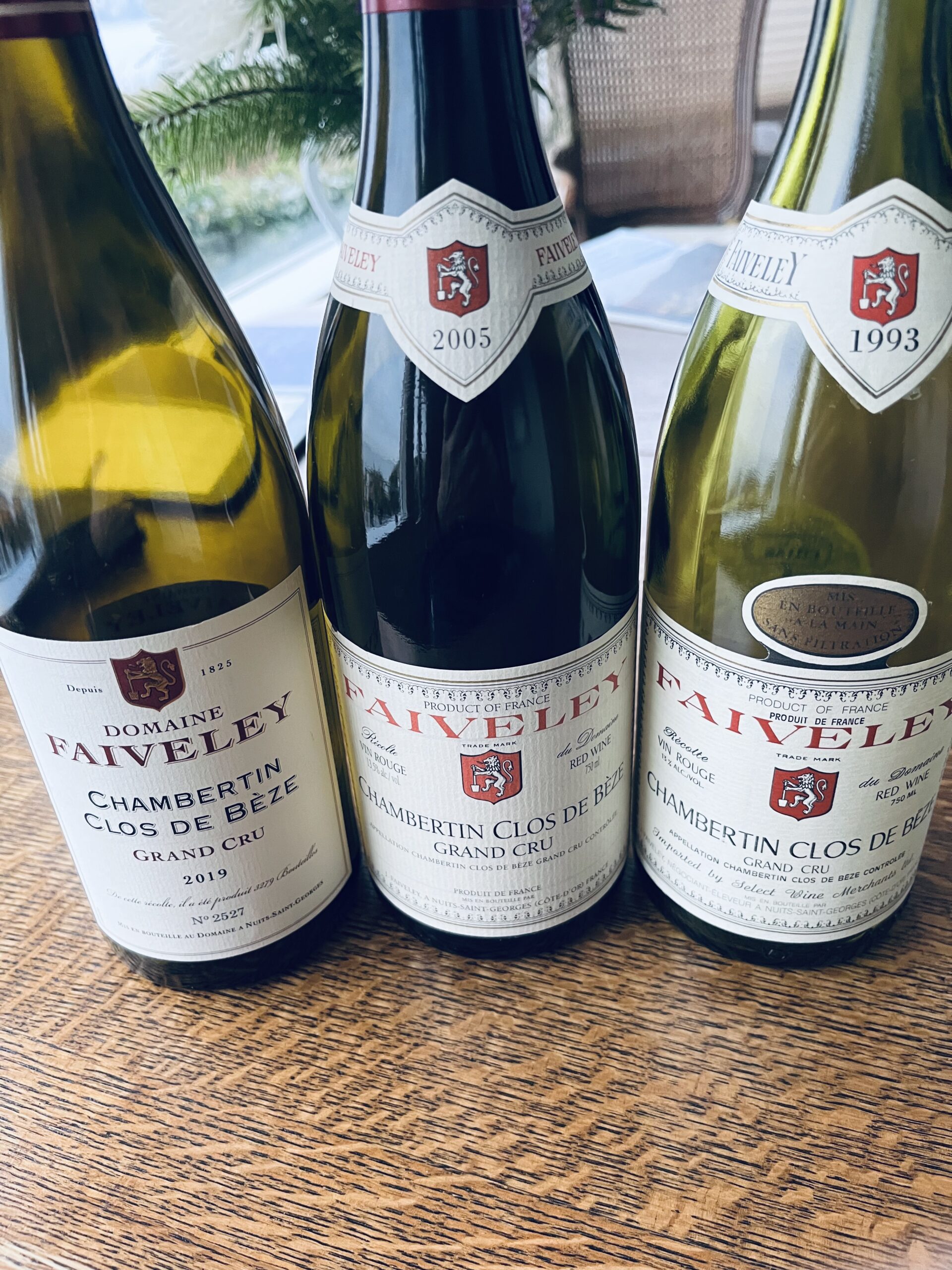 ---
You might also like: