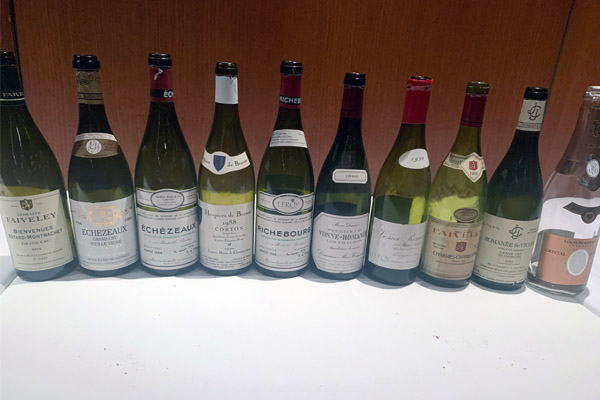 Always amazed at how top wines evolve with maturity yet usually retain their original distinctive vintage style. You continually see those differences at vertical tastings of wines held from most regions around the world. Contrast this with how particularly larger producers often are looking for consistency in their wine brand hoping to avoid noticeable change from year to year and also those non-vintage blends. All of this is not unexpected as we know how important the weather throughout the growing year is on the harvested grapes from the vineyard. We decided to revisit these differences in a tasting-dinner in Vancouver on November 2, 2021 at Blue Water Cafe with the theme of red Burgundy six Grand Cru & two Premier Cru from 1988 & 1990.
The wonderful evening started not with the usual aperitif Champagne (left this time for the end of the meal in the old French custom) but a delightful young 2016 BIENVENUES BATARD-MONTRACHET DOMAINE FAIVELEY. Now run by 7th generation Eve & Erwan Faiveley since 2005 with a focus on approachable subtle wines of finesse resulted in the perfect result here. Smart purchase by them in 2008 of this older vineyard (planted 1980) in the NE corner of Batard-Montrachet with Chardonnay juice barrel-fermented in oak (half+ were new) with frequent battonage and 18 months aging. A rather difficult high acid less fragrant harvest but the resulting wine now is superb. Shows the delicacy, harmony, and elegance of this special terroir in this lovely fresh clean treasure. Champagne before the dessert worked much better than expected as a glorious refreshing finale. 56% Pinot Noir & 44% Chardonnay with no MLF. Structure with power but described as "elegance of a Degas ballerina" in this LOUIS ROEDERER CRISTAL ROSE 2012 from Estate old vines on limestone soils is really something special. In their helpful
booklet they accurately state "complex", "difficult to describe" but insightfully go on to do so more accurately than your scribe possibly could: "The nose exudes delicate, zesty, fresh and precise notes of citrus peel, yuzu, forest fruit, mandarin, raspberry and wild strawberry which evolve towards roasted notes and almonds before giving way to fresh, herbal aromas of verbena and bergamot. The overwhelming sensation is one of serenity, the elegance of fresh fruit and the power of the zesty, chalky freshness. The finish is wonderfully long and enticing." Fantastic with the raspberries on the panna cotta.
1988 FIRST FLIGHT:
ECHEZEAUX DOMAINE MONGEARD-MUGNERET VIEILLE VIGNE
ECHEZEAUX DOMAINE DE LA ROMANEE-CONTI
CORTON CUVEE DOCTEUR -PESTE HOSPICES DE BEAUNE ACQUEREUR: JEANNE-MARIE DE CHAMPS
RICHEBOURG DOMAINE DE LA ROMANEE-CONTI

This 1988 vintage followed some very disappointing ones in the eighties from 1981-1987 inclusive though 1985 was and still can be marvellous. The weather was mixed in the Fall and some picked too early with high acidity plus too many grapes lacking concentration but with prominent drier tannins. Started out austere and some lacked fruit but others are getting better at 30+ years. Choose carefully as not a consistent vintage. This flight showed quite nicely overall. M-M improved opening in the glass with some complexity. There is classic loose knit terroir showing rustic menthol earthy notes but fresh with 1988 vibrancy of acidity perfect for lifting the fresh salmon course from the Indigenous people in the Maritimes brought in by Chef Frank Pabst. Echezeaux DRC has spice and noticeable stems from the fermentation methods while matching well with the cherries in the
dish. Lovely classy plateau of drinking. Corton is funky and less clean than others though there is fruit there but is outclassed. Richebourg DRC clearly best with deep riper intense richer fruit though still somewhat stern. Believe it has the quality to still develop a better bouquet of textbook oriental spices with improved sumptuous velvet textures. Patience. All four need a little more charm but that 1988 austere style remains underneath.

1990 SECOND FLIGHT:

VOSNE-ROMANEE LES CHAUMES DOMAINE MEO-CAMUZET
VOSNE-ROMANEE LES BEAUX MONTS DOMAINE LEROY
CHARMES-CHAMBERTIN DOMAINE FAIVELEY
ROMANEE ST.-VIVANT DOMAINE JEAN-JACQUES CONFURON

Heralded as a possible vintage of the century on release but hasn't quite turned out that way. Mostly full rich outstanding wines but more praise now for 1999 and even some 1991s. Tonight these 1990s are deeper and darker than the 1988s in the first flight. Brilliant wood fired roasted partridge with the 1990 flight. Fantastic flavours matching and accentuating the sweetness of the pinot noir wines. No better pairing than game birds with red Burgundy IMHO.Interesting the two 1er Cru V-R with Les Chaumes located below Les Malconsorts on richer clay soils while Les Beaux Monts better situated up the slope with more marl next to Echezeaux. Both lovely but Chaumes lighter while Beaumonts exquisite perfumed bouquet with concentrated almost lush palate with elegant finesse. My wine of the night! Charmes is ready, good but on the lighter side without the depth of fruit in Faiveley 1990 Mazis or even Latricieres. RSV is bigger from JJC than you usually see from this Grand Cru site with huge extraction from very old vines resulting in a massive wine. Impressive ripeness of the 1990 vintage here though lacking a little finesse. 1990 still shows more charm than 1988 because of the balanced acidity together with riper fruit and easier tannins. Two very different vintages evolving yet retaining their inherent unique overall styles. Fun to compare!


---
You might also like: