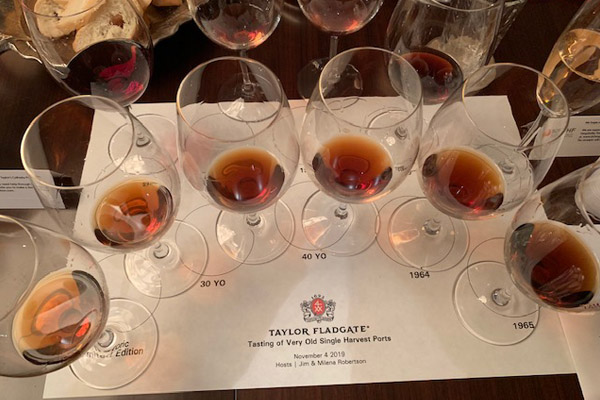 Milena & Jim Robertson are the longtime driving forces of the successful Vancouver Branch of The International Wine & Food Society. They are also enthusiastic and knowledgeable collectors of port wines. Again last week they generously invited guests to their home this time for a tawny port masterclass. The discussion was lively and ably focused by the participation of Jorge Ramos Export Director of the Fladgate partnership. We started with an fresh aperitif of Vertice quality bubbles from Portugal folowed by the paler 30 year & deeper red complex 40 year Taylor tawny ports. The main flight was a vertical of the six years released so far of Single Harvest Port from 1964 to 1969 inclusive – a first that even Jorge had not experienced before. Your scribe having tasted these previously after their annual individual release dates approached this vertical tasting expecting them all to be quite similiar. Sure they were all delicious and 50+ years old. However they were also all quite distinct as the time spent in bottle plus particularly the vintage conditions of the year played a big factor in their lasting impression here:
1964: Very pale colour, drier, less deep fruit with a rather dull flat nose lacking body but flavourful on the palate.
1965: Even slightly more pale on the rim but open with a stronger slightly green note aroma but a better overall impression than expected.
1966: Second darkest deep colour with attractive coffee, smoky toffee caramel bouquet notes and impressive balanced body weight.
1967: Amber aging look has complex orange rind, passion fruit and spices bouquet best of the flight but leaner less harmony on the taste.
1968: Stylish young with a larger production and more typically tawny of dried fruits with a touch of "paper" on the nose.
1969: Darkest most red looking with deep intense younger fresher fruit statement from only about 1/3 the production of 1968.
Excellent nose on the 1967 but leaner than 1966 that won the day. Got us thinking about 1966 as being the best vintage port year of these six releases (1963 also a great vintage) and it showed in the tawny results too. Next release will be an even smaller production of the 1970 tawny at 50 years of age with anticipation and big expectations for it because 1970 was also a very outstanding port year.
Another port house Krohn founded by 2 Norwegians in 1865 known for their older cask aged ports was acquired by The Fladgate Partnership in 2013. We tasted their 1968 Colheita and young still fresh 1965 Vintage. Fun to compare that lovely 50 year old one with the three times older amazing 150+ year old treasure from their two casks stock released as Taylor 1863 Single Harvest Port. What a wine! Brought back memories of that other gem of Scion limited edition as another pre-Phylloxera beauty. This extra time in wood certainly concentrated both the colour and the body (as happens with old vintage Madeira too) due to 3-4% evaporation annually. So intense with almost the mellow texture similar to a Tokaji Essencia. Heavenly ginger, spice, butterscotch and exotic flavours lifted by outstanding acid balance. Most impressive indeed!
Keen vintage port aficionados are being enticed as well over to the tawny port side based on these unbelievable precious rareties. A salute to the Robertsons, The Fladgate Partnership and all around for unique tawny port.


center
---
You might also like: