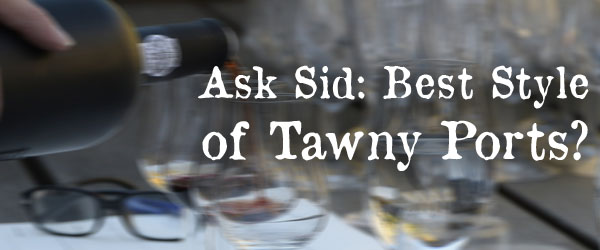 Question: I have become a big fan of Tawny Ports. What is the best style?
Answer: There really is no best style of tawny ports but it comes down to your subjective personal preference. This was clearly shown again at a Port and Douro Wines Institute (IVDP) tasting I recently attended. Tawny comes in 3 main types: Reserve, Vintage Colheita (with a minimum of 7 years in oak) and those with an indication of age usually 10, 20, 30, or 40 years old. This last type is becoming very popular for interesting current drinking. At my tasting the 10 year old tawny still showed some aged pink colour at the rim with a hint of red fruits combined with figs and dates. Two 20 year olds (which usually offer the best value for the quality) showed completely differently. Graham had a deeper bronze look with woodsy spicy roasted nuts & coffee showing richness & weight in a long finish. The 20 year Sandeman was a much lighter amber colour displaying more citrus orange peel apricot notes with more acidity for freshness. Votes were evenly divided for a preference of the two opposite styles. A 30 year Taylor had a deep brown mahogany look showing the result of a longer oak time with older complex flavours but it is much more expensive than the 20 year old. While I don't always agree that the best wine is the wine you like best when it comes to tawny ports that definitely is the case.
---
You might also like:

Loading ...