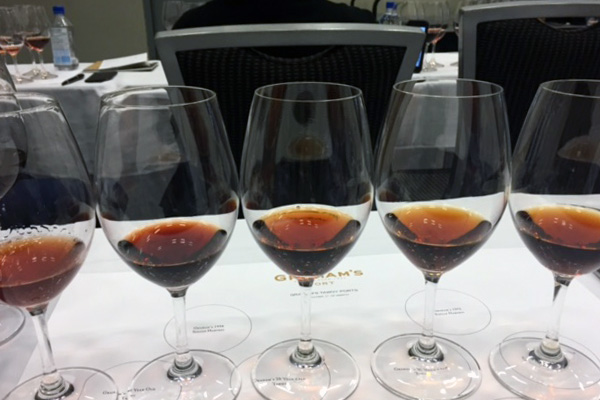 5 Graham Tawnies from left to right – under 10, 10, 20, 30, 40!
Ports were very prominent (and impressive) at the 40th Vancouver International Wine Festival in 2018. One trade seminar showed the magic of the exciting new 2015 Vintage Ports from 8 producers, another tasted key vintages of Dow as well as 2 single Quinta ports, and The Fladgate Partnership highlighted 5 decades of history by Taylor & Fonseca. This last one was presented by David Guimaraens head winemaker as a true masterclass on Vintage Port starting with 1977 (maturing as the finest in the seventies with 1970) followed by 1985 (outstanding Fonseca best of the decade), 1997 (browning from a hot year but yields were down 30% with Taylor still having that typical firm grip and Fonseca the big deep fruit), 2003 (clean pure spirit now being used so shows fruit better earlier on in Taylor) and 2011 (young well balanced explosive fruit with tannins). Fun to try in the tasting room for comparison the also lovely elegant 1985 Warre Vintage Port.
Founded in 1820 by 2 brothers from Scotland W & J Graham it was one of the first Port companies to invest in Portugal's Upper Douro acquiring in 1890 the now famous Quinta dos Malvedos. Now owned and managed by the Symington family (producers of premium port for 5 generations) it continues to flourish combining innovation with tradition. On May 2, 2016 your scribe detailed here an educational tasting of 10 vintages of Graham Vintage Port over 30 years from 1955 to 1985. This time the focus was on Tawny Ports and again the wines shown brightly indeed. This tasting was led by Rupert Symington (4th generation) with help from his marketing manager Gustavo Devesas who both spoke on the 3 arts of blending, cooperage, and ageing required with a key emphasis on soil and fermentation. Volcanic activity resulted in porous soil on a bedrock of granite and mud going to schist. This helps when the October & April rains filter through the 1 to 7 metres to collect underground for vine availability in the Summer when there is no rain. Vines are over 50 years old resulting in thick skins with aggressive maceration resulting in that opaque colour "the highest natural concentration in the world".
First up "The Tawny" is a mature reserve port $35 averaging 8-9 years in wood with consumer value appeal of attractive orange peel. The 10 year old $40 still has some red shading averaging 12 years with "eucalyptus and sweetness". The 20 year old Tawny $66 is usually the most popular perfection choice now showing more of the artisan craftsman cellar master in a fine balanced elegant benchmark with caramel and hazelnuts but still fresh and complex. The 30 year old $119 is amber showing more maturity and a "bit more edgy and sticky with lovely fresh acidity but concentrated glycerol in the mouth plus notes of spicy cigar-box". The 40 year old $180 is "pure age with meaty leathery savoury notes and as just a wine is irrelevant because it has become now something different and very special". Probably 50-53 years in wood. Can be volatile acidity (VA) issues on occasion and a "bit of a good tawny prickle" so recommend serving it chilled a little below room temperature. Also sampled the amazing 1994 Single Harvest Port $170 from their last remaining Cask #9 which will be introduced at this year's Prowein later this month in Dusseldorf. Finished with 1972 Harvest Tawny Port $242 bottled last year "the ultimate sipping wine" with exotic orange and fragrant citrus bergamot still fresh and vibrant with a "precision of flavours finishing with a salty character." Evaporation from the casks held at the Lodge in Vila Nova de Gaia varies with the humidity and drier years are resulting in increased levels. Generally a Tawny loses 22% of volume after 10 years, 40% after 20, and about 67% after 40. Amazing indeed.  What is left to bottle is a real treat and definitely "history in a bottle"!
On February 27, 2018 at Bodega on Main this Vancouver restaurant featured Spanish cuisine by Chef Maritza Orellana well paired with Graham's diverse Port portfolio. 10 year Tawny was served with Iberian pork cooked pink and deglazed with port while 20 year Tawny matched well with Crème Brulee (Crema Catalana) a Rupert favourite of caramel pairings. He also likes it with Reblochon or Munster cheese. I prefer my Tawnies with roasted pistachio nuts which Rupert approves of and says is superb. Find your own Tawny Port matches or enjoy it by itself.
Some useful social media port connections: Graham's Websites: www.grahams-port.com; www.grahamsportlodge.com; www.facebook.com/grahams.port.wine; Blog: http://malevados.wordpress.com; Vintage Port Site: www.thevintageportsite.com; Roy Hersh: https://fortheloveofport.com
---
You might also like: