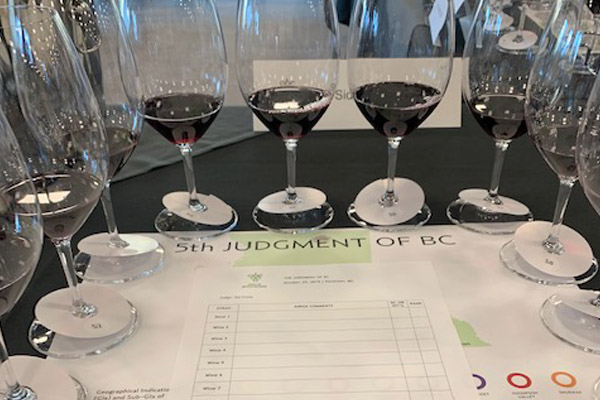 The wines produced in British Columbia have come a long way in a short period of time. They have been tasted blind against comparably priced international benchmarks over the last 5 years in an event called Judgment of BC. The 5th and final one was held in Penticton organized by the incomparable DJ Kearney and her team in the Okanagan on Tuesday, October 29, 2019 judged by 33 knowledgeable tasters from around the world including special guests Steven Spurrier of Decanter, Jamie Goode of Wine Anorak, and Dave McIntyre of the Washington Post. Your scribe has attended as a judge at all 5 of these events and they have been written up previously here on this Blog. The grape varieties chosen this time were Pinot Noir, Chardonnay, Riesling and Syrah with each flight composed of 6 BC wines and 4 international ones and scored by the judges with rankings from #1 to #10.
This was the fifth and final one as the overall feeling is that BC wines are now definitely in the ballpark of the top world standards for their quality wines. They are unique and complex. In fact BC wineries did amazingly well in the final results: Arrowleaf Cellars ranked first among the Pinot Noir flight. Meyer Family Vineyards came in first for the flight of Chardonnay, with 50th Parallel Estate Winery a close second. The Riesling flight had the German minerally off-dry Wiltinger from Nik Weis on top followed by CedarCreek Winery in second & St. Hubertus and Oak Bay Estate Winery coming in third. The final flight of Syrah saw BC wines take all three top spots with Tightrope Winery coming in first, Le Vieux Pin Winery in second and Stag's Hollow Winery and Vineyard in third. Congrats to BC on such an outstanding showing!
Certainly the BC wines showed very well. Perhaps arguably the international benchmarks could have been stronger but these were comparably priced big sellers in this retail market. Pinot Noir continues to improve with impressive elegance because of the use of best locations, older vines, and an emphasis on a "less is more" outlook. The Chardonnay flight provided strong competition as all so stylish with less alcohol and discrete use of new oak casks. Riesling has wonderful mineral balance with a variety of consumer uses from an appropriate aperitif to pairing with Asian foods. Syrah performed well in previous Judgments and here once again capturing all 3 "Olympic" medals. They are value priced and exciting so you are encouraged to seek one out to try.
Spurrier stated: "Since I was last in British Columbia in 2015, what I'm seeing is the increasing commitment, investment and quality. Seeing the vineyards showed me how extraordinary some of these vineyard sites are. The purpose of terroir is to allow the grape variety to express itself and BC does that well. Whether it's Riesling, Chardonnay, Pinot Gris, Pinot Noir or Cabernet Franc, the vineyards are showing an undeniable expressiveness of grape variety and high quality, and in my view, that puts the area in a very strong league in the international market."
The BC wines chosen for the Judgment were selected through a blind tasting conducted by Barb Philip MW, Rhys Pender MW, Michaela Morris, Kurtis Kolt, Shane Taylor, Christina Hartigan, Alistair Veen, Matt Landry and Sean Nelson, led by DJ Kearney. The selection committee chose the final 24 BC representatives out of a selection of 189 wines.
"This is an experiment to see how BC wines are assessed in a global context. The results make me personally very proud. I think the quality of wines is so high and that was a common theme as we went through flight by flight. Judges were astonished at how high the overall quality was. BC grapegrowers and winemakers have much to be proud of." said DJ Kearney, wine educator, wine writer and judge.
The goal of the Judgment of BC is to honestly assess the current state of grapegrowing and winemaking in BC to provide a clear perspective of the distinct characteristics of British Columbia wine in relation to global standards, and to achieve a focused vision for the continued evolution of the BC Wine Industry.Tasting some of BC's most celebrated wines highlights the diversity of BC wine country and showcases the incredible skills and ingenuity of the region's winemakers.
"What I think is really exciting about BC wines is we're tasting more and more like ourselves, our individual regions and individual sites. Our best examples are fresh on the palate, pure of fruit and really speak to our beautiful, cool, but hot climate." said Barb Phillip, MW Category Manager BC Liquor Stores
PINOT NOIR RESULTS:
1. Arrowleaf Cellars Archive Pinot Noir 2016 BC VQA Okanagan Valley
2. La Crema Pinot Noir Monterey 2016 California
3. Sokol Blosser Pinot Noir Estate Dundee Hills 2015 Oregon
4. Sperling Vineyards Pinot Noir 2016 BC VQA Okanagan Valley
5. Meyer Family Vineyards McLean Creek Road Vineyard Pinot Noir 2016 BC VQA Okanagan Valley
6. Louis Jadot Beaune Grèves Premier Cru 2015 Burgundy
7. Shaw + Smith Pinot Noir Adelaide Hills 2016 South Australia
8. Tightrope Winery Pinot Noir 2016 BC VQA Okanagan Valley
9. Quails' Gate Winery Richard's Block Pinot Noir 2017 BC VQA Okanagan Valley
10. CedarCreek Estate Winery Platinum Block 2 Pinot Noir 2016 BC VQA Okanagan Valley
RIESLING RESULTS:
1. Nik Weis St. Urbans-Hof Wiltinger Alte Reben 2014 Mosel, Germany
2. CedarCreek Estate Winery Platinum Block 3 Riesling 2018 BC VQA Okanagan Valley
3. St. Hubertus & Oak Bay Vineyards Family Reserve Riesling 2014 BC VQA Okanagan Valley
4. Tightrope Winery Riesling 2017 BC VQA Okanagan Valley
5. Culmina Family Estate Winery Riesling Decora 2014 BC VQA Okanagan Valley
6. Upper Bench Estate Winery Riesling 2017 BC VQA Okanagan Valley
7. Chateau Ste. Michelle Cold Creek Vineyard Riesling 2015 Columbia Valley Washington State
8. Rieslingfreak No. 3 Reverence of Riesling 2018 Clare Valley, South Australia
9. Martin's Lane Winery Fritzi's Vineyard Riesling 2016 BC VQA Okanagan Valley
10. Nigl Dornleiten Riesling Kremstal 2015 Austria
CHARDONNAY RESULTS:
1. Meyer Family Vineyards Chardonnay Tribute Series Donovan Tildesley Old Main Road Vineyard 2016 BC VQA Okanagan Valley
2. 50th Parallel Estate Winery Chardonnay 2016 BC VQA Okanagan Valley
3. Craggy Range Chardonnay Kidnapper's Vineyard 2017 Hawkes Bay, New Zealand
4. Nk'Mip Cellars Qwam Qwmt Chardonnay 2017 BC VQA Okanagan Valley
5. Chartron et Trébuchet Pouilly Fuissé 2017 Macon, Burgundy
6. Laroche Chablis Premier Cru La Chantrerie 2016 Burgundy, France
7. Tantalus Vineyards Chardonnay 2015 BC VQA Okanagan Valley
8. Monte Creek Ranch Winery Chardonnay Reserve 2016 BC VQA British Columbia
9. Culmina Family Estate Winery Chardonnay Dilemma 2014 BC VQA Okanagan Valley
10. Bethel Heights Vineyard Chardonnay Estate Eola-Amity Hills 2015 Oregon
SYRAH RESULTS:
1. Tightrope Winery Syrah 2016 BC VQA Okanagan Valley
2. Le Vieux Pin Winery Cuvée Violette Syrah 2016 BC VQA Okanagan Valley
3. Stag's Hollow Winery & Vineyard Syrah Amalia Vineyard 2016 BC VQA Okanagan Valley
4. Saint Cosme Crozes-Hermitage 2016 Northern Rhône, France
5. Torbreck Woodcutter's Shiraz Barossa Valley 2017 South Australia
6. Time Winery Syrah 2014 BC VQA Okanagan Valley
7. Painted Rock Estate Winery Syrah 2016 BC VQA Okanagan Valley
8. Domaine Jamet Syrah Collines Rhodaniennes 2015 Northern Rhône, France
9. C.C. Jentsch Cellars Syrah 2016 BC VQA Okanagan Valley
10. K Vintners MCK Syrah 2015 Washington State, USA
JUDGMENT OF BC JUDGES:
Gurvinder Bhatia
Jenna Briscoe
Sid Cross
Dr. Janet Dorozynski
Mark Filatow
Zach Geballe
Anthony Gismondi
Dr. Jamie Goode
Christina Hartigan
Lingzi He
John Isacs
Kelcie Jones
Kurtis Kolt
Sebastien Le Goff
Bryant Mao
David McIntyre
Sharon McLean
Michaela Morris
Terry David Mulligen
Tim Pawsey
Rhys Pender, MW
Barbara Philip, MW
Iain Philip
Rod Phillips
Treve Ring
Brad Royale
John Schreiner
Dawn Smith
Steven Spurrier
Shane Taylor
Daenna Van Mulligan
Matt Wentzell
Jason Yamasaki


center
---
You might also like: