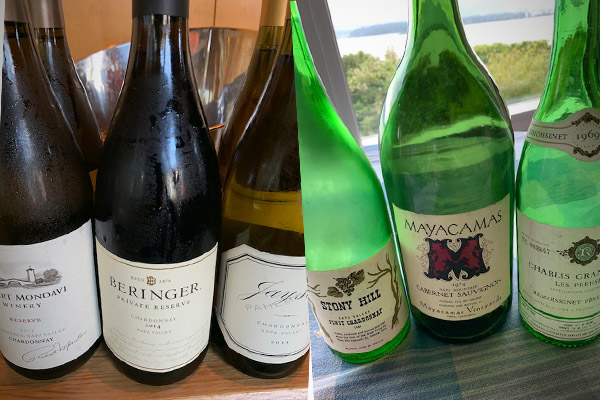 The opportunity last week to try some top Chardonnays from California at a dinner was nostalgic. Your scribe has followed them since their early days purchasing for only $6.50 per bottle Chateau Montelena 1973 that went on to win the Paris Tasting in 1976. In fact it was fun to do verticals even in those days at a hosted vertical of 8 Freeemark Abbey Chardonnays held in 1981 with 1973 & 1974 showing wonderful rich complexity. Remember those first vineyard selections from Dick Arrowood at Chateau St. Jean including Robert Young, McCrea, Wildwood, Belle Terre, Hunter and the 1978 Les Pierres showing hot 15.5 alcohol listed on the label. The Chardonnay selections some 40 years later are certainly more refined with less oak and are better balanced but much more expensive. Some brief comments on the Chardonnays:
First Flight:
1. Robert Mondavi Reserve 2013
2. Beringer Private Reserve 2014
3. Pahlmeyer Jayson 2014
All showing quite good developing colour in a full rich softer style. There is lots of texture and interest in this group. Mondavi typical in that solid yet elegant style bringing back fond memories of their outstanding 1981 Reserve enjoyed so much in the late eighties. Beringer very perfumed aromas. Pahlmeyer Jayson has the best open nose with lush forward drinking appeal. All three are big rich tad hot good examples that are a bit soft with a lower level of fresh acidity than from cooler regions.
Second Flight:
4. Wayfarer Fort Ross (Seaview, Sonoma County) 2015
5. Gary Farrell Olivet Lane Vineyard Russian River 2015
Both matched the Ravioli course very well. Wayfarer (another Pahlmeyer special one) shone with lively fresh balanced elegance. Superb coastal Chardonnay combining tasty true citric flavours with lovely delicacy. Classy, alive & zesty! Try and get some of their 2016 as well. Farrell is more mature development and slightly four square. Both come in at 14.4 alcohol.
Third Flight:
6. Varner Spring Ridge Vineyard Home Block 2013
7. Aubert Ritchie Vineyard 2013
8. Aubert Ritchie Vineyard 2014
Excellent flight. Lighter oaked Varner brothers Home Block property from highest elevation of 800+ feet in the Santa Cruz Mountains was impressive. We liked the structure and lovely distinctive wild fennel bouquet improved by airing. More bottle age helped open it up. Both Aubert Ritchie Vineyard from Sonoma Coast are as expected delivering a powerful intense young statement with 15 alcohol showing a bit on the long finish. Older vines of 40+ years from the Wente clone are a big help in the rich textured complexity too. 2015 received 100 points. The 2013 Aubert had the more expressive nose as best part almost like a Grand Cru Burgundy but 2014 richer. Quality there. Better with more cellaring.
Three mystery wines added to the fun. Two fifty year old Chardonnay 1969 from historic Stony Hill in Napa & ringer Chablis Grand Cru Les Preuses Remoissenet showed their aged maturity but so educational. Both renown for their acidity levels which helped them to hold on. Stony Hill chartreuse sherry-like but actually improved with airing and bottle remains served as an outstanding aperitif with amazing fruit for the next few days enjoyment. Les Preuses holding much better as expected and on a beautiful rich textured minerally plateau for enhanced pleasure with that Salmon course. The star of the evening was a choice magnum of the classic mountain vineyard of Bob Travers of 1974 Mayacamas Cabernet Sauvignon (with 8% Merlot) another bargain when released at $9.50 per bottle. Still drinking fresh and balanced at 45 years in this Grand Format. Power with fragrant herbal minty notes (somewhat Heitz Marthas-like) and such impressive concentrated vibrant fruit paired with the Short Rib course. No rush. A treasure for sure!
California has wine treasures from new & old vintages. Do you have some favourites?


center
---
You might also like: