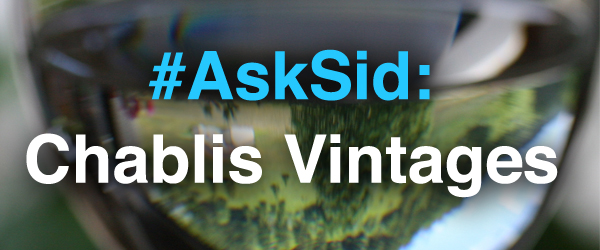 By jenny downing [CC BY 2.0], via Wikimedia Commons
Question: I know you like the top vineyards in Chablis Sid so what is your favorite recent vintage there?
Answer: Yes I continue to admire that distinct terroir shown by some top Premier Cru & most Grand Cru Chablis vineyards. The body of Valmur on clay soils, more delicate floral notes of Vaudesir on limestone and the amazing overall structure with mineral complexity of Les Clos are all Chablis to be respected. There have been increasing frost and hail issues there with variable weather conditions impacting the harvested grapes but some excellent vintages have been produced. My favourite is still 2010 which magically combines a ripe smaller crop of rare intensity combined with a wonderful balanced acidity perfect for longer aging. My next choice as a close runner-up would be 2012. The 2011s are more open forwardly and softer in style for earlier drinking as are the opulent 2009s. 2013 is a less consistent year but some very good wines were produced while 2014 are looking even more promising. Still recommend cellaring some 2010 and 2012.
---
You might also like:

Loading ...