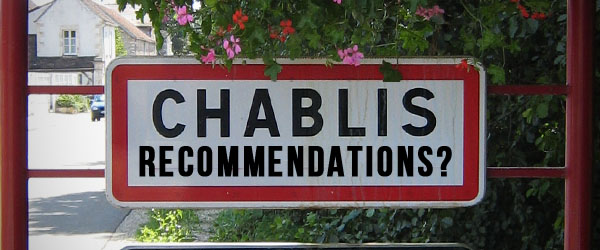 By CocktailSteward (Own work) [GFDL or CC BY 3.0], via Wikimedia Commons
Question: Thanks Sid for your knowledgeable wine and food blog as well as your most helpful Chablis tips you have given us in the past. I am going to be buying some bottles of best Chablis for cellaring and am hoping for your wise updated thoughts to help me in my purchases.
Answer: Appreciate your kind words. Yes I continue to be a really big Chablis fan and frequent consumer. Petit Chablis & Chablis AC are OK for fresh current use as their delightful simple balanced acidity works well with food (especially seafood). I really enjoy most of all the more expensive mineral complexity of the 7 Grand Crus with some bottle age (especially Les Clos but also Valmur). My favourite producers include Vincent Dauvissat, William Fevre, Christian Moreau and Francois Raveneau. Best value are usually the Premier Crus (like best the vineyards of Montee de Tonnerre & Vaulorent) but others can also excel including for example very old vines (planted in 1933) Vaillons in Cuvee Guy Moreau. During a visit this month to Paris I fortunately tried 6 vintages (2009-2014) of La Forest from Dauvissat that were all truly outstanding and all so age worthy. Still favour collecting the even years of 2010 (so fantastic because of their lower yields), 2012, and 2014. Prices will continue to rise for the easier riper styled 2015 vintage when released and mainly because of the decimated small crop resulting in 2016 plus increasing demand. Recommend you buy now 2014 Dauvissat La Forest – or other top 2014 Premier or Grand Cru Chablis you can find to put away!
---
You might also like: