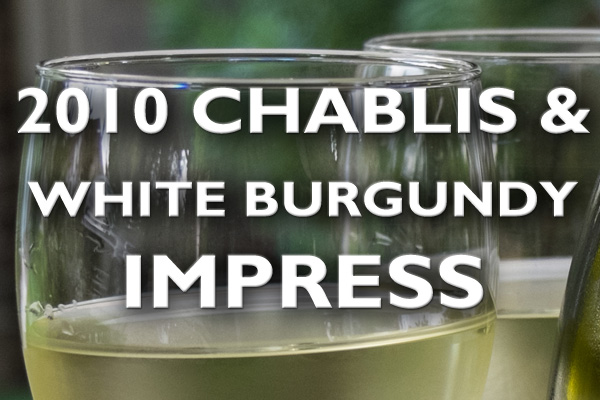 By Anna & Michal from Brussels, Belgium [CC BY 2.0], via Wikimedia Commons
Shorter crops with price increases seem to be the yearly trend for both Chablis and White Burgundy. Looking back though 2010 is the vintage that continues to impress this scribe most with their intensity and balanced acidity. Not overly heralded on their release because of difficult flowering and some rot issues caused by September rains they are developing well in bottle. Hope you had the foresight to put a few top crus away for a special occasion. Some 2010 wines are starting to show their worth but no rush with most of the best properties. Better to drink up your 2009 and 2011 before approaching those better aging 2010s.
Enjoyed recently trying quite a few whites from the 2010 vintage. All have been enjoyable with no pre-mox issues yet while generally highlighting the structure and complexity of this year. A mini vertical of Bouchard Pere Meursault Perrieres showed 2010 admired the most for the fruit purity and balance over a surprisingly rich full excellent 2009 & quicker evolving 2008. Really like the Chablis 2010 from Christian Moreau – especially their Vaillons old vines Guy Moreau Cuvee and Grand Cru Les Clos.
A dinner on September 25 at Ancora Restaurant in Vancouver spotlighted nine worthy 2010s matched with an intriguing menu influenced by Peruvian & Japanese touches that worked surprisingly well:
The 3 Grand Cru Chablis were a delight. Grenouilles softer less concentrated but lovely forwardly drinking already while the 2 Fevre showed extra depth & density. The Marl/Clay mix with limestone for Valmur contributes a full rich palate while the Les Clos really shines best with more style amazing structure and complexity from hillside limestone. Both will continue to develop well with more bottle age. Classy wines.
Morgeot quite soft and drink now plateau. Both Genevrieres impress with a clean fresh delicate lots of finesse underrated Bouchard Pere & a fuller richer more nutty Henri Boillot.
A clean fresh young still tight pure Bonneau du Martray Corton Charlemagne, riper Premier Cru Puligny Francois Carillon and the exciting Batard from legendary Sauzet in magnum shows dramatic Grand Cru quality. All are impressive and at 6 years just approaching their best plateau of drinkability. No rush. Enthusiastic endorsement for both Chablis & White Burgundy from the 2010 vintage!
Click to enlarge
---
You might also like:

Loading ...